Intro
TravelCenters of America (NYSEMKT:TA) has experienced explosive growth this past year from a low of close to $4 to near the current high of $12.50. For years the stock sat at low levels and suffered from the volatility of the market and profit margins it was experiencing, in addition to the death grip its parent company, Hospitality Properties Trust (NYSE:HPT), had on its rent. Within the past six months, the company has been able to demonstrate to investors that it is competently run and does have a future. Travel Centers of America has experienced explosive growth, based on the belief that the effects of the recession have passed and that it can profitably move forward.
History
Hospitality Properties Trust is a REIT that purchased TA and Petro truck stops in mid-2000s in order to get a hold of their strategic real estate. Because or regulations on REIT holdings, HPT kept the real estate within their books, but spun TA off as a separate company, and then rented the locations back to TA. Unfortunately for all, those negotiations and rent levels were set pre-recession, and at a level that disproportionately favored HPT. Once the economy slowed down, and by extension revenues from trucking, all parties saw that the rent levels would threaten TA with bankruptcy if something wasn't done. HPT then made concessions for rent waivers that allowed TA to conserve cash on hand to continue operations.
HPT continues to be the largest shareholder of TA, with 2,540,000 shares representing 8.6% of common shares. In addition, they still maintain significant influence over the company. Mr Thomas O'Brien, the current CEO, had previously worked at HPT since 1996, and is still employed as an Executive Vice President at Reit Management & Research LLC [RMR], the parent company to HPT. Additionally, Mr Andrew Rebholz, the Executive Vice President, Chief Financial Officer and Treasurer, and Mr Mark Young, Executive Vice President and General Counsel, are also Senior Vice Presidents of RMR. In the end, this should be of concern for investors, or at a minimum, they should be aware. Should there be a conflict between the two, Mr O'Brien will have to decide if he will side in favor of TA and its investors (with a market cap of $350 million) or RMR, valued at $23 billion.
The company currently has 244 locations that are run as either TravelCenters of America or Petro Stopping Centers. Of those, 185 locations are leased from HPT, 27 are owned by TA, 28 are owned by a franchisee, and four are leased from others. In the past two years, the company has expanded by purchasing 29 additional locations for $102.3 million and plan on renovating them at a cost of $88.4 million. This represents an investment of just over $6.5 million per location. This year they have purchased four additional locations for $18.4 million ($4.6 million/location), and are in contract for an additional location for another $4 million. During the previous conference calls, Mr. O'Brien has continued the following theme:
…we continue to opportunistically take advantage of the distressed market conditions affecting specialized real estate like truck stops.
Their aggressive growth plan will serve investors well. If they can maintain at a minimum a 5% growth of locations without having to transfer the real estate to HPT, it will help to increase revenue without having a corresponding increase in rent.
Right now, TA represents one of the largest participants in the Truck Stop sector, and their influence will continue to grow as they leverage HPT and RMR for additional growth. Pilot Flying J is currently the largest competitor in the sector, with over 550 locations. Their recent legal troubles and rebate fraud, funds that were owed to customers that were either not paid or lowered, will only serve to benefit TA, although O'Brien did not indicate that in the recent conference call.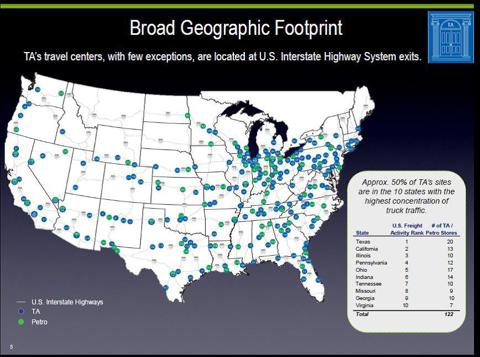 The other main competitor is Love's Travel Stops, currently the 9th largest privately held company according to Forbes, with revenues of over $22 billion.
Their concentration along interstates and catering to the trucking industry will benefit as the economy fully recovers. Truckers are creatures of habit, and plan out stops well in advance. Having a large parking lot, clean store, and good food will bring them back every time as they travel down the same routes.
Financials
As the economy has recovered, and more trucks have gotten back on the road, revenues and earnings have continued to improve.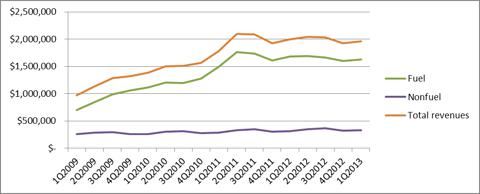 In addition to the steadily rising revenues, fuel margins have also increased. From 2008 to 2013 fuel margins have averaged almost $.14, with the past year averaging $.16. The following chart was presented in the 1Q2013 presentation: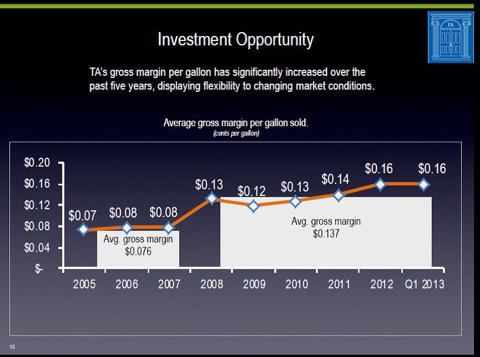 Conclusion
Travel Centers of America has experienced explosive growth, based on the belief that the effects of the recession have passed and that it can profitably move forward. It remains a leader in the field, and will probably benefit from fallout over the Pilot Flying J scandal as some trucking companies look for business elsewhere. The relationship with HPT and RMR is concerning, but at the least it provides the ability to get financing for future expansion. Their revenues have continued to grow as the economy has recovered and more trucks get on the road thanks to higher fuel margins. They are also seeking aggressive growth through the acquisition of distressed locations at low prices.
Disclosure: I have no positions in any stocks mentioned, and no plans to initiate any positions within the next 72 hours. I wrote this article myself, and it expresses my own opinions. I am not receiving compensation for it (other than from Seeking Alpha). I have no business relationship with any company whose stock is mentioned in this article.