Macy's (NYSE:M) kicked off 2nd-quarter earnings season for retailers yesterday (see earnings call transcript), and things picked up today with the Commerce Department reporting July Retail Sales and retail behemoth Wal-Mart (NYSE:WMT) reporting this morning, followed by earnings reports from department stores Kohl's (NYSE:KSS) and Nordstrom (NYSE:JWN). So far, the theme has been "not as bad as it could have been", with all those reporting having beaten the oft-lowered analyst estimates on cost-cutting measures and inventory management. However, there are few signs that consumers are in a hurry to boost their discretionary spending – the best that can be said of top-line results is they have stabilized at an extremely low level.
Nordstrom reported fiscal 2nd quarter net income of $105 million ($.48 per share diluted), which met consensus analysts estimates, but both measures decreased more than 26% from the year ago period. (See earnings call transcript.) Net sales for the quarter declined 6.2% to $2.145 Billion, while same-store sales decreased 9.8%. While this breaks a string of 3 straight quarters of double-digit comparable store declines, it should be noted that this quarter included 3 of the 5 annual sales events held by the company, which helped boost results. For the quarter, Full-Line Stores showed a same-store sales decline of 12.3%, while Direct-to-Consumer Sales were up 3.5%, and Nordstrom Rack once again showed relative outperformance with a same-store sales increase of 0.8%. The company expects full year same-store sales to decline 9-12%, and is raising guidance for the full year from $1.50-$1.65 a share, up from the previous outlook of $1.25-$1.50.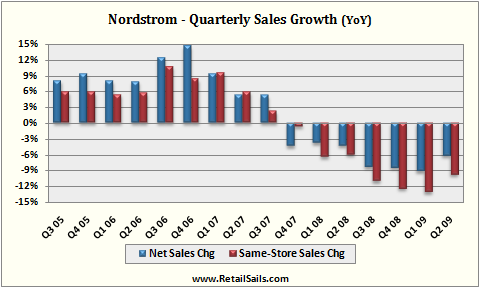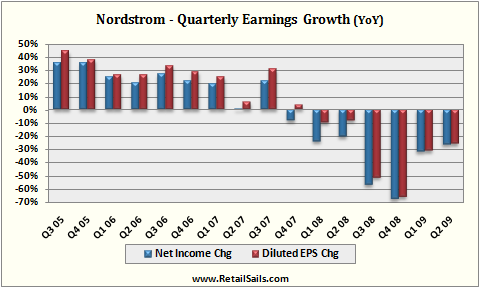 Kohl's (KSS) reported a 3% decrease in net income to $229 million ($.75 per share diluted) in the fiscal second quarter compared to last year. (See earnings call transcript.) Net sales increased 2.2% to $3.806 Billion, while same-store sales decreased 2.3%. Kohl's has been a beneficiary of consumers continuing to trade down, and results have steadily improved since November. They have also been able to increase sales of store brands, and have shown gross margin expansion in 5 straight quarters. For the rest of the year, the company expects sales to be roughly flat year-over-year, with comparable sales falling 3-5% and earnings to decline about 10%.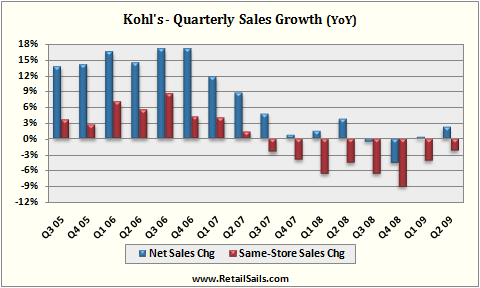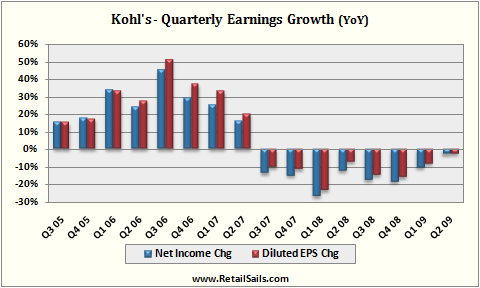 Wal-Mart stopped reporting monthly sales back in May, so their was a lot of anticipation for their quarterly same-store sales results. In the fiscal 2nd quarter, the company said total sales fell 1.4% to $100.1 Billion, while same-store sales declined 1.2% vs. analyst estimates of a 0.85% increase. However, leaner inventories helped boost the bottom line, as net income came in a few cents ahead of estimates at $3.44 Billion ($.88 per share diluted), roughly flat to last year. The strong dollar negatively impacted results, as sales rose on a constant currency basis by 2.7%. The company attributed the worse-than expected comparable sales results to underestimating how much of a boost it got from shoppers having tax rebates last year, as well as lower food and gas prices. Regarding the results, CEO Mike Duke said "Short term, we believe the economy will continue to be challenging. We are accelerating our focus on reducing expenses and improving productivity in all of our operations."

Based on the data points we saw this morning -- disappointing retail sales, a jump in unemployment claims, and another record number of foreclosures -- there is no reason to expect much near-term improvement for most retailers. While companies like Kohl's and Wal-Mart have been able to grab market share and lure value-conscious consumers, they continue to focus on cost-cutting and re-aligning inventories with demand. Buyers are still extremely cautious and only shopping for necessities, and we don't expect much of an uptick in discretionary spend through the next quarter.
Next up on the radar is earnings reports Friday from Abercrombie & Fitch (NYSE:ANF), Dillard's (NYSE:DDS), and JC Penney (NYSE:JCP), followed by a multitude of companies reporting next week. Expect the majority of retailers to best watered-down earnings estimates, while touting their restructuring, cost savings, and inventory management initiatives.

Disclosure: No positions