(Editors' Note: This article covers micro-cap stocks. Please be aware of the risks associated with these stocks.)
Micro-cap stocks, public companies with market caps less than $300 million, dominate the public market ecosystem. 68% of all public companies are micro-caps, but these companies only represent 2% of total public company market value. In fact, the total market capitalization of the entire micro-cap space is around $300 billion, about the size of Google (NASDAQ:GOOG).
Over the last couple weeks, Barron's and several other financial publications have written about the recent outperformance by micro-caps. I've been following the micro-cap space for a decade, and I too am intrigued with the latest move in micro-caps. Of course, the question: Is this the start or the end of the run in micro-caps?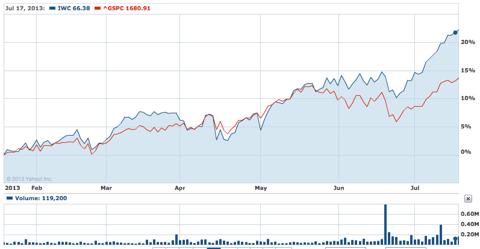 As you can see the in the chart above, the Russell Micro-Cap Index (NYSEARCA:IWC) has significantly outperformed the S&P since mid May. Historically, the IWC has followed the pattern (see chart above pre-May) of overshooting to the upside and to the downside when compared to the S&P. In May, when the S&P moved lower, micro-caps held their ground. This break from the pattern is rather noticeable. This could be just some random aberration, but I believe it could be the start of a longer-term sustainable rise in micro-caps.
As I wrote in the opening paragraph, the whole micro-cap space is $300 billion. Of this, approximately $100 billion is in the hands of company founders. This leaves $200 billion for the investing public (source). Compare this with the individual market caps of Exxon Mobil (NYSE:XOM) $423 billion, Apple (NASDAQ:AAPL) $398 billion, Google $297 billion, Berkshire Hathaway (NYSE:BRK.A) $293 billion, Microsoft (NASDAQ:MSFT) $262 Billion, Johnson & Johnson (NYSE:JNJ) $259 billion, and Wal-Mart (NYSE:WMT) $255 billion. Each one of these mega-caps trades over $1 billion in volume per day. The cash and investments that Apple is sitting on is enough to buy more than half of the public float of every micro-cap that exists. Point being, it won't take much in regard to capital inflows to move the entire micro-cap market.
Currently, there are four primary micro-cap indexes: First Trust Dow Jones Select MicroCap (NYSEARCA:FDM), Guggenheim Wilshire Micro Cap (NYSEARCA:WMCR), Powershares Zacks Micro Cap Portfolio Fund (NYSEARCA:PZI), and the iShares Russell Micro-Cap Index . Since the end of June, the Russell Micro-Cap Index has had approximately $100 million of capital inflows, which is a very material inflow for the historic $500 million index.
Micro-caps are small businesses, and small businesses are the chief job creators, idea makers, and producers of the US economy. The government realizes this, too, as shown by the successful passage of the Jumpstart Our Business Startups Act or JOBS Act, which looks to ease restrictions for companies raising capital through means such as crowd funding. Two weeks ago, the Securities and Exchange Commission voted to allow start-ups to start advertising their securities offerings directly to potential investors, a major step forward in the implementation of last year's JOBS Act. Allowing accredited investors to pool resources and fund emerging growth companies could be the match that ignites the micro-cap space. This will most certainly bring in a significant new wave of capital into the micro-cap market.
Micro-caps make up the majority of public companies that exist and yet very few investors even look at the space. The mainstream financial press broad brushes the space as not investable. The micro-cap arena is risky and filled with bad management teams, business models, and even fraudulent companies. I've written several pieces on several pump and dumps over the last couple of years. but this is the minority of companies. The fact that no one really looks at micro-caps is exactly why the micro-cap market is so inefficient. You can get an edge simply by knowing a company exists. There are plenty of legitimate micro-caps with great businesses.
One of the best qualities of micro-caps is that they can really buck the trend of the macro economy and stock market. During the greatest financial disaster since the Great Depression (July 2008-April 2009), the DOW and S&P were down 50%, and yet a micro-cap like ZAGG (NASDAQ:ZAGG) was up over 250% during this timeframe.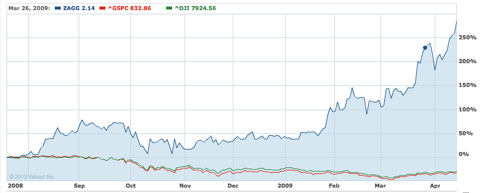 Micro-caps are the ultimate stock picker's playground. They march to the beat of their own drum because in most cases, their businesses are so small that the larger macro forces don't affect them. In many cases China could fall into the ocean and cease to exist, and many micro-caps would continue on, business as usual, like nothing happened. Obviously, I'm half joking, but in most cases, the macro economy plays very little into micro-cap stock selection.
Only in the last six months have I seen very large private equity funds looking down the food chain towards the micro-cap arena. I believe the larger investment community is waking up to the fact that more value can be found in these tiny public companies than almost anywhere else.
In conclusion, micro-caps have had a great run since May, breaking away from the normal correlations with the S&P. Micro-caps make up a majority of the public companies that exist, and yet they are undiscovered and represent one of the last inefficient investment asset classes. We are starting to see significant capital inflows into micro-caps, and with only $200 billion of public float, it won't take much to raise the tide of the whole space. By the beginning of next year, we should start to see a flood of new capital via JOBS act approval of crowd funding entering micro-caps, which could spark a historic run. Micro-caps are risky, so it's important to do your due diligence. If you would like to learn more about micro-caps, [here] is a list of educational articles covering a variety of topics.
Disclosure: I have no positions in any stocks mentioned, and no plans to initiate any positions within the next 72 hours. I wrote this article myself, and it expresses my own opinions. I am not receiving compensation for it. I have no business relationship with any company whose stock is mentioned in this article.