Since Marissa Mayer became CEO of Yahoo (YHOO) a little over a year ago on July 17,2012, Yahoo has acquired a whopping 19 companies. Yahoo has been on a shopping spree, snapping up companies in four key areas: core content, social, gaming, and video/conference calls. On her first earnings conference call back in October, Mayer outlined Yahoo's overarching strategy as follows:
"Our top priority is a focused, coherent mobile strategy. At some point we'll have to be a predominantly mobile company." - Marissa Mayer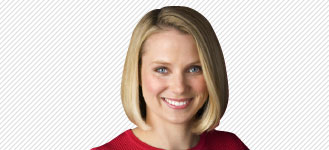 Most of the companies acquired have been inexpensive, mobile-first startups. The flurry of acquisitions has been less about acquiring companies, and more about acquiring engineering talent to help implement the company's new mobile-focused business. Like many other behemoths in Silicon Valley, Yahoo has been making "acqui-hires", acquiring companies purely for its talent. Of the 19 acquisitions made, only a few will remain stand-alone companies such as Tumblr, Summly, PlayerScale, and Qwiki.
Yahoo's flurry of acquisitions has left many company observers puzzled and questioning Mayer's ability to turnaround the company. Some wonder if Yahoo isn't just "shooting from the hip" hoping that at least one acquisition will bring in new revenue. It is no secret that Yahoo's core advertising business still significantly lags that of its competitors and that Mayer is looking for ways to monetize its business. But as a result of its acquisition spree, Yahoo has added a bunch of engineering and product talent in a relatively short amount of time and at rock bottom pricing.
On its latest earnings call, it became evident that Yahoo still has plenty of cash in its stockpile for further acquisitions. During the second quarter of 2013, it was revealed that Yahoo repurchased 25 million shares for $653 million. It used a net $1 billion in cash for acquisitions, including $970 million to acquire Tumblr. But these costs were offset by the $846 million is received from redeeming its Alibaba shares. And oh by the way, Yahoo's sale of Alibaba is expected to net Yahoo close to $20 billion over the next few years. So it is pretty clear how Yahoo is intending to finance its future round of acquisitions: Alibaba will be Yahoo's financier.
Yahoo's Shopping Spree - Another Day, Another Acquisition
So let's take a closer look at the acquisitions Marissa and company has made to date, and see if we can connect the dots to come up with a cohesive business strategy.
| | | | | |
| --- | --- | --- | --- | --- |
| | Announcement Date | Company | Key Category | Details |
| 1. | 10/25/12 | Stamped | Social | Founded by a former Google colleague. App lets users share their favorite things. All 9 employees joined Yahoo. |
| 2. | 12/4/12 | On The Air | Video/Conference Calls | Video chat startup. All 5 employees joined Yahoo. |
| 3. | 1/22/13 | Snip.It | Social | Pinterest-like social platform for collecting and sharing articles and opinions. Company shut down. |
| 4. | 2/12/13 | Alike | Social | Mobile app provides users with lists of places tailored to their interests. Entire staff moved over. |
| 5. | 3/20/13 | Jybe | Social | Mobile app with personalized recommendations. Retained 5 staffers, but company shuttered. |
| 6. | 3/25/13 | Summly | Core content | News aggregation app. Created a buzz due to start-up's whiz kid founder. |
| 7. | 5/1/13 | Astrid | Core content | Allowed creation of simple to-do lists on their phones or the Web. Company to stop accepting new subscriptions. |
| 8. | 5/9/13 | GoPollGo | Social | Mobile app aimed at brands looking to get real-time feedback from fans. Startup's team joined Yahoo. |
| 9. | 5/9/13 | MileWise | Core content | Flight search app which takes into account users' air miles, hotel, and credit card rewards. Team moved to Yahoo's NYC offices. |
| 10. | 5/10/13 | Loki Studio | Gaming | Geomon, company's flagship product is game that incorporated users' location information, including weather, time of day and season. Game shut down post-acquisition along with company. Most staffers joined Yahoo. |
| 11. | 5/17/13 | Tumblr | Social | Social blog site. Company remaining independent. |
| 12. | 5/23/13 | PlayerScale | Gaming | Provided the infrastructure for games in the social and mobile space. Yahoo is keeping company around. |
| 13. | 6/12/13 | GhostBird | Core content | Photo app maker absorbed into Yahoo's Flickr team. Some apps shelved. |
| 14. | 6/13/13 | Rondee | Video/conference calls | Offered free conference calling service. Shut down with staffers joining Yahoo's small business team. |
| 15. | 7/2/13 | Bignoggins | Core content | Fantasy sports apps. Founder joined Yahoo's mobile team. |
| 16. | 7/2/13 | Qwiki | Video/conference calls | Mobile video app which creates short movies from photos and videos on user's phone. Team based out of Yahoo's NYC office. |
| 17. | 7/4/13 | Xobni | Core content | Email and address book management app. All 31 employees including CEO Jeff Bonforte, a former Yahoo employee, will be joining Yahoo |
| 18. | 7/17/13 | AdMovate | Social | Company touts a solution to bring behavioral targeting to mobile advertising. Engineering team will be integrated with Yahoo's display ad team in Silicon Valley. |
| 19. | 7/18/13 | Ztelic | Social | Beijing startup focused on social network data. Founder and returning Yahoo employee will split time between Beijing and Sunnyvale. |
Although all these acquisitions seem to be consistent with the strategies Mayer and company management keep preaching publicly, many analysts and followers of the company are still trying to figure out how all these puzzle pieces will fit together into a cohesive strategy. Almost all the acquisitions have something to do with mobile. But a few acquisitions, such as the $1 billion acquisition of Tumbler are also about the "buzz". The Tumblr deal in particular was intended to help restore Yahoo's reputation as a cool Web company. Tumblr has a significantly younger and hipper demographic than much of its competition, which is attractive to many advertisers. According to the company, the combination of Tumblr and Yahoo is expected to grow Yahoo's audience to more than one billion monthly visitors.
Marissa's Mantra - People, Products, Traffic, Revenue
Yahoo, under Mayer's leadership, is a company in transition. It is a company that is remaking itself, and its image. Mayer calls her plan a "chain reaction". Her mantra is "people, then products, then traffic, then revenue." And based on the price reaction to the 2Q earnings results and the video webcast, investors are starting to buy into the plan. Indeed, since Mayer has taken over, the share price has rallied an impressive 75%. Still, according to RBC analyst Mark Mahaney, much of that gain can be attributed to the appreciation of Yahoo's stake in Alibaba Group and Yahoo Japan.
People
One key issue for Yahoo prior to Mayer coming on board was the talent drain and employee attrition rate. The once cool company had become something of a joke. In the year she has been at the firm, the attrition rate, the rate at which people voluntarily leave the firm, has declined by nearly 60%. And many former employees are coming back to the company, comprising 14% of new hires during the quarter. In the Web business, the quality of your product is a function of your ability to attract and retain top-line talent. Mayer took some heat earlier in the year for phasing out working from home in order to promote the benefits of in-office camaraderie. But under her tenure, Yahoo has introduced many other perks such as free meals, daily habit reimbursement, a more generous maternity/paternity leave, and even perks for new babies and pets. According to Glassdoor, employee satisfaction at Yahoo is at a 5 year high and she has a high CEO approval rating.
Products
Yahoo appears to be in the early stages of a company "renaissance". As Mayer pointed out on the company's 2Q earnings webcast, Yahoo launched an unprecedented number of new products during the quarter, on the pace of almost a new product every week. As detailed in the company's Business Highlights: "Yahoo launched nearly a dozen new product experiences for its core daily habits - including a re-imagined desktop, mobile and tablet versions of Mail, Weather, Flickr, Search, Sports, News, and Yahoo! for iPhone and Android." Flickr is a prime example of a product with huge potential that was mismanaged, neglected, and/or abandoned by her predecessors. It is hard to believe how Flickr, which predates Facebook, managed to miss the boat on social photo sharing, while Instagram prospered.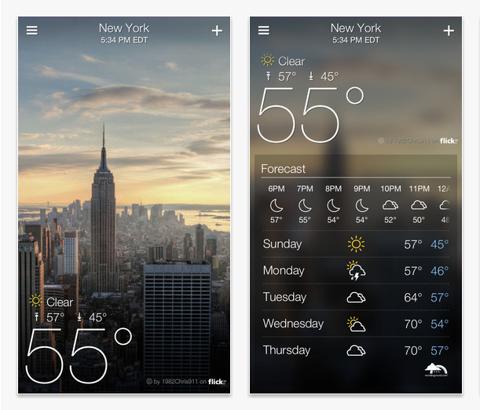 Yahoo's redesigned Weather app
Traffic to Revenue Conversion
New content has helped Yahoo to increase traffic as represented by Global Search trends, but this has yet to translate into higher ad revenues. After multiple years of decline, renewed traffic growth is indeed a company milestone to be celebrated. If such traffic trends can be sustained and Yahoo's image continues to be revitalized, this should eventually entice advertisers and drive revenue growth over the long run. But Doug Anmuth, a technology analyst at JPMorgan, estimates that Yahoo's display-ad revenue will continue to be negative or in the low single digits until 2015 as the company rebuilds its battered ad-sales team.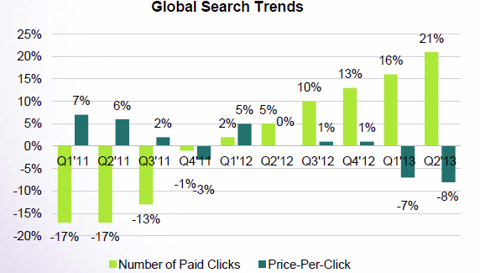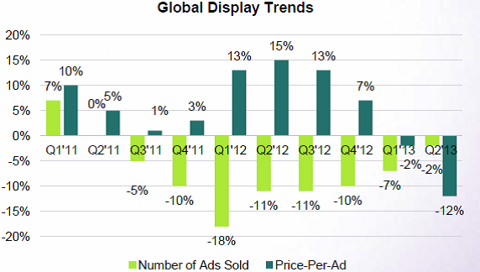 Another key piece of the ad revenue equation is how successfully Yahoo can monetize mobile. That is an area where other competitors such as Google (NASDAQ:GOOG) and Facebook (NASDAQ:FB) have struggled. As consumers flock to their phones and tablets for purchases, Yahoo's mobile first strategy seems like a sound one. But Yahoo is at somewhat of a disadvantage in the mobile space because unlike its rivals Apple (NASDAQ:AAPL) and Google, it does not have a mobile operating system. It doesn't even have a "super-app" like Facebook. It is no wonder that Marissa Mayer identifies its mobile strategy as the company's number one priority and why this has been the primary focus of its shopping spree.
And there is some cause for optimism on the mobile front. According to data by comScore, Yahoo's audience on smartphones has grown at a faster rate than Google and at a pace almost as fast as Facebook, though it still lags in overall subscribers.

Conclusion
Despite a positive stock price response, Yahoo's 2Q earnings results were actually a mixed bag. The company beat on the bottom line, but revenues were light. On a non-GAAP basis, Q2 2013's revenue was $1.07 billion and EPS was $0.35. On average, analysts had been expecting $1.08 billion and $0.30, respectively. The company's shares were initially down after its release on July 16th, but reversed course on Tuesday after management assured investors it continues to buy back the company's stock. In the short term, Yahoo stock is benefiting from the proposed IPO of Alibaba Group and from improvements in Yahoo Japan.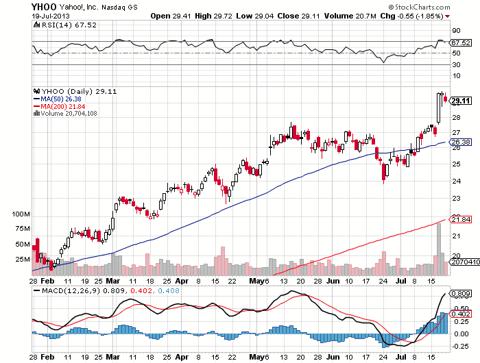 Marissa Mayer is the fifth CEO in the past five years who has tried to salvage Yahoo's business. Certainly many hurdles lay ahead for the company as it attempts to reinvent itself and revitalize its business in the new mobile marketplace. But there is evidence that the company is on the right track, which has led to renewed investor optimism. Although material improvements should not be visible until next year, the company's Asian assets and cash level equating to $21.30 a share and a $1.9 billion stock buyback should limit the downside risk while investors wait for the company's return to greatness with Marissa Mayer at the helm.
Disclosure: I am long YHOO. I wrote this article myself, and it expresses my own opinions. I am not receiving compensation for it (other than from Seeking Alpha). I have no business relationship with any company whose stock is mentioned in this article.
Disclaimer: The opinions expressed above should not be construed as investment advice. This article is not tailored to specific investment objectives. Reliance on this information for the purpose of buying the securities to which this information relates may expose a person to significant risk. The information contained in this article is not intended to make any offer, inducement, invitation or commitment to purchase, subscribe to, provide or sell any securities, service or product or to provide any recommendations on which one should rely for financial, securities, investment or other advice or to take any decision. Readers are encouraged to seek individual advice from their personal, financial, legal and other advisers before making any investment or financial decisions or purchasing any financial, securities or investment related service or product.
Information provided, whether charts or any other statements regarding market, real estate or other financial information, is obtained from sources, which we and our suppliers believe reliable, but we do not warrant or guarantee the timeliness or accuracy of this information. Nothing in this article should be interpreted to state or imply that past results are an indication of future performance.