Much like its prior quarter, Philip Morris International (NYSE:PM) reported weaker than expected earnings due to a stronger dollar and cigarette volume declines. Philip Morris also saw volume weakness in the Philippines related to an excise tax increase earlier this year. During the quarter, Philip Morris also announced that it will purchase the 20% of its Mexican tobacco business that it does not own from a minority partner. The company also revised its FY 2013 guidance for EPS downwards to adjust for unfavorable currency impact. Philip Morris continued its policy of strong shareholder returns, repurchasing about $1.5B worth of stock and paying out a $0.85 per share quarterly dividend. At current prices, Philip Morris yields about 3.80%.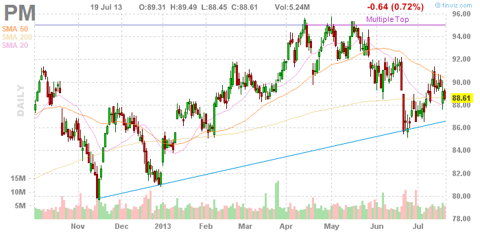 Quarterly Earnings Review
On July 18, Philip Morris reported its Q2 2013 results. Diluted EPS came in at $1.30, down $0.06, or 4.4%, from the $1.36 reported last year. However, when adjusting for unfavorable currency impact, EPS would have actually increased by $0.07 to $1.37. Revenues excluding excise taxes were $7.9B, down 2.5% from last year. However, when again adjusting for unfavorable currency, revenues excluding excise taxes would have been up about 0.05%. Cigarette volumes declined 3.9% to 228.9B units in the quarter. Excluding the Philippines, cigarette volumes decreased 2.6%.
Currency Issues
It is quite obvious that Philip Morris saw weaker results mostly due to the effects of currency. The value of some currencies such as the Australian Dollar, Indonesian Rupiah, Mexican Peso, Russian Ruble and Turkish Lira declined in the quarter, resulting in lower revenues when converted over to dollars. However, when adjusting for this impact, both revenues and EPS were actually higher. Philip Morris achieved this by increasing prices, which subsequently led to lower volumes.
Volume Issues
Speaking about lower volumes, Philip Morris saw several issues affect this key metric. European volumes declined mostly from declines in Russia and Turkey. Philip Morris saw some consumers shift over to cheaper, often illicit, cigarettes in response to the overall economic difficulties plaguing the region. In Russia and the Ukraine, Philip Morris saw volumes declines mostly due to price increases and the reversal of favorable distributor inventory movements.
In Asia, Philip Morris saw its volumes decline about 3.5%, almost entirely due to the Philippines. In Indonesia, the company saw volumes increase 6.0% to 28.2B units. In Japan, Philip Morris saw volumes decline 10.2% to 14.1B units. Do note that this decline in Japan was mostly due to the timing of inventory movements.
In the Philippines, Philip Morris saw volumes plunge 16.5% to 19.1B units. This was caused by an excise tax increase which resulted in a large 60% to 70% price increase in retail prices for Marlboro and low-price Fortune brands. The company has been attempting to invest more into its low cost cigarette options to stem its market share decline. However, this price increase has allowed a local competitor to increase its market share at the cost of Philip Morris. Below is an excerpt from the Q2 2013 conference call regarding the Philippines:
The final market that I will talk is the Philippines, the decline in the tax based industry volume moderated significantly during the second quarter where volume down by 7% despite the continued high prevalence of local non-tax paid cigarette that are not included in the data. We increased our investments behind Fortune and lower price brands to seek to achieve more sustainable price cuts.

However despite the very large tax increase our local competitors Mighty and Marvel brand have remained at last year's attractive price point at 1 peso per cig. This gives the competitor a clear price advantage in the market where fixed sales account for about 70% of the volume. We want the limited improvements in tax enforcement wide spread availability of non-tax based domestic cigarettes remain a critical issue.

This is driving a greater level of down trading and originally foreseen and that has impacted our volume, our mix, and our market share, which declined to 82.9% in the quarter. We are continuing to work with the Bureau of Internal Revenue to achieve a level playing field. Our volume increased from 13.5 billion units in the first quarter to 19.1 billion units in the second quarter. For the full year 2013, we forecasted our volume will be down around 20% to 25%, but that the decline in consumption should be significantly less.

Guidance
Philip Morris revised its diluted EPS guidance for FY 2013 to $5.43 to $5.53 compared to the previous guidance of $5.68 to $5.78. This change mostly reflects the impact of the current currency weakness. Excluding currency, this continues to represent a growth rate of approximately 10% to 12% compared to other adjusted diluted EPS of $5.22 in 2012, which is inline with Philip Morris' currency neutral annual adjusted diluted EPS growth targets. The FY negative impact of currency is expected to be about $0.31 per share.
Share Buybacks and Dividend Policy
For the quarter, Philip Morris bought back over $1.5B worth of its stock. Under its current $18B, three-year share buyback program, Philip Morris has repurchased over 65.5M shares for around $5.9B. This implies an average price paid for the stock of about $90 per share. Since its 2008 spin-off from Altria (NYSE:MO), Philip Morris has repurchased nearly 25% of its shares outstanding at the time of the spin-off.
In the conference call, Philip Morris mentioned that its targeted dividend payout ratio remained at about 65%. We can easily estimate Philip Morris' expected new dividend level using the above estimate for FY 2013 EPS. Since Philip Morris is very likely to announce a dividend hike in the next few weeks, this leads me to estimate that Philip Morris' new quarterly dividend level will range from $0.88 to $0.90 per share. This would represent a 3.5% to 5.9% increase from the current quarterly dividend of $0.85 per share.
Mexican Subsidiary Purchase: Accretive to EPS
On May 21, Philip Morris announced that Grupo Carso, S.A.B. de C. V will sell to Philip Morris its 20% interest in Philip Morris Mexico, S.A. de C.V. The estimate purchase price is currently $700M. However, it will be determined by a pre-agreed formula and could be adjusted based on Philip Morris Mexico's actual performance. Philip Morris projects that this transaction would be accretive to EPS as of Q4 2013.
Second Half Strength?
In the conference call, Philip Morris strongly hinted that its second half of 2013 will be much stronger than the first half. In particular, Philip Morris expects to have a very strong Q4 2013. The company expects volume declines to moderate in Europe as well as declines related to prices increase to reverse somewhat. In general, Philip Morris was able to pass along price increases early in the year. This led to lower volumes this quarter and in Q1. However, Philip Morris is seeing its market share remain constant even with the price increases.
Conclusion
Philip Morris noted during the conference call that the current operating environment is currently the most challenging since its spin-off in 2008. The current market size has been decreasing and some consumers have been shifting over to cheaper products. However, Philip Morris' main Marlboro brand has continued to maintain its market share.
Regarding the dividend, I hope that my estimates are wrong. I suspect that Philip Morris may increase its targeted payout ratio slightly this year considering the major impact currency is causing to EPS. Philip Morris remains a core position in my portfolio. I was hoping for the stock to decline 4 %to 5% on this earnings report. However, the stock fell about 3.5% then quickly recovered most of these losses. I suspect that this was caused by the upbeat comments regarding the second half of 2013 in the conference call.

Disclosure: I am long PM. I wrote this article myself, and it expresses my own opinions. I am not receiving compensation for it (other than from Seeking Alpha). I have no business relationship with any company whose stock is mentioned in this article.
Additional disclosure: I may go long MO at any time.
Disclaimer: The opinions in this article are for informational purposes only and should not be construed as a recommendation to buy or sell the stocks mentioned. Please do your own due diligence before making any investment decision.