The Life Science sector is considered a newer REIT category that is somewhat of a hybrid between office and health care. The unique characteristics of the Life Science REITs revolve around the mission-critical nature of lab space and the stability of the leases driven by the limited availability of competing space.
There are only two "pure play" Life Science REITs today, and a few weeks ago, I wrote an article on Alexandria Real Estate Equities (NYSE:ARE), and in this article, I plan to focus on the other pure play REIT: BioMed Realty Trust Inc. (NYSE:BMR).
Before I start with BioMed, however, I want to provide some high-level insight into the Life Science Industry - a proven investment model that is comprised of research & development partnerships that are critical in the highly innovative health care sector. Alan Gold, CEO of BioMed, explained this during the company's recent (Q1-13) earnings call:
The basis of our success remains the strength of life science industry fueled in part by sustained scientific achievement with 39 drugs, approved drugs in 2012 and over 40 new molecular entity is up for approval in 2013.
The demand for Life Science research is significant as evidenced by the number of recent FDA approvals:

The Life Science industry consists of University Research, Small Venture Capital, Small IPOs, Small Public Companies, Large Public Companies, and Major Pharmaceutical Companies. All of these components cross different spectrums and the common thread for all categories is the significant trend seen in breakthrough trials (in R&D) that has led to improvements in overall credit quality.
As part of that trend, the Life Science REITs have been a large part of the capital flows where innovation has attracted significant fund needs for R&D. As evidenced by the snapshot below, 2013 should be a record year for Life Science investments: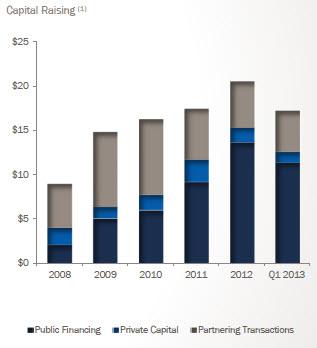 As part of the evolution in the booming lab-based model, partnerships are being forged with REIT owners where the "life cycle" provides significant "cross pollination" - smaller venture capital operators create a growing pipeline of space needs that leads to strong risk-adjusted returns of the larger pharmaceutical public companies. Alan Gold, CEO of BioMed, explained the success of the Amex Biotech Index during a recent (Q1-13) earnings call:
The Amex Biotech Index, again, outperforming the boarder S&P 500, was up 18% in the first quarter compared to the 10% increase in the S&P. Since the start of 2012, the Amex Biotech Index is up an impressive 74%.
This strong tenancy is most evident when comparing the BioTech Index with the S&P 500:

BioMed: Almost Nine Years as a REIT
Together with a small team of visionaries, Alan Gold and Gary Kreitzer were part of the original leadership team that created Alexandria Real Estate Equities (or ARE). At ARE, Gold served as President and Kreitzer served as General Counsel (1997) and in 1998, both (Gold and Kreitzer) left ARE to form Bernardo Property Advisors, Inc. (to acquire and manage lab space properties for lease to the life science industry). In 2004, BioMed Realty Trust, Inc. was formed out of Bernardo Property Advisors, Inc. and the company went public on August 5, 2004 (almost 9 years ago).
Since the IPO, BioMed has grown significantly and as of the latest quarter (Q1-13), total assets were just under $5 billion ($4.999 billion):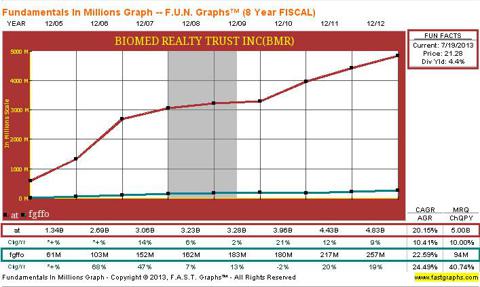 BioMed recently announced that it had entered into an agreement to merge with Wexford Science and Technology (Wexford) and once that deal closes, BioMed will grow its asset base from 95 properties (13.07 million square feet) to 106 properties.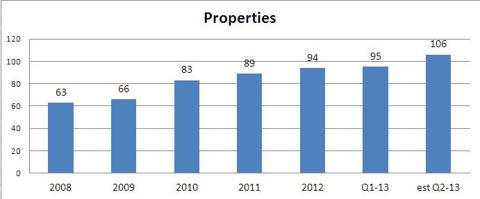 The Wexford deal will bring significant value to BioMed (I will discuss Wexford in greater detail) and as evidenced by the snapshot below, BioMed has a significant number of long-term tenant relationships (7 of the top 10 tenants are rated A- or better):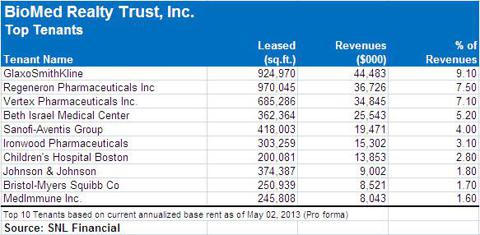 Most of the A-rated life science companies tend to locate in areas near the big pharmaceutical firms. Conversely, these firms also benefit from being in very close proximity to major universities where research and development serves a critical function. The major "hot spots" for Life Cycle practices include San Francisco, Boston, and San Diego.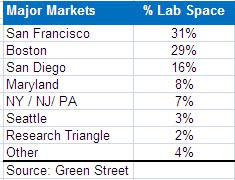 Here is a snapshot of BioMed's diversification by state: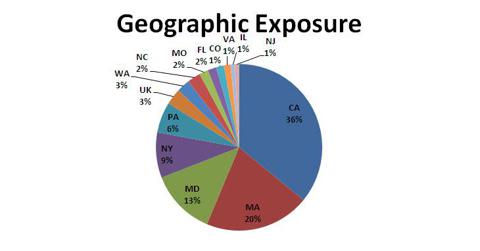 BioMed has a diverse base of tenant categories that include University Research, large established companies, early-stage life science organizations, A-rated public companies, mid-stage life science organizations, and non-life science tenants. Here is a snapshot of the current portfolio composition: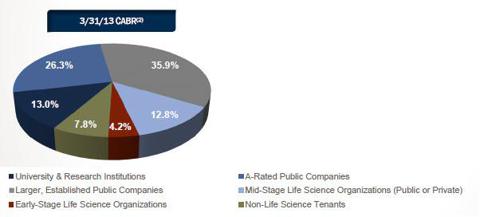 What's The Value of the Wexford Deal?
One of the most significant benefits for BioMed's merger with Wexford will be the significant University relationships that Wexford brings to the table. Here is a snapshot of some highly sought after relationships:

The Wexford portfolio consists of 11 facilities and the majority (60.3%) of the tenancy consists of University & Research Institutions: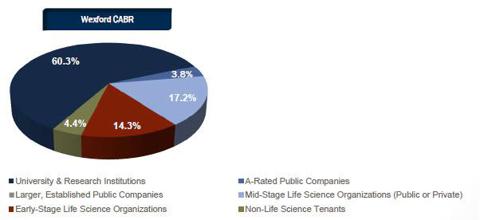 Post merger, BioMed will increase its allocation to University Research from 13% to almost 18%. This strategic marriage with BioMed and Wexford will provide BioMed with a more balanced revenue stream and a higher degree of concentration on key critical research at the University level.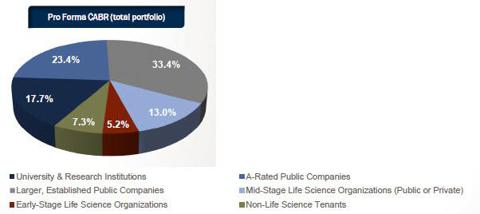 The total consideration of the Wexford deal is around $640 million, representing an 11% expansion of BioMed's total asset base (the deal is expected to close in Q3-13). Wexford owns 11 properties in 8 markets with around 1.6 million square feet of space (86% leased). As noted above, BioMed's merger with Wexford brings the combined companies a differentiated REIT model that offers an organic growth platform of academic and medical research.
Wexford's portfolio consists of a majority (66%) of research-based facilities and with over 30 Wexford employees, BioMed will be able to increase its development pipeline in the growing R&D sector. Here is a snapshot of Wexford's "operating portfolio" (excluding under development) details:

All of the Wexford facilities are new (delivered 2005-2011) and the 1.62 million square foot portfolio brings BioMed a new line of business where Wexford will provide increased organic opportunities for mining "best in class" Life Science research.

Wexford also brings BioMed over $41 million in new development with 3 projects under construction and expected to delivery in 2014. Also, Wexford owns 2 parking garages in Philadelphia (419 stalls) and Baltimore (638 stalls) with a combined value of around $39 million.

Wexford Puts the "Gold Stamp" on BioMed's Research Platform
BioMed's strategic investment (in Wexford) adds depth and key relationships in academic and medical research. Although the Wexford assets are not located in the primary Life Science towns, the properties are located in high-barrier markets on or adjacent to top-tier academic and medical campuses.
The cap rate on the Wexford deal is 6.5% (on the operating portfolio) and based upon the length of the leases (13-year average remaining lease term), the merger is attractive. To finance the Wexford deal BioMed will assume $170 million in debt, issue $133 million in equity (to the sellers) and pay the remaining $338 million in cash.
The Wexford merger will increase BioMed's overall average lease term that is around 8.3 years today. That will further differentiate BioMed from its sole peer, Alexandria, that has an overall average lease term of 6+ years. In addition, that will also provide key differentiators within the two Life Science REITs as BioMed aims to increase its University lease base and Alexandria focuses on small venture capital and big pharmaceutical firms. The growing delta in lease term for BioMed can be illustrated below:

In addition to the "research stamp," BioMed will also benefit from the continued diversification. Here is snapshot of BioMed's enhanced diversification model (based on Top 10 Tenants):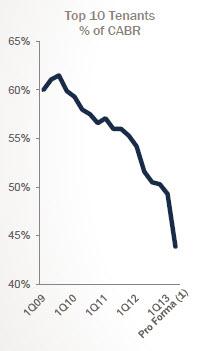 Here is a snapshot of BioMed's reduced exposure to the top 2 tenants (and Regeneron Pharmaceuticals):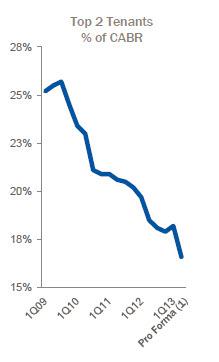 Here is a snapshot of BioMed's reduced exposure to its Top Tenant, GlaxoSmithKline: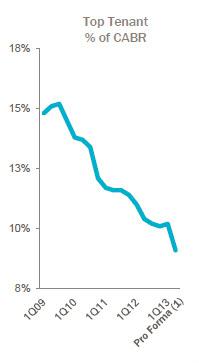 I consider the Wexford deal to be a strong "stamp of approval" that BioMed is dedicated to University partnerships and the company's organic growth model should provide long-term benefits and further differentiate the two competing Life Science REITs.
BioMed: Strong Fundamentals
As noted above, BioMed is one of just two Life Science REITs, and the sector is somewhat of a hybrid between office REITs and medical office property (or MOB) REITs. For the purpose of my peer analysis, I will use all three sectors; that should provide a balanced comparison. Here is a snapshot of a cross-sector of REITs and, as you can see, BioMed has a market cap of around $4.1 billion:

BioMed is still much smaller than three diversified health care REITs: Ventas Inc. (NYSE:VTR), HCP, Inc. (NYSE:HCP), and Health Care REIT (HCN). Ventas is the only diversified REIT that doesn't have exposure with the Life Science sub-sector (I will address that later in this article).

BioMed's balance sheet, liquidity and credit metrics are very solid, and over the last few years, we have seen considerable improvement. Benefiting from the company's preferred stock redemption, the fixed charge coverage ratio was 3.2 times. In addition, debt to pro-forma adjusted EBITDA is 6.4x. Debt as a percentage of total gross assets remain very consistent at 40%. Here is a snapshot of BioMed's debt to total cap history (since 2008) and the company's latest debt to total cap ratio was 35.82%.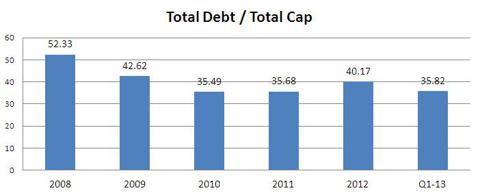 Also, BioMed was the first Life Science REIT to achieve an investment grade rating, and as evidenced by the snapshot below, a reduced emphasis on secured debt has been a big part of the success.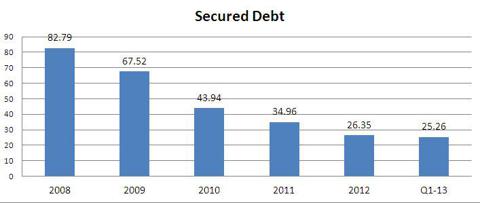 BioMed ended the first quarter (Q1-2013) with ample liquidity, approximately $535 million of capacity on its unsecured line of credit, which had an outstanding balance of $215 million at the end of the quarter.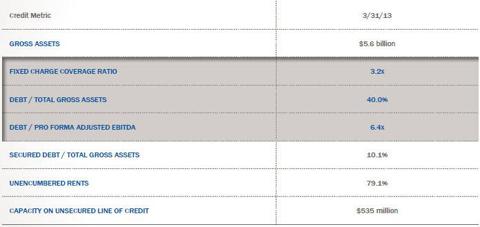 During the first quarter (Q1-2013), BioMed reported AFFO of $0.47, compared to $0.30 per share in the first quarter of 2012. And net income for the quarter was $0.05 per diluted share. The company's quarterly common dividend was $0.235 per share or $0.94 per share annualized.
During the latest quarter, BioMed has made strong progress with leasing its core portfolio, and the steady leasing momentum should enhance external growth and continue to strengthen the balance sheet.
BioMed's first quarter same-store NOI grew by 3.5% year-over-year driven largely by a 310 bps increase in occupancy (to 87.2%) as rental revenues increased 1.8% year-over-year on a cash basis. Overall the total operating portfolio was 91.7% leased.
BioMed's pipeline for revenue is strong as the company has recently signed leases with several firms including Meso Scale Diagnostics, Idenix, Regeneron, and Life Technologies. Future lease commencements are over 1.28 million square feet with around $38.3 million in rents not yet started.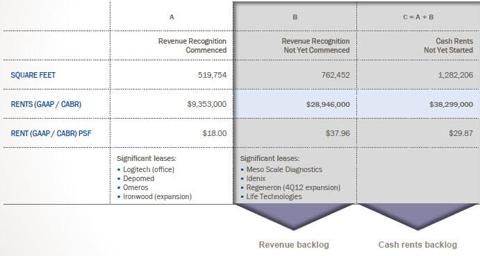 During the last 14 months, BioMed has increased its AFFO by over 195% while also increasing its occupancy by 680 bps to 91.7%. Also, total gross assets grew by 78% since obtaining a rating in April 2010.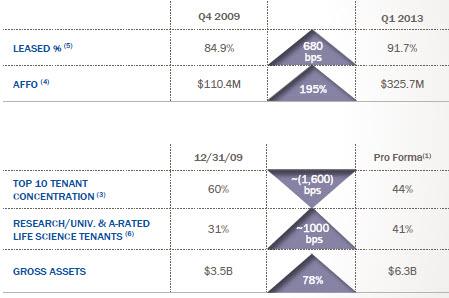 Here is a snapshot of BioMed's first quarter financial results (as compared with the same quarter in 2012):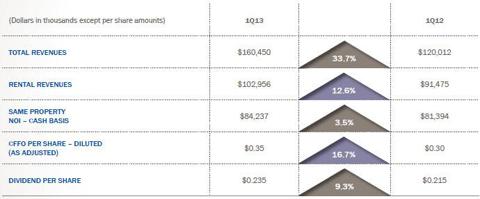 BioMed's Attractive Dividend Yield
BioMed's current dividend yield is 4.47% and that is higher than most other office and health care REITs. Based upon my sample of REITs listed below, Healthcare Trust of America (NYSE:HTA) and Healthcare Realty Trust (NYSE:HR) are the only REITs with a higher dividend yield.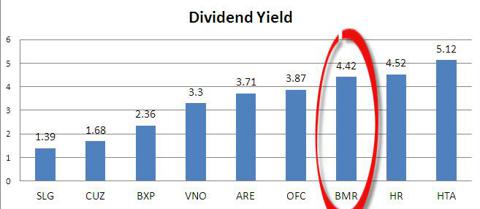 Like most REITs, BioMed was paying out higher dividends per share prior to the Great Recession; however, in 2009 the company was forced to cut its payout from $1.3400 (in 2008) to $.6300 (in 2010). Since that time, BioMed has been "clawing back" its dividend and as of the latest period, BioMed is paying out $.2350 (annualized at $.9400).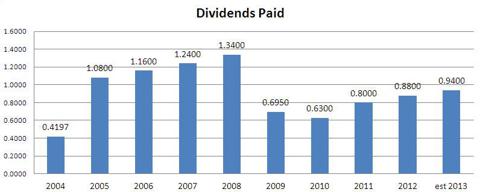 Although dividends per share aren't quite back to pre-recession levels, BioMed has been building up a track record for growing its dividend. Here is a snapshot that illustrates the increase (and decrease) of dividends paid.

I'm Adding BioMed to My SALSA Portfolio
In my Intelligent REIT Investor newsletter, I include two portfolios: a SWAN (or sleep well at night) portfolio and a SALSA portfolio. I am considering adding a 5% allocation to my SWAN portfolio. BioMed's unique Life Science strategy and the more recently announced Wexford deal make BioMed a solid choice for further health care related diversification. In terms of pricing (and entry points), let's examine the FAST Graph: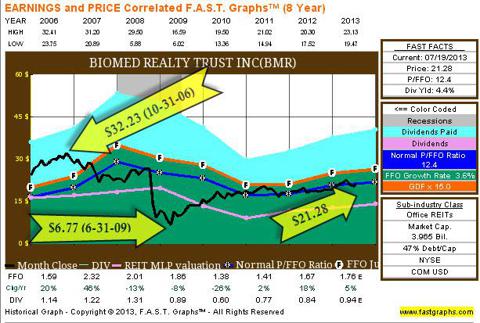 As you can see (above), BioMed was trading at around $32.23 in 2006 and then the shares fell to around $6.77 in 2009. Since that time, the shares have climbed back to $21.29 (recent closing price).
BioMed has a Price to Funds from Operations (P/FFO) multiple of 14.3x, the lowest in my peer analysis. This valuation appears cheap compared with the office and MOB peers; however, I believe the valuation is in-line given the unique nature of the biotech/pharma tenant base. I would argue that BioMed is trading just under the fair value range which means the shares aren't cheap but are very reasonably valued.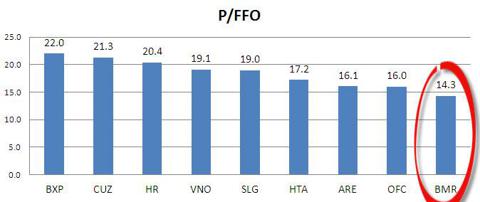 With the new FUN Graph tool, I can also illustrate the history of BioMed's P/FFO multiple: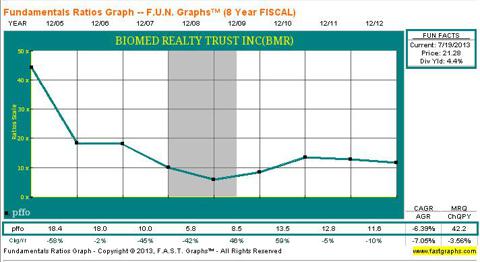 Finally, the FAST Graph below illustrates that BioMed is an attractively priced stock. The current price of $21.28 (black line) is trending below the earnings (orange) line (or FFO) and that tells me that there is a "margin of safety" that exists today. Since the drop in FFO (between 2009 and 2010), BioMed has maintained and increased its earnings growth and that has given investors a stable dividend alternative.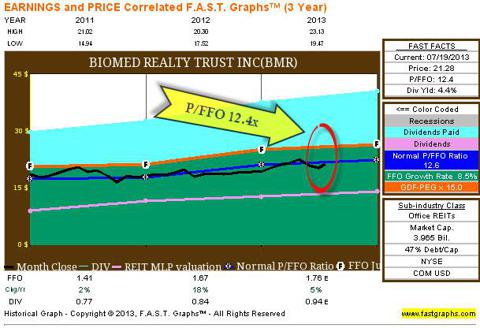 Wexford Seals The Deal
In conclusion, I believe that BioMed is a BUY given the steady leasing momentum, an enhanced growth formula (driven by Wexford), and increased balance sheet strength. The recent FDA drug approvals are growing and that makes the university-based research model more compelling. These factors should also have a strong impact on BioMed's lease-up fundamentals and future occupancy.
Also, as evidenced by the snapshot below, BioMed's higher average rent per square foot makes the specialty REIT a higher quality portfolio. I like buying higher quality assets at lower prices (if they become part of your DNA when investing, you really can't go wrong - Buffett).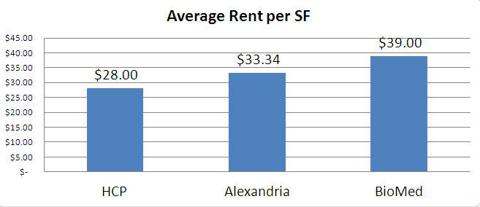 It seems that BioMed could also be an interesting buy for Ventas. As mentioned above, Ventas has a massive war chest that includes over 1,433 facilities located in 47 states and provinces (including owned assets and joint ventures). That includes 676 senior housing properties, 381 skilled nursing properties, 321 medical office properties, and 47 hospitals - but no Life Science facilities. In an recent interview with Debra Cafaro, CEO of Ventas, I asked her what she thought about Life Science and she said:
We don't have life science in our portfolio. We maintain a consistent view of life science and we would approach that sector much like we have with the MOB (sector).
Ventas has plenty of "gun powder" ($2.0 billion in available liquidity with a revolver balance at quarter-end of $705 million) and it seems like BioMed will be a valuable addition to the growing Ventas brand. At $21.28, I believe there is some sound growth ahead of BioMed and, with a 4.42% dividend yield, I believe the prospects for performance look solid. In short, Wexford seals the deal and I now have a new REIT for my SWAN portfolio.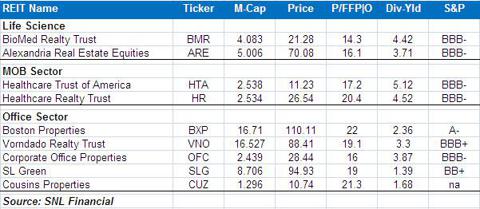 Note: This article is intended to provide information to interested parties. As I have no knowledge of individual investor circumstances, goals, and/or portfolio concentration or diversification, readers are expected to complete their own due diligence before purchasing any stocks mentioned or recommended.
Source: SNL Financial, FAST Graphs, BioMed Realty Investor Presentation (June 2013)
Other REITs mentioned: (NYSE:BXP), (NYSE:VNO), (NYSE:PDM), (NYSE:OFC), (NYSE:SLG), and (NYSE:CUZ).
Disclosure: I have no positions in any stocks mentioned, and no plans to initiate any positions within the next 72 hours. I wrote this article myself, and it expresses my own opinions. I am not receiving compensation for it (other than from Seeking Alpha). I have no business relationship with any company whose stock is mentioned in this article.