After 73 articles over 2 years and 5 months, including 5 editors' picks, I will be joining the Foreign Exchange Desk at CIBC World Markets (NYSE:CM) in Toronto, and thus will be unable to continue contributing to Seeking Alpha. It has been a fantastic journey with a first class organization. David Jackson and the team at Seeking Alpha have been a pleasure to work with.
In writing my farewell article, I'll share my story as a contributor, the performance of my picks and my outlook for the future. The goals are to provide information of value to those considering becoming a contributor, insight into my performance and one last outlook for my readers.
The Journey
I applied as a contributor to Seeking Alpha after a classmate at the University of British Columbia Sauder School of Business, Noam Gilead, recommended Seeking Alpha to research stock picks. I went to the website and signed up for the Wall Street Breakfast Newsletter, and while signing up noticed a button inviting applications to become a contributor. I already had a financial blog and had blogged extensively as a political candidate, therefore I thought why not?
At this point, I had just begun second year at Sauder, but was not your typical second-year undergraduate, as I worked in my family's business and was involved in local politics before returning to university. I saw my work experience as an advantage in my writing, as I could combine my work experience with the financial theory learned at Sauder to provide value for the readers at Seeking Alpha. Of course, when I look back at some of my first articles, I cringe at times at the extent of my knowledge, or lack thereof. But as it is said, the journey of 1,000 miles begins with a first step.
Seventy-three steps later, I find much pride in many of my articles. Of course, there is always room for improvement, but progress has most definitely been made. The more one contributes, the more confident one becomes in their writing, the more one learns about the capital markets, the more value one provides readers. It is a beautiful virtuous circle.
Outside of enjoying the journey, my writing for Seeking Alpha has been profitable in a multitude of ways.
First, it assisted in being hired for internships with Global Securities and Morgan Stanley during which I learned a tremendous amount.
Second, it forced me to think through investment ideas far more in depth than I otherwise would as well as provided me with real time feedback via Seeking Alpha commentators. The latter of which provided the most value, as I have grown to have tremendous respect for the commenters and have often engaged in extensive discussions with them in private messages. It is a very knowledgeable group that was an important part of my education in the capital markets.
Third, it actually turned out to be financially profitable. When I first began writing for Seeking Alpha, there was no payment system set up for contributors. It has been a pleasure to watch the website grow in popularity, and I greatly appreciate Seeking Alpha implementing a payment system, which has had a noticeable effect on the quality of the content.
In conclusion, if you're considering applying to be a contributor for Seeking Alpha, stop procrastinating and do it. You'll improve your writing, gain greater knowledge of the capital markets and grow as an individual.
Performance
As with any performance report, mine is ripe with caveats. The nature of writing articles makes it difficult to assess exactly how article picks perform. There are the obvious omissions, such as position sizing and leverage, but there is also less obvious information left out, such as how exactly the orders would be filled. In addition, rarely does one write an article every time one buys or sells a stock, bond, currency or future position.
These omissions prevent a perfect accounting of whether a contributor provides any alpha. The best way to hold one accountable is to manage a portfolio alongside the articles, which includes your picks, but unfortunately I didn't undertake this when I first began writing in 2011. The best example of an author holding themselves accountable to results is the story of FundMyMutualFund.com, an excellent model of how to utilize the power of the Internet to launch a real world fund.
The "performance" aspect of article writing also goes against my investing philosophy. As the tale of the five blind men and the elephant goes, I see my role as describing the part of the elephant I happen to be touching. My objective with each article is to do my research, provide value and be honest with my audience. The world is far too complicated of a place for anyone to "know" what the market is going to do, and any writers who claim to generate excessive alpha would be running multi-million dollar hedge funds if they were actually able to generate the alpha they claim. Frankly, any writer who spends time promoting his or her performance or gushingly recalling past picks is likely a charlatan.
So with those caveats in mind, I've gone through my past articles and compiled my performance using the following rules:
Only articles with a clear long or short pick are included
Follow up articles on the original thesis aren't included
I hold all picks until today's date
In addition, I included the titles of the articles to provide the gist of the original thesis. Below is a table with the results.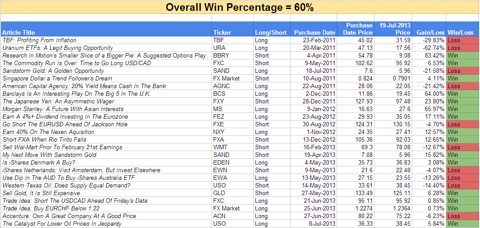 Outlook
Money is made in the markets by discounting the obvious and betting on the unexpected. Looking through the world from this paradigm, I see a number of opportunities, the largest of which is in emerging markets.
As the chart below documents, emerging markets have been lagging developed markets since 2011.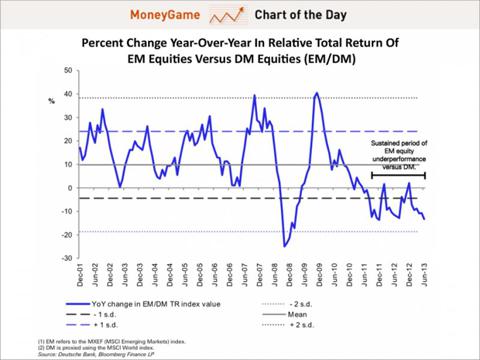 This means that there are opportunities to buy cash flows at discounted rates at companies that are international in nature, but located in a country that is out of favor. Personally, I'll be looking for large companies with solid dividends in emerging markets such as China, and Brazil. Although there will no doubt be setbacks, both countries have a long way to go to catch up to western living standards, which means plenty of opportunity for companies with operations in these markets. In addition, it is important to remember that the largest risks are the unknown unknowns, therefore I see much of the economic fears with regards to China as overblown. China will experience its mishaps when everyone least expects it.
With regards to particular picks, there are three Chinese companies I like, those being CNOOC (NYSE:CEO), China Mobile (NYSE:CHL) and China Petroleum & Chemical Corp (NYSE:SNP). All three have a high dividend yield, are trading at a P/E below 12 and are well off of their 52-week highs. In Brazil, I like Telefonica Brasil (NYSE:VIV), which also features a high dividend and low P/E and is trading at a support level in a long-term upward trend.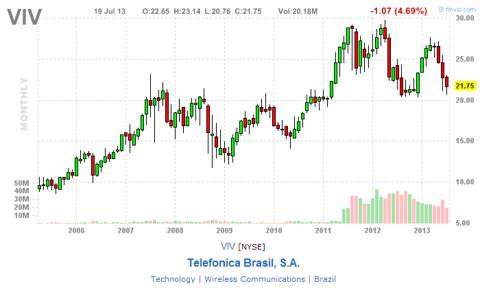 Keep in mind that corrupt countries generally favor incumbent domestic companies, as they are the ones paying off the government officials and thus will receive market protection. It is in the most capitalist countries which feature the freest markets where the large players are most at risk. As the U.S. steadily declines in the Index of Economic Freedom from one of the freest markets to one of the most regulated, I expect the smaller firms to suffer the most while the larger firms gain a larger economic moat.
In terms of currencies, I see a monumental shift going on which I outlined in the article FX Traders: Beware Of Changing Rules. The long-term trend of strengthening commodity currencies such as the Canadian dollar (NYSE:FXC) and Australian dollar (NYSE:FXA) is reversing. Both of these currencies still have a long way to go, and I'd generally want to be on the short side of both if I were actively trading them. Outside of the commodity currencies, I expect the Japanese yen (NYSE:FXY) to continue to fall as Japan continues its revolutionary QE program, and I expect the European Central Bank to engage in a similar program in the near future, which will significantly devalue the Euro (NYSEARCA:FXE). This outlook makes me a USD bull, which appears on the verge of starting a new upward cycle, as the average down cycle is 9 years.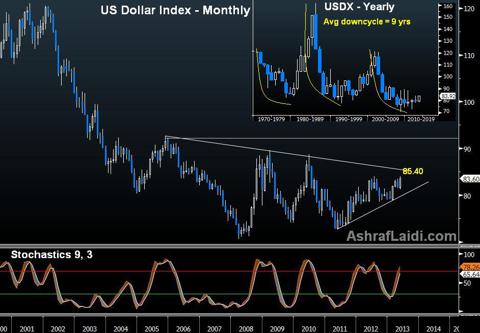 Generally speaking, I am extremely optimistic for the future. In the U.S. the end of QE is in sight, the shale revolution is reviving domestic oil production and the budget deficit is shrinking. In China, corruption is being clamped down, and although this will result in short-term pain, it is a necessary step for living standards to continue to rise. Although Europe's woes continue to drag on due to a failure of leadership, I'm hopeful that the structural reforms put in place now will create the ground work for a brighter future. There was a time and place when the Greeks were the most advanced nation in the world, after all.
Before I sign off, I want to thank each and every Seeking Alpha member who took the time to read my articles. I still find it surreal at times that I am in a position to combine my two passions, the markets and writing, and have people take an interest in what I have to say. I will miss it.
On to the next adventure, best wishes to you all.
Disclosure: I have no positions in any stocks mentioned, and no plans to initiate any positions within the next 72 hours. I wrote this article myself, and it expresses my own opinions. I am not receiving compensation for it (other than from Seeking Alpha). I have no business relationship with any company whose stock is mentioned in this article.