Some reporters took as positive news Thursday's report that U.S. business inventories fell again in June. The Commerce Department said the value of stockpiles -- at the retail, wholesale and factory level -- dropped 1.1 percent to $1.35 trillion.

That's been taken by some as good news that the inventory glut is being worked off, which is what we need to clear the path to real growth in production and the overall economy again.

How do I put this politely? Whoop-ee-doo.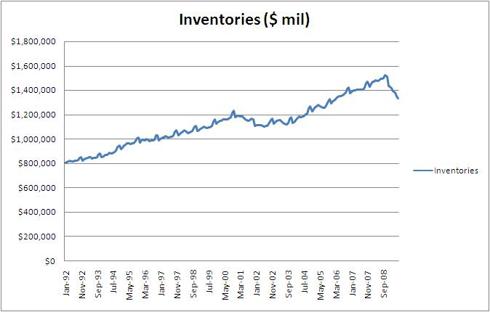 The drop in inventories is meaningnless without context. The context is sales. Retailers, wholesalers and factories still have quite far to go to get their stockpiles back in sync with sales. They're still chasing a falling target and have made little headway in closing the gap.

The relevant measure is the inventory-sales ratio, which tells you where your inventories are versus sales, or how bloated your stockpiles are. That's what matters. Producers and distributors strive to keep stockpiles in line with sales through booms and busts. They try to keep supply in sync with demand or expected demand. In a recession-recovery period, it's the ratio that gives you a rough sense of how much liquidation needs to be done.

And this is what the I-S ratio is telling us: However much stockpiles have been run down, they remain very bloated against sales. Asbent a miraculous jump in sales, there's more retrenchment to come...beyond the painful downsizing we've seen so far.

That's why a closer look at the updated inventory-sales ratio chart* is sobering. Very sobering.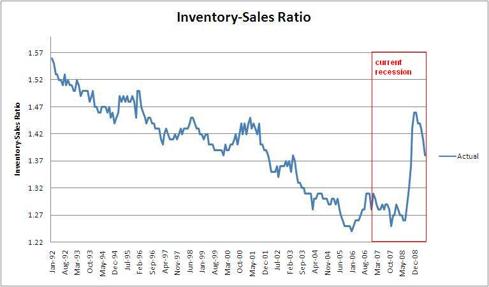 While the ratio sank to 1.38 in June from 1.41 in May, it was still more than 5% above its pre-recession level of about 1.31.

It gets worse.

The "right" I-S ratio is a constantly moving target -- a falling target. There was at least one enduring development, one real technological advance, through all the bubble-hype of the past 20 years: I'm talking about "just-in-time" manufacturing or the drive to make lean inventories ever leaner. It means, through the best and worst of times, the "right" I-S ratio has been continually falling as companies successfully squeeze out more waste from operations, constantly defining down the benchmark of what's considered a "healthy" inventory-sales ratio.

Here's the chart again with the trend line.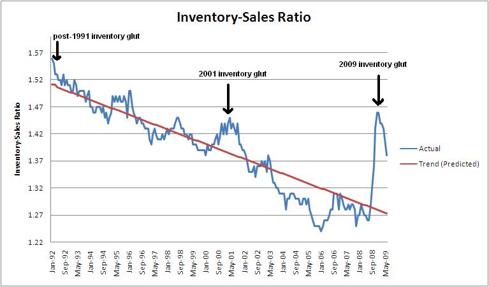 The trendline shows the I-S ratio on a generally downward path through booms and busts. The trend line is a rough guess of where the ratio "should" be at any given time, given the long-term trend.

The chart suggests the current I-S ratio is high compared to pre-recession levels. And it's very high above trend levels -- above the "right" level, or where the ratio should be.

At the very least, the bloat -- the gap between what the I-S ratio currently is (1.38) and what it should be (1.27 according to the trendline) -- remains above 8%. That means sales either have to go up more than 8% from where they were in June, inventories have to drop by roughly the same amount, or there has to be some mix in between.

To get a better feel of what kind of inventory liquidation that means, think of what an 8% drop in economic activity can feel like, just for comparison. Consider that the U.S. economy as a whole has shrunk (only) 1% from its peak so far during this two-year recession. And that's been painful enough. Consider that's about the same drop we saw through the ugly 1970's. And those are the two biggest 2-year GDP drops I can find in quarterly records going back to 1947.

On the flip-side, To get a better feel of what kind of sales boost we'd have to see to avoid that kind of retrenchment, think of what an 8% jump in overall economic activity feels like. That was China's growth rate -- at its height -- through the go-go years. America's best annual growth rates during the boom years were around 4% or so. In other words, getting rid of this glut in one year would require double the growth rate enjoyed through the boom years. Aint gonna happen.

Take one last look at the inventory-sales chart again.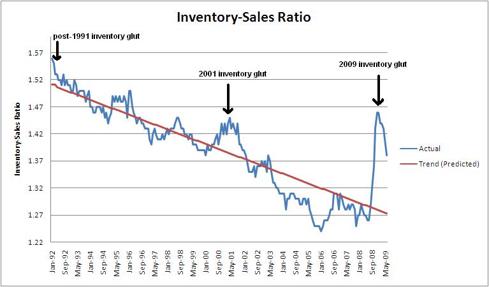 It suggests we're only a quarter of the way through the inventory correction -- progress paid for with gigantic bailouts that have bought us temporary, artificial relief at future cost. The current Super-Glut, despite recent progress towards reducing it, remains more than twice as big as the inventory bloat seen during the 2001 recession. Other reports this week showed retail sales fell in July, so the inventory correction may have at least that much farther to go.

The recession might not be over, folks. And even if it is, and we are in a recovery, it doesn't look like a return to real growth in production is around the corner.

Invest (or divest) accordingly.

*Note: I-S chart only goes back to 1992.