We saw this article from Business Insider this weekend which highlighted a New York Times article (located here) which discusses how Goldman Sachs has essentially been printing money for itself and the London Metals Exchange, often referred to as the LME, by toying with aluminum markets via their metal storage warehouses. The report from the New York Times is certainly worth the read, but the Business Insider article is a nice summation of the story. In short it appears that this is how the markets have been 'rigged' and lends further credibility to those who have been saying that the LME's copper market has been manipulated. It appears that the investment banks are getting out of this business, and probably just in time, because we can envision these practices coming under scrutiny very soon. Apparently the aluminum scheme has cost consumers $5 billion, but if this is more widely spread and applies to other metal markets we wonder what the real economic impact would be.
Now to be fair, Business Insider did have this article we found today where unnamed sources refute the New York Times article, but at the end we see further mention of copper. Copper may very well be losing its PhD in economics if the market does get taken over.
Chart of the Day:
The downtrend is still intact, however we do see copper continuing to rally with all of this news about the market issues. If the market is cornered, one would assume that it is better to be on the side of the trade where the big boys are as opposed to the side which they are betting against.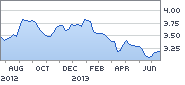 Source: CNBC
Commodity prices this morning are as follows:
Gold: $1318.10/ounce, up by $25.20/ounce
Silver: $20.025/ounce, up by $0.565/ounce
Oil: $108.37/barrel, up by $0.32/barrel
RBOB Gas: $3.1132/gallon, down by $0.0102/gallon
Natural Gas: $3.72/MMbtu, down by $0.069/MMbtu
Copper: $3.188/pound, up by $0.0475/pound
Platinum: $1446.30/ounce, up by $15.10/ounce
Rare Earths
We found an article this morning from the Associated Press which seems to either be a few years too late or was put in a time machine and sent to the future (it recently arrived!). Sarcasm aside, the article highlights Molycorp (MCP) and their Mountain Pass Mine in California near the end of the article and spends a good deal of time discussing the back story behind the rare earth elements. The article can be found here, and although it rehashes much of what those of us in the industry already know because we lived it we still think it is important to keep abreast of the mainstream media and their take on issues such as these. We doubt this causes another bull run in these stocks, let alone a mini rally, but these guys operate in a vacuum and when one person recycles a story it tends to afford others the opportunity as well.
Gold
That contrarian buying we discussed last week seems to have kicked in with the technical buying as gold has really spiked after taking out the $1300/ounce level. The move over the past few sessions, especially Friday, has seen investors buying up the individual gold names as well as the ETFs which has resulted in many of the names showing dramatically higher volume and finding their way onto the largest percentage gainers list. Barrick Gold (NYSE:ABX) has been a name which has caught our attention with their large volume numbers, 16.2 million shares on Friday, on days when gold rises and falls and with their status as a large cap we find it intriguing. Since many of these names are unhedged and the margins has been falling as other commodities have risen in price we think that gold shall lead the miners higher, not the other way around. Our play here is to watch gold for directions on when to purchase gold miners. Like oil, the producers will eventually have to rally to catch up to the move in the underlying commodity.
Oil & Natural Gas
Like everyone else we pick losers. We even pick dogs sometimes. When you find someone who claims not to pick losers or dogs ever, or they provide you with stats to back a claim like that up, RUN! Run far, far away. That is the stuff of Bernie Madoff.
Yes it has been ugly since April, but better days lay ahead.
Source: Yahoo Finance
We wanted to revisit one of our recent losers, which rose initially on our recommendation (as is typical due to our carefully selected entry points) only to fall as their results lagged expectations and investors have found little reason to get excited since. We are speaking of Halcon Resources (NYSE:HK) which is involved in many of the plays we like at this time and has a management team that measures up to just about every other independent E&P name out there, especially the junior names which the company is most often compared to.
Recently the name has come under fire from investors not fully appreciating some of the issues the company is facing, such as midstream asset installation running behind schedule, and Wall Street analysts lowering price targets, outlooks and guidance on the shares. We feel that our initial reasoning to be long shares still holds, maybe even more so today than then as we have more results to base our opinion off of, and that the Wall Street analysts are probably once again wrong in their analysis. We will be watching this name closer and gathering more data on the situation, but one thing we want to point out to our readers is that a lot of our success is the result of our sitting tight when the market believes us to be wrong and then selling when those same people who told us we were wrong declare that this is in fact the way to play the space and attach ridiculous price targets to the underlying security. As it pertains to the oil and natural gas space we have a long list of wins...and in every case those wins looked like devastating losses at one time or another. Halcon is to be bought on weakness, not sold.
Oil Field Services
Baker Hughes (BHI) and Schlumberger (NYSE:SLB) saw their stocks react to earnings news on Friday and the bottom line is that Schlumberger is where investors want to be. Both companies indicated that North America remained a concern with many companies shifting drill plans and slowing down expenditures, most likely due to the fact that joint venture dollars are harder to come by and when a partner is found the recent valuations applied to acreage has been disappointing. The rig activity overseas though is another story and that is what investors in the oil field services industry got excited about on Friday. Outside of the Gulf of Mexico in North America the growth is overseas, specifically Australia, China and the Middle East.
Investors' perception on the oil field service names can change quickly, as highlighted by this chart. Schlumberger quickly closed the gap with Baker Hughes on their 6-month performance with their quarterly results.
Source: Yahoo Finance
We see that Global Hunter has upgraded Schlumberger shares from a 'Neutral' to a 'Buy' and that Susquehanna raised its price target on the company's shares from $86/share to $96/share on the back of their earnings. That gives the shares plenty of room to run as they closed at $82.74/share on Friday after rising $4.26 (5.43%) on volume of 17.4 million shares.
We want to continue to encourage readers to do research on all companies during earnings season because there are always great points made during the conference calls (see Schlumberger's located here), even if they are used as excuses they provide valuable insights as to who is benefiting. For instance, we found out that rig times have decreased so much in the Eagle Ford and Marcellus Shales that industry-wide each rig is drilling nearly 1/5th more wells this year over last! That is truly impressive and highlights the cost savings that the E&P names are realizing as well as the fact that in some of these plays the exploratory phases are over and pad drilling is taking place.
Disclosure: I am long HK. I wrote this article myself, and it expresses my own opinions. I am not receiving compensation for it (other than from Seeking Alpha). I have no business relationship with any company whose stock is mentioned in this article.