Last week, cigarette giant Philip Morris (NYSE:PM) reported its fiscal second quarter results. Overall, the numbers were not good, as the company was hit by currency issues yet again. Philip Morris has certainly hit a bump in the road, but remains one of the top tier value names out there. Today, I'll analyze the latest quarter, discuss how the balance sheet is doing, and reiterate why I think this stock is a buy.
Second Quarter Results / Guidance Cut:
After subtracting out excise taxes, gross revenues came in at $7.917 billion, which missed analyst estimates for $8.17 billion by a wide mark. This number also represented a 2.5% drop over the prior year period. The cost of goods sold rose by 1.31% over the prior year period, which is not good when your revenues are declining. Overall, gross profit declined by 4.36%. That meant that gross margins declined by 128 basis points to 65.88%.
On the operating side, things did not get much better, highlighted by a 1.87% rise in marketing expenses. Operating income fell by 7.55% to $3.332 billion. Operating margins declined by 230 basis points to 42.09%. Interest costs rose by 17.70%. This is due to the large amount of debt Philip Morris has added in the past year, something I'll discuss in more detail later on.
While the company's tax rate declined by 20 basis points over the prior year period, it did not save the bottom line. Net income for the period (including noncontrolling interests) was $2.194 billion, a decline of $213 million, or 8.85%. Net profit margins declined by 193 basis points to 27.71%. After subtracting out earnings from noncontrolling interests, net income fell $193 million, with those margins down 171 basis points.
Philip Morris reported earnings per share of $1.30, which missed the street's expectation for $1.41. A reconciliation of the decline from $1.36 in last year's quarter is as follows:
Last year was $1.36 for earnings per share.
Currency issues were a negative $0.07 impact.
Interest was a negative $0.02 impact.
Buyback/share based payments were a $0.06 benefit.
Operations were a negative $0.03 impact.
All in all, this was not a good quarter for Philip Morris. Currency impacts were the most to blame, and shipment volumes were down nearly 4%. As a result of currency headwinds, the company lowered its full year earnings per share forecast. The new range is for $5.43 to $5.53, based on an unfavorable currency impact of $0.31. At the end of the first quarter, they were looking for $5.55 to $5.65, based on an unfavorable currency impact of $0.19. The lowering of the forecast was only due to the currency issue, and their overall business outlook remained the same.
This isn't the first time we've seen these currency items hurt the bottom line. Last year, the company's original guidance was for earnings per share of $5.25 to $5.35. That forecast was taken down twice, and they eventually ended up with $5.17 for 2012. In 2013, the original forecast was for $5.68 to $5.78, based on a currency impact of $0.06. They are now up to a currency impact of $0.31, meaning the earnings per share range has been lowered by a quarter.
Balance sheet update:
When I discussed the potential upcoming dividend raise for Philip Morris, I mentioned that the company's balance sheet was getting weaker. The company has been piling on a ton of debt in recent quarters, and that was sending a number of financial ratios in the wrong direction. A lot of readers misinterpreted what I was saying, thinking I was trying to say Philip Morris was in some sort of financial trouble. I was not saying that at all, just merely stating that the balance sheet was a small concern worth watching. I actually wrote an entirely separate article to explain the debt issue I was talking about.
In the second quarter, the company's total debt load decreased by $99 million. That seems good, but the net debt position actually increased by $296 million thanks to a drop in cash and cash equivalents. Philip Morris reported a $278 million decline in total assets, but a $919 million rise in total liabilities, increasing the negative equity balance to almost $4 billion dollars. The company's debt (liabilities to assets) ratio rose by another 328 basis points as a result, topping the 110% level. You can see the increase in this ratio in the chart below.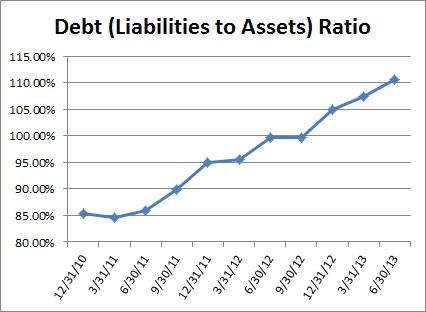 Some of my readers were looking for a ratio that more had to do with the company's operating results, so I looked at the total debt to EBITDA and net debt to EBITDA ratios. These ratios are provided by the company in each individual quarterly report, so I'm not just choosing a ratio that got worse. As you can see in the chart below, both ratios got worse, even though the total debt amount declined. This is because the trailing 12 month EBITDA amount declined by $275 million to $14.448 billion. From Q1 to Q2, the total debt to EBITDA ratio went from 1.74 to 1.76, and the net debt to EBITDA ratio went from 1.47 to 1.52. Many will argue that these ratios are still at somewhat healthy levels, and I will agree with that statement to a point. These ratios are at an okay level, but the trend is going the wrong way at the moment, and you would like to see some improvement eventually.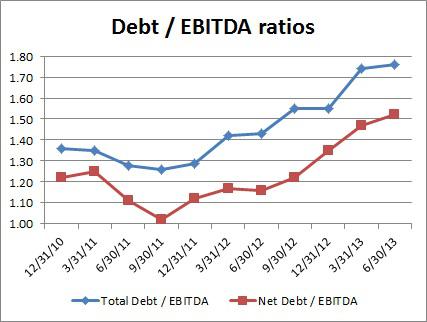 It is not time to panic, but you would like to see some improvement in certain areas. Here are a couple key points in terms of cash flow.
Operating cash flow in Q2 down $343 million from Q2 2012.
Operating cash flow, excluding currency, down $574 million, or 16.5%, from Q2 2012.
Free cash flow in Q2 down $374 million from Q2 2012.
Free cash flow, excluding currency, down $615 million, or 19%, from Q2 2012.
Operating cash flow, excluding currency, down $844 million, or 15.7%, in the first half of 2013, compared to first half of 2012.
Free cash flow, excluding currency, down $901 million, or 18.4%, in first half of 2013, compared to first half of 2012.
Philip Morris is producing a lot of cash currently, but not as much as it used to. Net income is down, and currency issues are obviously hurting. For these reasons, the company has used a fair amount of debt to pay its dividend and buy back stock. While that is an okay strategy while rates are low, rates have started to go back up recently. You would like to see cash flow improving, and you do want to see the currency issue reverse. Once that happens, Philip Morris will be in a much better situation, and won't need as much debt. They should be able to pay some of it back then. However, the timing of that currency reverse is unclear. Back in 2012, many thought it would come in 2013. We're still waiting, and until then, results are depressed a little. That's evident in the cash flow data.
Again, I'm not telling you to panic or say that Philip Morris is in some sort of financial trouble. But while the company's results have been poor in recent quarters, cash flow is declining and the balance sheet is getting worse. As I said in my last article, I still like the stock but this is a small worry that could get larger over time. We'd like to see some balance sheet improvement, and when that will be is unclear.
Stock lagging recently:
These currency issues have really hurt Philip Morris stock in recent weeks. At Friday's close of $88.61, the stock was a little more than $8 off its 52-week high. Over the last three months, the stock has not done well when compared against its peers, Altria (NYSE:MO), Lorillard (NYSE:LO), and Reynolds American (NYSE:RAI), as you can see in the chart below.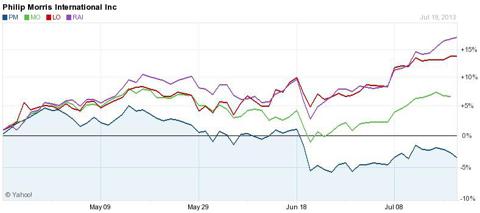 (Source: Yahoo! Finance)
It might surprise you that Philip Morris has lagged some of its peers over the longer term as well. Philip Morris has done extremely well in recent years, much better than the market, but it actually is the worst performer when compared against the other three names mentioned. The following table shows some performance numbers for the short and long-term, with prices adjusted for dividends as per Yahoo! Finance.

These numbers may surprise most, even as Philip Morris has done really well in recent years. Even if I put the stock back at its all-time high, the five year number would still be the lowest one of the group.
What is the next catalyst?
Of the ten value names I picked to watch in 2013, Philip Morris was actually the worst performer of the first half. While the cigarette giant did manage a 5.56% gain, you would have done 1000 basis points better if you were invested in the Russell 1000 Value Index. Philip Morris will look to "rebound" in the second half.
The next thing investors will be looking forward to is the expected upcoming dividend raise. Depending on the size of the raise and where shares are trading then, the annual yield could get back over 4.00%. Investors will also be looking to see how results are in the second half. If the second half turns out to be as expected, we could see some improvement in cash flow. That will certainly ease some of the debt fears, and it may help get the dividend another penny or two higher.
Right now, analysts still like Philip Morris, with the average rating implying a buy. The mean price target is $98.53, implying about $10 of upside from here, with the median price target at $100. The range is $90 to $108. Even with the poor second quarter, I don't think we'll see too many negative analyst notes, although you could see the average price target come down a dollar or two if analysts question the company's earnings power. A Goldman Sachs analyst defended the company after the earnings report on Thursday, and shares quickly bounced off their early morning lows.
Final Thoughts:
Philip Morris had a bad second quarter due to currency issues, but that doesn't mean this is a bad stock. This still remains as one of the best value names out there, but the company has hit a bump in the road. Investors can use that to their advantage, as this name pulls back often, for a chance to accumulate shares at lower prices. Investors will be looking forward to the upcoming dividend raise, and the potential for a strong second half. If Philip Morris can hit its marks over the next few months, it would not surprise me to see this name hit $100 before the end of the year.
Disclosure: I have no positions in any stocks mentioned, and no plans to initiate any positions within the next 72 hours. I wrote this article myself, and it expresses my own opinions. I am not receiving compensation for it (other than from Seeking Alpha). I have no business relationship with any company whose stock is mentioned in this article.
Additional disclosure: Investors are always reminded that before making any investment, you should do your own proper due diligence on any name directly or indirectly mentioned in this article. Investors should also consider seeking advice from a broker or financial adviser before making any investment decisions. Any material in this article should be considered general information, and not relied on as a formal investment recommendation.