All of the following companies have serious problems, generally more risky than junk bonds. All have been hammered by the ten to thirty percent drop in worldwide telecom capital spending and terrible enterprise network spending. I do not recommend buying any of these stocks; you must decide for yourself if they fit in your portfolio. Products from these companies allow carriers to process wireless voice, video, data and other sources together. Data and video are driving rapid growth and encouraging carriers to keep up with data growth by delivering more bits per dollar from one system for all traffic.
Most of these companies sell products that move more bits per dollar by eliminating redundant equipment or software that maximizes that equipment; the rest are backhaul specialists who move data from the radio access network. Software has become better and equipment has become much cheaper, and data has become cheaper per bit and video adequate. As a result, data demand is growing quite rapidly; AT&T's (NYSE:T) data revenues doubled over the last two quarters. Analysts generally estimate that the worldwide demand for data will double over the next five years; WiMax expenditures are expected to double by 2014 to $4B annually, according to Maravedis, Inc; and, IDC estimates US PC data connectivity subscribers will grow 39.2 CAGR until 2011.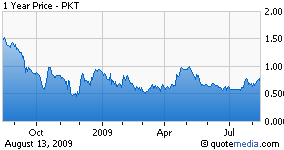 Procera Networks (NYSEMKT:PKT) $0.68 specializes in deep packet inspection and bandwidth management. Their sales are rising, debt is negligible and revenues are expected to grow 30 percent a year over the next five years; its earnings and OCF are still negative, however. Growing rev during a time of lower spending indicates that PKT may have a moat and huge potential.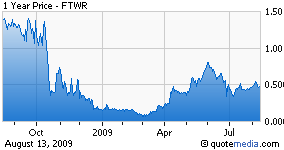 Fiber Tower (NASDAQ:FTWR) $0.47 provides middle access broadband, connecting fiber and hybrid networks to radio access networks. FTWR revenue grew 80% last year and 31% YoY last quarter. They have a little debt and plenty of cash, which they will need because they just had a gross profit quarter for the first time; FTWR has never made a profit. FTWR will get a one-time boost from the NBBI directly and indirectly. FTWR will achieve modest but solid earnings for the next four years.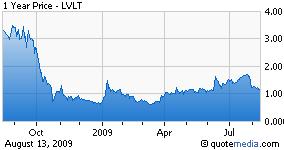 Level Three (NASDAQ:LVLT) $1.21 and Nextwave (OTC:WAVE) $0.327 both have an exciting asset and a mountain of debt. LVLT is OCF positive due to heavy depreciation and future debt. Their fiber network is accessible to about 100K enterprises, and their CDN network, while simple, is now considered to be in the top five; LVLT has a promising future if they can somehow survive the current enterprise freeze and start making some money before the debt appears 2011.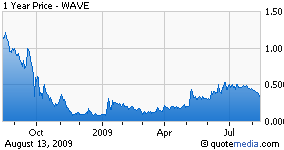 WAVE owns Packetvideo, a company that makes software that maximizes coordination with the Android mobile operating system, and quite a bit of broadband spectrum. WAVE is selling the spectrum, and contrary to some rumors, they will be lucky to get what they paid for it; those spectrum sales should cancel most of WAVE's debt. Packetvideo is their only real asset, and it is now owned 35% by another company. Packetvideo had disappointing results this quarter, but few Android phones are currently on the shelves; how much money will WAVE make when China sells a few hundred million Android phones (yes, I am exaggerating)? One can only guess, but I am not ready to sell WAVE yet. LVLT and WAVE are likely to substantially dilute or go bankrupt.
Here are some promising low price-to-book, low debt plays: Zhone Technologies (ZHNE) $0.42, Opnext (OPXT) $2.25, UTStarcom (UTSI) $1.79 and Airspan Networks (AIRN) $0.08. Price to tangible book is 1.2x, 0.7x, 0.5x and 0.2x. Zhone makes equipment that allows carriers to migrate from copper to fiber without disruption; ZHNE has more debt than the other three, and annual revs are down while gross margins are up. OPXT makes optical equipment and is probably the least likely company of this bunch to fail; they have plenty of orders but no deliveries. UTSI has lost literally tons of money, but has divested into their core competency, mobile software, and, with 90% of revenue in China, could return large profits after 2010. AIRN is bleeding a lot of cash, and needs WiMax spending to increase soon -- another very risky play.
Texas Prototypes (TXPO.PK) $0.008 is currently in default. They are another optical company waiting for orders to turn into deliveries on the way to $4.6B PON (passive optical networks) spending by 2013. If they get bailed out and sales increase, I will be a buyer.
Finisar (NASDAQ:FNSR) $0.63 and Powerwave (NASDAQ:PWAV) $ 1.27 are similar financially only. Both are almost breaking even and increasing annual revenues, but have a large amount of debt and negative BV; They are both ahead of the curve because of relatively good revenues. FNSR makes optical cables and equipment and seems likely to succeed with an average projected CAGR 10.2%. PWAV is a backhaul specialist thick in APAC. Chinese carriers over-ordered in Q2 and have too much inventory; guidance for Q4 is up; thus, Q3 may be horrible then Q4 excellent, so prepare for a bumpy ride.
A couple of these companies will probably liquidate and a couple of them will probably become huge; my strategy is to invest a small amount of time and money into each and let God and the market sort them out. I am excited about UTSI and PKT, and OPXT is a borderline 'safe' investment, but visiblility on these types of investments is so low that I aim for average returns instead of the perfect pick. Most importantly, never get emotional about little companies regardless of the upside; they are always risky, and in this case the risk is amplified by disruptiveness of the technology and negative macro environment. Several of these companies are trading near 52 week highs, so the best strategy could be to wait for a dip before improved earnings in Q3 or Q4.