With the Fed's "helicopter Ben" dampening market speculation that a cut in stimulus is imminent, that's leaving the gold bulls somewhat vindicated for now. The yellow metal has managed to rally just shy of 7% in the past two weeks. This includes the 2.65%, or $34, surge since the Australasian open yesterday. Bernanke highlighted last week that it was way too early to make any judgment as to whether U.S. policy makers will start winding down its stimulus program in September, and this has allowed the commodity to print the biggest two-week gain in nearly 20 months. It was only in April that the market witnessed the commodity bundle prices in free fall, as some investors lost faith in this particular metal as a store of value.
The market price action is telling investors that the "Fed wants to see some visible improvement in economic conditions" before policymakers begin tapering is providing underlying support for the metal. A softer dollar is also helping the commodity bundles' price plight.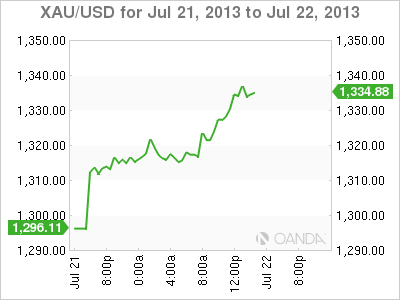 Last week's CFTC data reveled that speculators increased their net-long position by 56% to 55,535 futures and options contracts by July 16. This is the highest recorded long position in seven weeks. On the flipside, the short contracts fell the most since last November. The report also showed that the net-bullish wagers across 18 U.S.-traded commodities jumped 28%, the biggest such gain since March. Most of the gain in the net-long position is attributed to a retreat in the short holdings, which slumped to 61,002 contracts from 80,147. Long contracts increased 0.6%. In hindsight, the record-large bearish position had left prices vulnerable to a "short squeeze."
Last week, the yellow metal briefly tested $1,300 in the futures market. Gold gained 1.3% by July 16, and capped the first back-to-back weekly gain since May. Year to date the metals prices have slid 24%, wiping just under $60 billion from exchange-traded products, mostly after investors lost faith in the commodity as a store of value.
It's not as if the market has turned wholly bullish all of a sudden -- the longs have not raced that far ahead. The fact that the overall short positions were at a record number meant it was only a matter of time that, with good enough reason, the bears would want to cover. Both Ben and the dollar have provided that impetus. To many it seemed as if investors had become complacent in their positioning of gold as it went up for so long -- the bears can feel somewhat vindicated in this month's price action.
A recent Reuters survey has spot gold averaging $1,410.75/oz. this year. That is 13% below the average forecast ($1,627) three months ago. Going forward, the yellow metals prices are expected to remain weak as the Fed begins to scale back QE and the dollar rises.