I had earlier written two articles on the volatility ETFs ProShares Short VIX Short-Term Futures ETF (NYSEARCA:SVXY) and ProShares Ultra VIX Short-Term Futures ETF (NYSEARCA:UVXY) entitled An ETF And An ETN That May Return 10-30% By August End and A Great Way To Play The Q2 Earnings Season respectively. My thesis was that SVXY and its other incarnation, the VelocityShares Daily Inverse VIX Short-Term ETN (NASDAQ:XIV) would gain 10-30% by August end, and UVXY would drop by up to 45%. This in turn would mean that the iPath S&P 500 VIX Short-Term Futures ETN (NYSEARCA:VXX) would drop by about 10-30% as well.
Since I wrote my articles, SVXY and XIV are already up some 9%, VXX is down some 10%, and UVXY is down some 19% as well. In the mean time, the volatility index (VIX) has gone down to ~12.5 from ~14.3, or about 13%.
What is next in store for the volatility ETFs for the rest of the earnings season?
As my prior articles has predicted, I expected VIX to drop to the 12-12.5 range by the end of earnings season in late August. That level was almost reached last Friday after Bernanke's Humphrey-Hawkins testimony was over. In that, Bernanke made it clear that there is absolutely no chance of tight monetary policy in the medium term (to 2014 end), and QE tapering is something that is not on a fixed timeline either, and may not, after all, start in September as many had feared. In fact, Chairman Bernanke made it clear that the hints of early tapering of QE was a trial balloon to gauge market reactions, and now the hawks are more likely to go along with continued QE at current rate, while the monetary environment as such will remain expansionary.
All this, of course, eased market worries, and lowered VIX. However, that put my earlier predictions in a quandary. I didn't expect VIX to drop this sharply, and had modeled a steady slope downwards. I had earlier recommended buying puts on VXX/UVXY, and going long on buying calls on XIV/SVXY. The gains that I had predicted using those strategies by August end will likely materialize very soon, perhaps over this week. In fact, if contango in the VIX futures curve normalizes soon (i.e., reverts to typical premium of 7-10% for first month future over VIX, and 10-12% for second month future over first), UVXY may drop to ~35 range by Friday, and SVXY/XIV may be up some 20% already.
What should investors do in such a case? My advice would be to take much of the money and run if you bought options, and leave the money in place if you went outright long/short. This is why. Such a large move in the underlying would make the strikes for the options all deep in the money. Given that, there will be very little time or volatility premium, and it would make sense, in my view, to sell those, realize gains, and buy at or out of the money options to keep some exposure in the event VIX drops further to 11.5-12 range. This is what my models are saying about the ending values for the various VIX ETFs. Options traders can decide for themselves how much out of the money they want to go depending on this chart.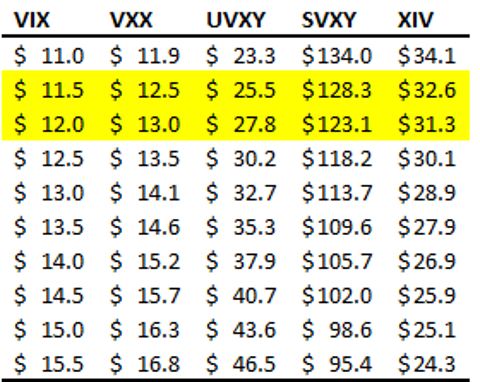 For those that are long SVXY/XIV, I believe these are long term buy and holds. My analysis shows that if simulated over the past 9 years (i.e., when VIX futures became available) these have shown 75-80% gains on an annual basis. This is despite the Great Recession. So, these are likely to double every year under normal market conditions. I am doing more simulations on that and will write an article shortly.
Disclosure: I am long XIV, SVXY. I wrote this article myself, and it expresses my own opinions. I am not receiving compensation for it (other than from Seeking Alpha). I have no business relationship with any company whose stock is mentioned in this article. I hold puts for VXX and UVXY