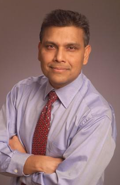 Satya Pradhuman founded Cirrus Research in 2007 after more than 20 years on Wall Street as a respected and often-quoted executive in the equity research departments of E.F. Hutton, Lehman Brothers, and Merrill Lynch.
Harlan Levy: What's the state of the economy in light of the latest economic data, including retail sales, manufacturing, the Consumer Price Index, housing, and fewer initial claims?
Satya Pradhuman: Our equity strategy continues to be based on the assumption that the U.S. economy is in a recovery mode. We continue to see solid housing and labor trends. We believe that the sluggish growth seen overseas will likely continue, but the stronger credit backdrop of the U.S. will allow for growth here to continue in a reasonable fashion, albeit at a steady slow pace.
H.L.: What do you think of the Federal Reserve members' comments about the economy and continuing its $85 billion-a-month bond and mortgage-backed securities purchases?
S.P.: We believe that the market will remain skittish regarding quantitative easing. The reason is that the credit cycle appears to be healthy, which is exactly why market participants will be more nervous about an eventual end to QE. Ultimately, we do not believe that the end of QE is in sight. That said, we think the nervousness around the end of QE or, put another way, the end of QE chatter is here.
H.L.: What's happening in the bond market?
S.P.: Because of the strong housing and the constructive credit backdrop, volatility in bond yields will likely be higher in the next six to 12 months. This presents some risk to the equity fund manager. If bond market volatility increases, there will likely be increased risk among higher-dividend-yielding strategies.
In our most recent report we urged managers to know their bond beta. Fund managers are likely to face a more challenging back half of the year, as their more defensive income-bearing equities come under additional pressure.
H.L.: What's your biggest fear about the economy?
S.P.: Our concerns are two-fold on the economy. On the one hand, the labor data may end up being a lot softer than expectations. On the other hand, the stronger housing data could end up creating a more volatile bond market. One implication is that the "end of QE" timeline could be much longer dated than most expect.
H.L.: What do second-quarter earnings results so far tell you?
S.P.: We publish an earnings playbook which is an early read on the earnings season. To date the earnings environment has been decent, not overly robust, yet mildly constructive. Our belief is that the remainder of the earnings season will be constructive with weaker non-U.S. trends being offset by domestic results.
H.L.: Do you see a possible rubber band effect on high-flying domestic company stocks when it becomes clear that the weak global economy does affect them?
S.P.: We do think the larger firms in the U.S. can only adjust their business over time. They can only move so fast and have done a decent job in the last three years to limit downside exposure overseas, specifically from Europe. If the non-U.S. economy - the global growth picture - were to improve, we should see that nicely benefiting the global players in the U.S.
To date, we have seen slowing top-line growth for large and small firms over the last two years. Much of that we attribute to the sluggish global picture.
H.L.: What sectors of the economy look strong and which are weak?
S.P.: We continue to prefer credit cyclicals in the U.S., for instance, industries such as home building, regional banks, construction, and engineering. Additionally, we like smaller investment banks and semi-conductors. Many of these groups reflect a more cyclical credit-friendly backdrop.
Recent groups we consider to be more at risk are beverages, specialty retail, and restaurants.
H.L.: Where do you see the stock market going this year?
S.P.: We continue to see a constructive equity market. The market has been quite strong in the past 12 months, thanks to the improving U.S. economic backdrop. The earnings backdrop should remain constructive for stock prices over the next 12 months. This will be tempered by what we see is a more volatile bond market as well in the next year.
One of the bright spots we see in the equity markets is the smaller-company universe. They tend to be more domestically based and will likely benefit more than their larger peers, as the credit cycle continues to heal.
H.L.: What do you expect to happen with mergers and what are the implications?
S.P.: We are constructive on M&A activity over the next two to three years. The activity has been somewhat consistent over the last 18 months. We think this will likely accelerate over the next year. Part of this is hinged on the record levels of high-yield issuance seen year-to-date. We are currently estimating high-yield issuance in the U.S. to be north of $300 billion for this year, far exceeding long-term averages.
In addition, we continue to see firms in the U.S. with very high cash balances on their balance sheet. This will also allow for more corporate acquisitions.
The credit implication is more deal activity. I think it leads to increased profitability, but I don't think it's clear cut on what you'll see in the labor front in the short term. In some cases you might see a net shrinkage in labor.
H.L.: What do you see happening with China, which looks threatened by domestic economic forces now?
S.P.: We'll continue to see slower than historic growth. Part of it is related to a European sluggishness. That also impacts India's data as well. But economic growth in China will continue to be stronger than in the U.S.
H.L.: What about the future of Europe?
S.P.: Europe will be mired in slow growth for quite a long time. The challenges facing many of the European countries will likely stay in place. Unemployment will remain a problem in most of the economies in Europe.
Time will be valuable with some of the challenges. Some of the credit issues that currently exist will fade as some of the fixed income sovereign bond paper matures.
H.L.: Do you agree with Fed Chairman Bernanke that Congress is a big factor holding up a robust recovery by failing to take action?
S.P.: I think the budget uncertainties will continue to act as dead weight on the economy. I think that's the clearest takeaway we have. But I do think that budget deadlock will continue to impair growth in the U.S. economy.
Disclosure: I have no positions in any stocks mentioned, and no plans to initiate any positions within the next 72 hours. I wrote this article myself, and it expresses my own opinions. I am not receiving compensation for it (other than from Seeking Alpha). I have no business relationship with any company whose stock is mentioned in this article.