As traders, it is always good to understand the dominant sentiment in the market.
This week, three major themes hog the headlines which will all contribute to dollar weakness:
1) Abe Wins
Japan Prime Minister Shinzo Abe's Liberal Democratic Party and its coalition partner won a majority of upper house seats over the weekend, boosting his opportunities to stimulate the economy further. The results are seen as positive for the yen and Japanese equities. At market opening this morning, the yen strengthened against the US dollar by 0.6 percent.
Abe's Liberal Democratic Party and its New Komeito ally will have a majority of at least 133 in the 242-seat upper house, according to estimates by state broadcaster NHK. The LDP is set to win at least 64 seats, according to NHK, bringing its total to 114. New Komeito is projected to win at least 10 seats, for a minimum of 19.
The yen has declined more than 10 percent this year, the most among 10 developed-market currencies tracked by Bloomberg Correlation-Weighted Indexes. However, the election news allows the yen to pare some losses and gain back some ground.
2) Bernanke's Statement
Bernanke, in two days of congressional testimony last week as he presented his semi-annual report on monetary policy, said the central bank wouldn't slow its monthly bond-buying program unless economic conditions warrant.
The market is already positioned for dollar strength, so any disappointing economic data from the US or dovish comments from policy makers can weaken the US dollar. Bernanke's dovish statement has taken the markets by surprise and caused bond prices to strengthen and yields to fall. Pacific Investment Management Co.'s Bill Gross, manager of the world's biggest bond fund, said he expects the Federal Reserve won't tighten policy before 2016. Putting his money where his mouth is, Gross's proportion of US government debt in Total Return, the world's biggest bond fund, rose to 38 percent in June, from 37 percent in May.
3) US Q2 Earnings
According to data compiled by Bloomberg, about 53 percent of S&P 500 companies that have reported second-quarter results have beaten revenue projections. This has caused the US dollar to weaken in favor of more risky assets like the Aussie dollar and the Kiwi dollar. Even on the local index like the S&P, price has reached a historic high just shy of 1694.
Top News This Week
Australia: CPI q/q. Wednesday, 24th July, 9.30am.
I expect figures to come in at 0.5% (previous figure was 0.4%).
USA: New Home Sales. Wednesday, 24th July, 10pm.
I expect figures to come in at 485K, (previous figure was 476K).
Trade Call
Long AUD/USD at 0.9236
On the M15 chart, AUD/USD is moving in a steady fashion of higher highs and higher lows. As the theme for the US dollar is weak for this week, I see the risk currency pair of AUD/USD heading upwards. This view is further supported by the uptrend movement of gold and silver in the last few days.
We will go long once price reaches a high of 0.9236. A stop loss of 35 pips is set below the previous low and we will have two targets on this trade. The first position will exit at 0.9271 and the second position at 0.9306.
Entry Price = 0.9236
Stop Loss = 0.9201
1st Profit = 0.9271
2nd Profit = 0.9306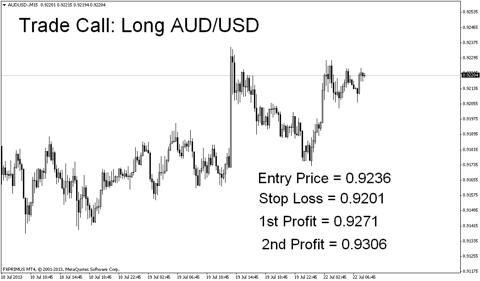 Disclosure: I have no positions in any stocks mentioned, and no plans to initiate any positions within the next 72 hours. I wrote this article myself, and it expresses my own opinions. I am not receiving compensation for it. I have no business relationship with any company whose stock is mentioned in this article.