First Financial Holdings' (NASDAQ:FFCH) recent announcement to merge its 68 banking locations with the operations of SCBT Financial Corporation (SCBT) signifies the creation of the 5th largest bank by deposit share in South Carolina. Combined, the new bank will have $8.3 billion in assets, $6.9 billion in total deposits and $6.1 billion in total loans. After recently (7/22/13) reviewing the operations of SCBT, pre-merger, I thought it would be a good idea to check out what exactly FFCH was bringing to the table. With that said, I have below an overview of FFCH's current financial position and recent performance that I hope will lead to a better understanding of the $3.2 billion assets that are soon to be a part of SCBT.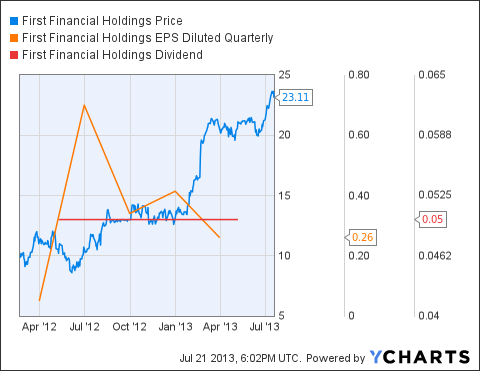 Balance Sheet (in thousands)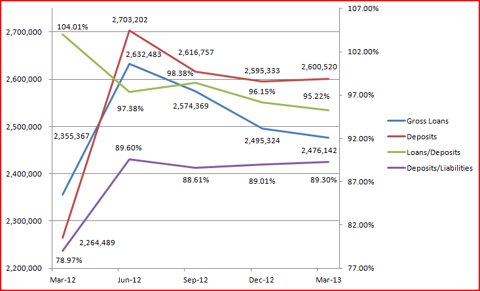 The large spike in deposits and liabilities from 1Q2012 to 2Q2012 can be attributed to two acquisitions that added ~$553 million in deposits to the bank's balance sheet. Since that quarter, the bank has been working on incorporating the new loans, but the balance has been decreasing due to:
Several large payoffs and paydowns on commercial real estate and commercial land loans, higher loss claims on the Plantation portfolio, and normal cash flows. The decline in commercial loans is consistent with a strategy to reduce problem and criticized loan balances, both legacy as well as those in acquired portfolios.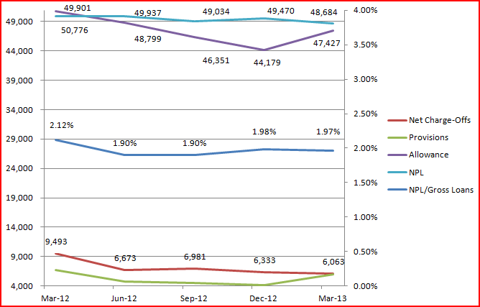 With that in mind, it's encouraging to see that the bank's nonperforming loan balance hasn't significantly increased and that allowances almost completely have them covered. However, the decreasing loan balance and steady NPLs means that FFCH's NPL/Loan ratio has been increasing and that SCBT is acquiring a portfolio that still needs some work.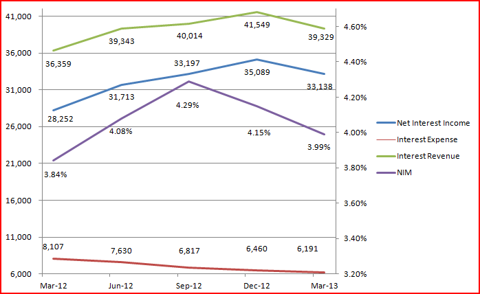 Another item SCBT will hopefully put its magic touch on is FFCH's net interest margins. SCBT has consistently registered a NIM around 5% while FFCH has only managed at or below 4%. Interest rate improvements and both banks' large deposit base can be expected to help in this matter along with the advantage that will come with the merging of very large competitors. Meaning that less competition, at least between the two, will hopefully alleviate some of the pricing pressures the two had in the past.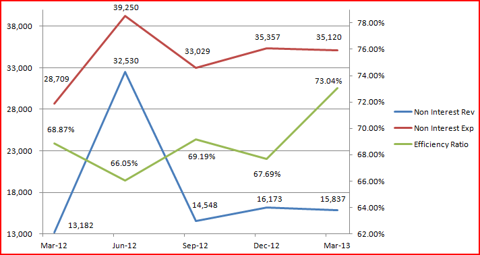 Along with the dry powder the new deposits and loans will add to SCBT's balance sheet, one of the largest opportunities I see for the newly merged bank is work on non-interest related expenses. FFCH has already updated marketshare information to reflect its post-merger deposit share, and the newly combined bank appears to have a very dominant position in every South Carolina city that it operates in. Glancing at the chart on this link, in almost every market that SCBT has the largest share of deposits, it also has ~2Xs the branch locations. There is no telling how many branches the bank will need to keep to maintain this position, but I don't doubt that there will be some consolidations which will ultimately help lower the efficiency ratio of the two. That along with non-recurring merger related charges that the two have had this past year (over $8 million for SCBT alone - also includes two completed acquisitions).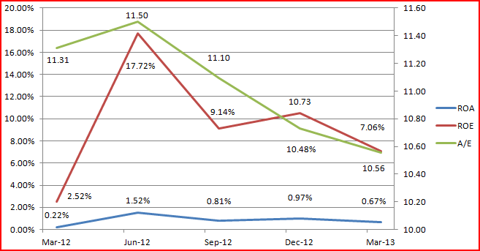 One big positive for the merger is that even though FFCH's loan portfolio doesn't appear to be as profitable as SCBT's, its better efficiency ratio and similar A/E levels have produced almost identical returns. Signifying that the two have a lot to add to each other being that one excels where the other hasn't.
Bottom Line
The merger of these two banks looks like a great deal because of the similarity in returns and synergies that can be expected to help lower non-interest costs. I do like that the stronger bank - SCBT - is taking the lead and expect to see margins of the two increase significantly as rates rise and redundancies are eliminated. However, at this time, SCBT is trading at a premium (and should be applauded for taking advantage of its more than full price) and because of it, I would hesitate to buy either of the two unless a pullback put them more on par with most of their peers. All said, this appears to be a great merger and definitely one to watch for after the deal closes and one significantly larger regional bank is created.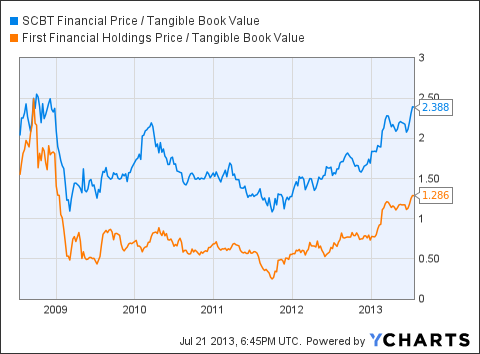 SCBT Price / Tangible Book Value data by YCharts
Disclosure: I have no positions in any stocks mentioned, and no plans to initiate any positions within the next 72 hours. I wrote this article myself, and it expresses my own opinions. I am not receiving compensation for it (other than from Seeking Alpha). I have no business relationship with any company whose stock is mentioned in this article.