Our Thesis
The anti-corruption campaign in China has met a significant success as GlaxoSmithKline plc (NYSE:GSK) becomes a victim of this process. Not long ago, the company was accused of bribery to boost sales in Chinese markets. Its marketing staff was accused of paying $490 to doctors for meeting prescription quotas. In the past, the company kept denying all such claims and assured stakeholders about the investigation it did for that. "We have done this in China and found no evidence of bribery or corruption of doctors or government officials."
However, the situation has changed now. The company has officially admitted that its senior executives in China appear to have acted outside company's standard sales process which breaches Chinese law. The company has also assured that it has zero tolerance policy for law breakers. "Certain senior executives of GSK China, who know our systems well, appear to have acted outside of our processes and controls, which breaches Chinese law."
It is quite shameful (as GSK says that itself) to see how a global giant kept hiding the truth and later confessed what it did in China. The company officials can certainly not claim innocence and ignorance about the matter as the company conducted more than 20 internal audits in China this year.
While some investors might think bearish after this news, we still feel that the stock is a hold and might not see a bearish trend in the long run. This is mainly because of low share of company's revenue from China. This does not mean that we suggest neglecting the potential threat of this scandal. In fact, the company can face a ban in China (worst-case scenario). However, it is important to note that only 3% of its sales come from China. Therefore, this news does not seem to have a deep negative impact on company's overall performance. Meanwhile, we also agree that the company needs to work on its corporate governance practices on a serious note to avoid future breach of international or national laws.
Analyzing from holistic perspective, following are the key reasons why we are not bearish on the stock.
The sales from the Chinese market account for only 3% of the revenue base of GSK, which is not significant enough to have a big impact on company's performance even in case of worst case scenario.
Apparently, GSK is a delight for dividend investors. If benchmarked against average of competitors like Abbott Laboratories (NYSE:ABT), Actavis, Inc. (ACT), Amgen Inc. (NASDAQ:AMGN), Biogen Idec Inc. (NASDAQ:BIIB), Johnson & Johnson (NYSE:JNJ), Life Technologies Corporation (NASDAQ:LIFE), Merck & Co. Inc. (NYSE:MRK), Novartis AG (NYSE:NVS), Pfizer Inc. (NYSE:PFE), Sanofi (NYSE:SNY) and Teva Pharmaceutical Industries Limited (NYSE:TEVA), GSK's dividend yield is quite lucrative (4.2% compared to competitor average of 2.1% and **Globenum average of 2.29%). This is in addition to the GBP 1 to 2 billion of share buyback program which might provide further capital appreciation to investors.

Table 1: Globenum Analytics Cell
Company's financial performance is also in line with that of competitors. As shown in table 2, its operating and net profit margins are in line with the industry average (better than Globenum average of 12.19% and 18.02% respectively). Same is the case with management effectiveness (better than competitor and Globenum average). Its liquidity position is also optimal (although lower than competitor average). Moreover, it is also important to note that the company is now working on serious cost cutting measures through a new program called "new major change program." The company expects to cut costs up to $1 billion by 2016. This might lead analysts to increase EPS targets in the coming quarters.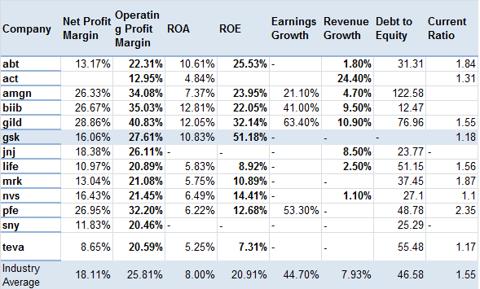 Table 2: Globenum Analytics Cell
From a relative perspective, the stock seems to be trading on lower multiples as compared to competitors which make it quite attractive. It is currently trading on a forward P/E of 12x compared to competitors' average of 14x and Globenum average of 16x. Same is the case with other multiples like price-to-sales and EV/EBITDA. We project a forward EPS of 4.23 for GSK. Based on this EPS and a historical P/E of 13.31x, we set a target price of $56.3. Investors can earn a capital gain of 7% and a total gain of 12% based on this valuation. This return is in line with the competitors' average and lower than Globenum average of 12% and 14%, respectively.
It is for all the above mentioned reasons that we don't stand by any bearish stance for GSK. Although the Chinese scandal news might generate some short-term negative trend, we feel that this will soon start getting priced in and that the stock will again start moving to the aforementioned target price.
**Globenum Average refers to the average estimates for different financial parameters like P/E, EV/EBITDA, PEG, P/S, Capital Gain, Total Gain, Dividend Yield, Current ratio, Net Margin, Operating Margin, Debt ratio etc which we have developed for analytical purposes. We manage these averages for the stocks of wide range of companies belonging to different sectors. We have a fairly well managed and up to date database for this. These average values are mostly used as benchmarks during the research analytics and reporting.
Disclosure: I have no positions in any stocks mentioned, and no plans to initiate any positions within the next 72 hours. I wrote this article myself, and it expresses my own opinions. I am not receiving compensation for it (other than from Seeking Alpha). I have no business relationship with any company whose stock is mentioned in this article.