By Eric Wesoff
It has become cliche to refer to energy storage as the holy grail of renewable energy. Actually, it's not energy storage that we need. We have that. What we need is cheap energy storage.

"Most storage technology is expensive so we spend a lot of time trying to figure out the value."
Those are the words of EPRI's Dan Rastler who spoke on Wednesday night at the monthly Silicon Valley Photovoltaic Society meeting at PARC.
EPRI
Mr. Rastler is the Program Manager for Energy Storage at EPRI.

Founded in 1973, EPRI is an "independent" non-profit center for public interest energy and environmental research center that receives about $350 million in funding each year. "Independent" is an approximate term in this case as EPRI's substantial budget comes in the most part from America's utilities. And utility agendas don't always map exactly with the public good. That said, it was an informative talk and Mr. Rastler did not seem too evil.

Smart Grid Defined

Rastler's talk looked at electric energy storage's role in the smart grid, defining the smart grid as "overlaying information control technology over the electric grid for efficiency and reliability," adding, "The buzzword is interoperability – how do you make everything connect across the entire domain from bulk generation to the customer?"

He made the distinction between smart grid on the utility side – where utilities are putting sensors and cameras on utility assets, "to where it really gets interesting"– the customer side where the smart grid can influence customer behavior.
Another important point he made was the need for scale – because anything less than 100 megawatts is not really important to a utility.
Industry Pain Points and Market Drivers
The biggest driver the electrical sector is facing is carbon. "There is no single technology that is going to get us there." It's going to take a portfolio of technologies – solar, de-carbonizing, EVs, wind, nuclear, etc.
Managing increased wind penetration – Texas could have 18 gigawatts of wind by 2015, California could have up to 12 gigawatts of wind by 2012. The intermittency of renewables like wind and solar need bulk storage to buffer that unpredictability.
We are going to need $200 billion in transmission and $400 billion in distribution investment in T&D infrastructure over the next 15 years
Peak is only 400 hours a year – storage and information control can help manage the peak
Advanced Energy Storage Technology

Rastler is a fan of advanced lead acid batteries. He pointed out a firm called Xtreme Power and declared that, "lead acid is going to re-emerge." Xtreme Power builds a solid dry cell rated as a 1-megawatt four-hour system for $2 million.

He noted a few other storage technologies nearing commercialization or ready for deployment at reasonable price points:
A 400 megawatt-10hour CAES (Compressed Air Energy Storage) system
A 1 megawatt–seven hour NaS system as substation grid support that costs $3,000 to $3,500 per kilowatt hour
A 500 kilowatt-four hour ZnBr flow battery system that is meant to be transportable to where the pain point is
"Lithium ion is getting to megawatt scale," he said citing a 1 megawatt-15 minute Li-ion system. He adds, "There are as many different Li-ion chemistries as there are California wines." There are currently early field trials by Altair Nano and A123 using Li-ion at utility scale.
Redox flow batteries with a number of different electrolyte species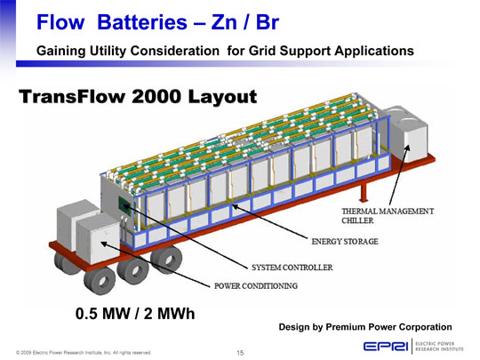 Costs of Storage
According to Rastler, "We need to get below $300 per kilowatt hour installed all in."
CAES is below $100 per kilowatt hour (but does use a fuel source).
Cost of Li-ion ranges from $400 per kilowatt hour to $1,200 per kilowatt hour.
Final Words
Rastler finished in saying that we have to get the cost structure down significantly and we need a smart grid and storage-aware regulatory policy.
He concluded saying that storage is "really an advanced materials play." The EPRI presentation can be downloaded here (.pdf).