During the week marking the second anniversary of the start of the credit crunch, stocks, copper, nickel, zinc and sugar recorded fresh 2009 highs. But the celebrations came to an abrupt end as caution crept back into investors' vocabulary on Friday when it dawned upon pundits that markets were running away from economic reality. On top of that, Chinese equities - a leading stock market on the way up - saw a reversal of fortune and declined to a five-week low.
This is where the Ecclesiastes-based lyrics of the Byrds's classic, Turn, Turn, Turn, started resounding in my head: "To everything (turn, turn, turn), There is a season (turn, turn, turn), And a time for every purpose, under heaven, A time to gain, a time to lose …" (Click here for audio.)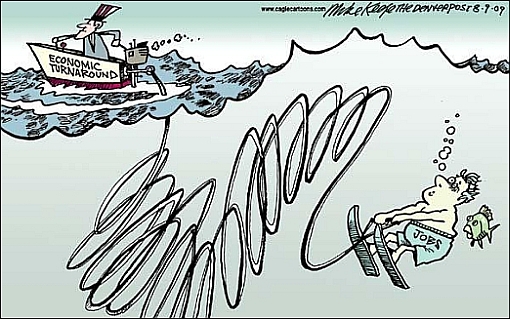 Source: Mike Keefe (hat tip: The Big Picture)
Paul Kasriel, chief economist of Northern Trust, reports that the meeting statement of the Federal Open Market Committee (FOMC), released on Wednesday, was a bit more optimistic about the near-term economic environment, changing its language from "the pace of economic contraction is slowing" at the June 24 meeting to "economic activity is leveling out". However, the communiqué also said that household spending would be constrained by "sluggish income growth", in addition to the other constraining factors mentioned in the June 24 statement - "ongoing job losses, lower household wealth, and tight credit".
Kasriel:
Given our current view that the recovery is going to be subdued and uneven over the next several quarters, we do not expect any federal funds rate increases from the FOMC until June 2010, at the earliest.
Shorter-dated U.S., U.K. and other government bond yields - securities that are sensitive to interest rate movements - declined on indications that benchmark interest rates would remain at low levels for an extended period of time. Longer-dated U.S. yields also fell after the Fed announced that its Treasury purchase program would be extended until October.
Remarked Bill King (The King Report):
The point is the Fed said it would keep the punch bowl open an extra month but it would not increase the punch that is already in the bowl. It will just dole it out in smaller increments over an extra month.
To James Grant (Grant's Interest Rate Observer) the level of Treasury yields spells danger. He said:
Vacation-time thought experiment: With the knowledge that the U.S. government will be borrowing as much as $3.5 trillion from the public in fiscal years 2009, 2010 and 2011, approximately matching the Treasury's cumulative borrowing between 1789 and 1994, would you have guessed that the yield on the 10-year Note would today be hovering in the neighborhood of only 3.7%? If 'yes' is your answer, you must not go away on vacation this month. You have too hot a hand to stay away from the office.
The past week's performance of the major asset classes is summarized by the chart below, showing risky assets starting to take a breather.
Click to enlarge: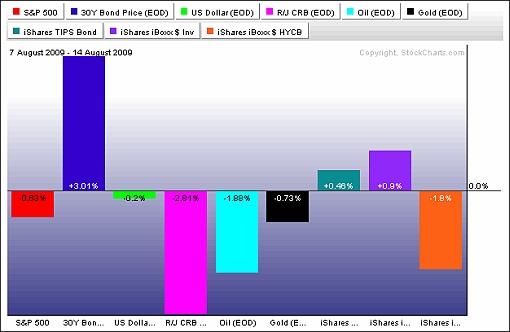 Source: StockCharts.com
A summary of the movements of major global stock markets for the past week, as well as various other measurement periods, is given in the table below.
The MSCI World Index (+0.1%) and MSCI Emerging Markets Index (unchanged) marked time last week, but are still showing solid year-to-date gains of +15.6% and +50.4% respectively. As weakness crept in towards the close of the week, the U.S. and a number of other markets snapped a winning streak of four straight weeks. Emerging markets underperformed developed markets for the second week running since the beginning of May, indicating signs of risk appetite abating somewhat.
Click here or on the table below for a larger image.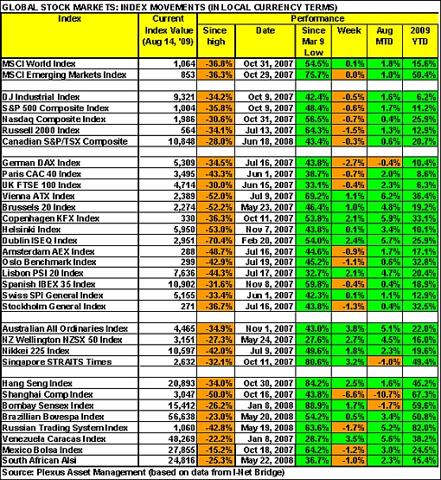 Top performers in the stock markets this week were Bulgaria (+9.4%), Lithuania (+6.7%), Estonia (+6.5%), Vietnam (+5.5%) and Venezuela (+4.5%). The top three positions were again occupied by countries from Eastern Europe that are still playing catch-up as the scare of a banking collapse in the region dissipates. At the bottom end of the performance rankings, countries included China (‑6.6%, last week -4.4%), Nigeria (-4.5%), Luxembourg (-3.6%), Cyprus (-3.2%) and Israel (-2.8%).
After surging by 90.7% since the beginning of the year and notching up seven straight weeks of gains, the Chinese Shanghai Composite Index has now declined by 12.2% since its peak of August 4, taking the Index back to its early-July level. On Friday, the Index (3,047) dropped to below its 50-day moving average (3,103), but it is still comfortably trading above its 200-day line (2,420). The Rate-of-Change Indicator (black line in the bottom section of the chart) has broken below the zero line, thereby flashing a sell signal.
Click to enlarge: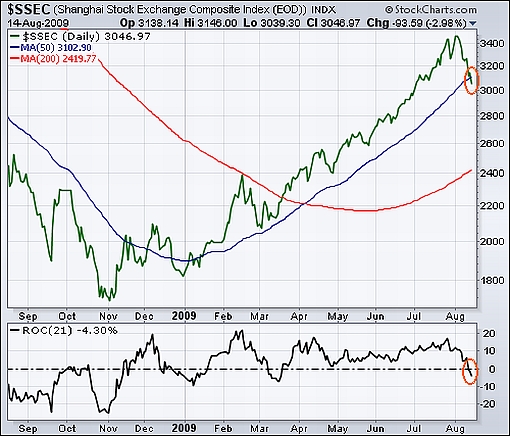 Source: StockCharts.com
Of the 94 stock markets I keep on my radar screen, a majority of 63% (last week 74%) recorded gains, 33% (21%) showed losses and 4% (5%) remained unchanged. (Click here to access a complete list of global stock market movements, as supplied by Emerginvest.)
John Nyaradi (Wall Street Sector Selector) reports that as far as exchange-traded funds (ETFs) are concerned, the winners for the week included Vanguard Extended Duration Treasury (NYSEARCA:EDV) (+5.2%), iShares MSCI Austria (NYSEARCA:EWO) (+4.4%) and WisdomTree Japan SmallCap Dividend (NYSEARCA:DFJ) (+3.8%).
At the bottom end of the performance rankings, ETFs included Market Vectors Solar Energy (NYSEARCA:KWT) (-5.8%), SPDR KBW Regional Banking (NYSEARCA:KRE) (‑5.1%) and iShares Cohen & Steers Realty Majors (BATS:ICF) (-4.9%).
On the credit front, an indicator worth monitoring is the Barron's Confidence Index. This Index is calculated by dividing the average yield on high-grade bonds by the average yield on intermediate-grade bonds. The discrepancy between the yields is indicative of investor confidence. There has been a solid improvement in the ratio since its all-time low in December, showing that bond investors are growing more confident and have started opting for more speculative bonds over high-grade bonds (albeit not to the extent to restore the ratio to pre-crisis levels). As to be expected, there is also a close relationship between the Index and the movement of the benchmark U.S. stock market indices.
Click to enlarge: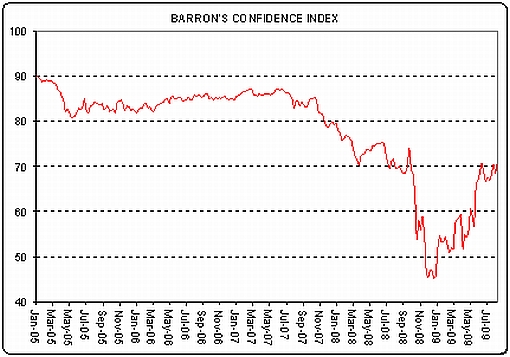 Source: I-Net Bridge
Economists of the ilk of John Mauldin (Thoughts from the Frontline) and Nouriel Roubini (RGE Monitor) warn that the coming "recovery" may be anemic and not much more than a "statistical recovery". In this regard, the quote du jour this week comes from Lawrence Mishel, president of the Economic Policy Institute, who described the situation as follows in The Washington Post:
Economists are using one concept of recession that is at total variance with how a normal human being thinks of it. A normal human being thinks of a recession as: You fell into a hole, and as long as you're in a hole, you're in a recession. Economists think of [a recession's end] as … when the economy stops shrinking.
Other news is that the Federal Deposit Insurance Corp (FDIC) seized Colonial Bank on Friday - the sixth largest bank failure in U.S. history. Additionally, regulators closed four more banks, bringing the tally of U.S. bank failures in 2009 to 77, including 32 since July 1.
Next, a tag cloud of all the articles I read during the past week. This is a way of visualizing word frequencies at a glance. Key words such as "market", "economy", "bank", "prices" and "China" featured prominently. Interestingly, "recovery" also moved up the ranks as the global economy seems to have turned the corner.

The key moving-average levels for the major U.S. indices, the BRIC countries and South Africa (where home is) are given in the table below. With the exception of the Chinese Shanghai Composite Index, which fell below its 50-day moving average on Friday, all the indices are trading above their respective 50- and 200-day moving averages. The 50-day lines are also in all instances above the 200-day lines and therefore not threatening the bullish "golden crosses" established when the 50-day averages broke upwards through the 200-day averages.
The steepening uptrend of a number of indices has become frothy and some degree of reversion to mean is probably overdue. I believe this process - which could take the form of either a pullback or a consolidation (i.e. ranging) pattern - might have commenced with the declines in China and elsewhere. The July lows are also given in the table, as these levels may offer support for a number of the indices.
Click here or on the table below for a larger image.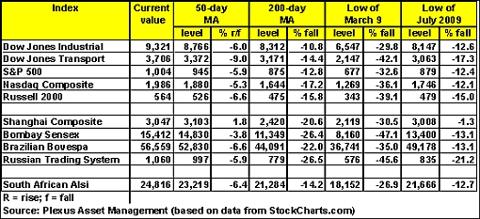 Long-timer Richard Russell (Dow Theory Letters) said:
Some of the smartest and most successful men and women in the world disagree as to whether we are dealing with a correction in an ongoing bear market - or whether we are dealing with a new bull market. Nobody on the planet possesses the final, ultimate answer. I happen to believe we're dealing with an upward correction in an ongoing bear market, and that opinion is what keeps me on the edge of my seat. I'm worried about the economy, I'm worried about the future, and I'm worried about the market itself.

Because this correction, so far, has been impressive, many analysts are calling it a 'cyclical bull market' instead of a bear market rally. I don't care what you call it, if I'm correct, if, indeed, we are in a rally in a bear market, I want to be on my guard. I went through a number of these 'cyclical bull markets' during the 1966 to 1980 bear market, and I saw a lot of investors lose their shirts when those various bear market rallies unexpectedly topped out.
Doug Kass (TheStreet.com), who accurately called the March bottom, is now outright bearish, saying:
The market optimism we are now experiencing in the expectation of a clean hand-over of the baton of stimulation from the consumer (2000-2006) to the government (2008-??) might be more short-lived than many believe, as the price of stimulation, regardless of whether its source is the private or public sector, holds the promise of being more of a growth retardant. With the debt supercycle continuing apace (but in a public sector context), the fragility and inherently unstable 'balance of financial terror' argue for a not-so-benign and extremely volatile stock market future.

… the margin of safety is becoming ever more thin as the enemy of the rational buyer, namely optimism, reaches new heights. … since a self-sustaining economic recovery appears doubtful, I do not believe we have started a new bull market. Rather, it is more than likely that economic growth will disappoint in late 2009/early 2010 as the domestic economy confronts many of the emerging secular challenges.
On Friday, I published a short post on Chinese equities and said:
it looks if more downside is in store for the Shanghai Composite Index and it would not come as a surprise if lower Chinese equities serve as the catalyst for a well-deserved pullback in global stock markets.

With world markets coming off the boil by the close of the week, China may already have started leading world markets lower. A much-needed pullback/consolidation of frothy markets looks likely - be cautious out there!
For more discussion on the direction of financial markets, see my recent posts "Stock markets disconnected from economy", "All eyes on Chinese equities", "Bob Prechter - 'Step aside' from long positions", "When will the rally end?", "Revisiting Bob Farrell's rule #9" and "More on Bob Farrell's rule #8. (And do make a point of listening to Donald Coxe's webcast of August 13, which can be accessed from the sidebar of the Investment Postcards site.)
Economy
The Recession Status Map below, courtesy of Dismal Scientist Economy.com, aggregates growth statistics from around the world and allows one to see at a glance which economies are in recession, at risk or beginning to recover. Click on the map to link to the interactive version.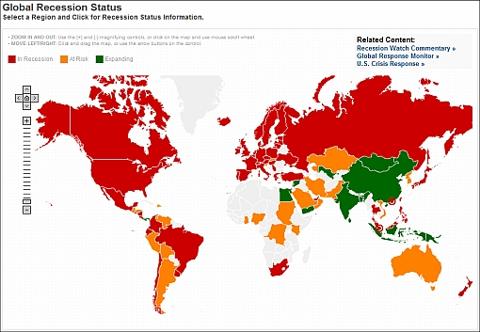 Source: Dismal Scientist
Although the recessionary conditions still dominate, global business confidence turned positive last week for the first time since early last October. (The chart below uses a four-week moving average and is therefore not yet reflecting the break above the zero line.) "The gains in sentiment are evident across the entire global economy and all industries," said the latest Survey of Business Confidence of the World by Moody's Economy.com. Businesses' broad assessment of the current economic environment and the outlook into early 2010 are particularly upbeat. However, despite the steady improvement in confidence, the Survey results remain consistent with a global economy that is still in recession. (Click to enlarge)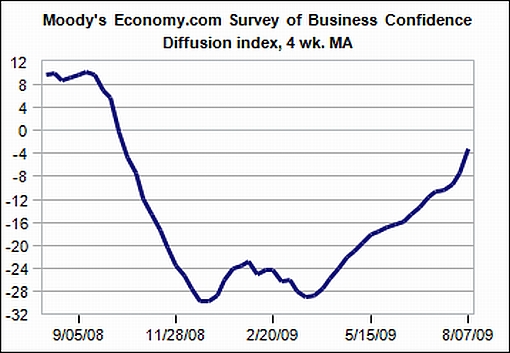 Source: Moody's Economy.com
The German and French economies unexpectedly bounced back in the second quarter - both grew at 0.3% in the three months to the end of June after having suffered four straight quarters of negative growth. This resulted in GDP in the Eurozone falling by only 0.1% in the last quarter. Meanwhile, the U.K.'s GDP lags the OECD economies with a second-quarter decline of 0.8%."
A snapshot of the week's U.S. economic reports is provided below. (Click on the dates to see Northern Trust's assessment of the various data releases.)
Friday, August 14
•The factory sector has turned the corner
•Inflation remains contained
•Consumer Sentiment Index dips again
Thursday, August 13
•Gasoline prices bring down total retail sales in July
•Jobless claims report - sum of continuing claims and special programs advances for second consecutive week
Wednesday, August 12
•FOMC meeting statement - the Fed defines "autumn"
•Trade gap widens while exports also advance
Tuesday, August 11
•Q2 productivity surge is temporary
•Small business optimism dips slightly in July
Also, Zillow.com reported (via Bloomberg) that almost one-quarter of U.S. mortgage holders owed more than their homes were worth in the second quarter, expecting the figure to rise to as much as 30% by mid-2010 as job losses and foreclosures climb.
George Soros said in an interview with Reuters that the U.S. economy had hit bottom and the current quarter would see positive growth due to the government's stimulus spending. He said he did not believe the economy needed further stimulus money, notwithstanding calls for a second round of spending [from the likes of Nobel laureate Paul Krugman].
Meanwhile, a survey by The Wall Street Journal among 52 economists (with 47 respondents) reported that 27 participants said the recession had ended and 11 expected a trough this month or next.
Only six economists expect the Fed to raise the federal funds rate, now between 0% and 0.25%, this year. Most expect an increase at some point in 2010, but more than a quarter of respondents don't see the rate moving until 2011 or later.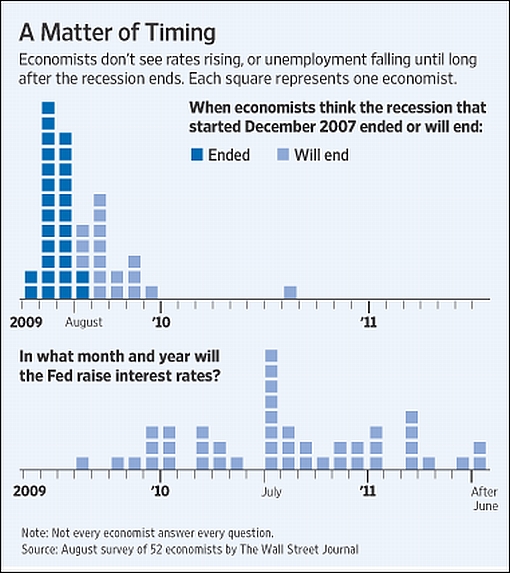 Source: The Wall Street Journal, August 11, 2009.
Week's economic reports
Click here for the week's economy in pictures, courtesy of Jake of EconomPic Data.
| | | | | | | | |
| --- | --- | --- | --- | --- | --- | --- | --- |
| Date | Time (NYSE:ET) | Statistic | For | Actual | Briefing Forecast | Market Expects | Prior |
| Aug 11 | 8:30 AM | Productivity-Preliminary | Q2 | 6.4% | 5.2% | 5.5% | 0.3% |
| Aug 11 | 8:30 AM | Unit Labor Costs | Q2 | -5.8% | -2.2% | -2.5% | -2.7% |
| Aug 11 | 10:00 AM | | Jun | -1.7% | -0.9% | -0.9% | -1.2% |
| Aug 12 | 8:30 AM | | Jun | -$27.0B | -$31.0B | -$28.7B | -$26.0B |
| Aug 12 | 10:30 AM | Crude Inventories | 08/07 | +2.52M | NA | NA | +1.67M |
| Aug 12 | 2:00 PM | | Jul | -$180.7B | NA | -$180.0B | -$102.8B |
| Aug 12 | 2:15 PM | FOMC Rate Decision | - | 0.00%-0.25% | - | - | 0.00%-0.25% |
| Aug 13 | 8:30 AM | Export Prices ex-agriculture | Jul | 0.2% | NA | NA | 0.7% |
| Aug 13 | 8:30 AM | Import Prices ex-oil | Jul | -0.2% | NA | NA | 0.2% |
| Aug 13 | 8:30 AM | | 08/08 | 558K | 540K | 545K | 554K |
| Aug 13 | 8:30 AM | | Jul | -0.1% | 0.9% | 0.8% | 0.8% |
| Aug 13 | 8:30 AM | Retail Sales ex-auto | Jul | -0.6% | 0.3% | 0.1% | 0.5% |
| Aug 13 | 10:00 AM | | Jun | -1.1% | -0.9% | -0.9% | -1.2% |
| Aug 14 | 8:30 AM | Core CPI | Jul | 0.1% | 0.1% | 0.1% | 0.2% |
| Aug 14 | 8:30 AM | | Jul | 0.0% | 0.0% | 0.0% | 0.7% |
| Aug 14 | 9:15 AM | | Jul | 68.5% | 68.5% | 68.3% | 68.1% |
| Aug 14 | 9:15 AM | | Jul | 0.5% | 0.5% | 0.4% | -0.4% |
| Aug 14 | 9:55 AM | Mich Sentiment-Preliminary | Aug | 63.2 | 70.0 | 69.0 | 66.0 |
Source: Yahoo Finance, August 14, 2009.
Click here for a summary of Wells Fargo Securities' weekly economic and financial commentary.
The US economic data reports for the week include the following:
Monday, August 17
Empire manufacturing
Net long-term TIC flows
Tuesday, August 18
Building permits
Housing starts
PPI
Wednesday, August 19
None
Thursday, August 20
Initial jobless claims
Leading economic indicators
Philadelphia Fed
Friday, August 21
Existing home sales
Markets
The performance chart obtained from the Wall Street Journal Online shows how different global financial markets performed during the past week.
Click to enlarge: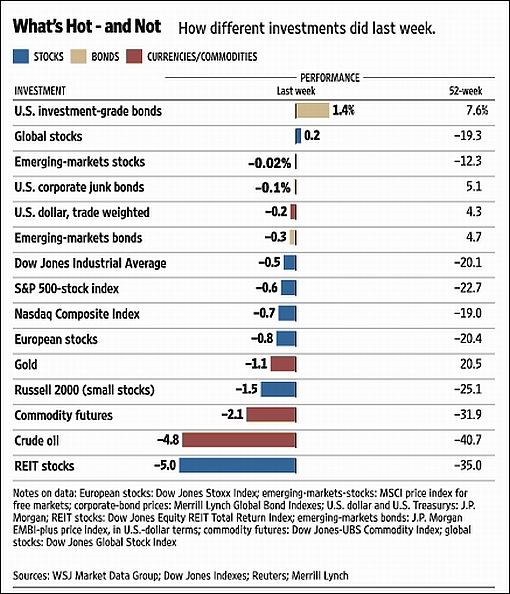 Source: Wall Street Journal Online, August 14, 2009.
Listening to the market, maximizing the bets that turn out and minimizing those that don't, are the essence of how portfolio management works. Because nobody is right all the time, that discipline is the oft-overlooked secret of how real fortunes are made.
(hat tip: Charles Kirk)
Let's hope the news items and quotes from market commentators included in the "Words from the Wise" review will assist Investment Postcards readers in making those fortunes.