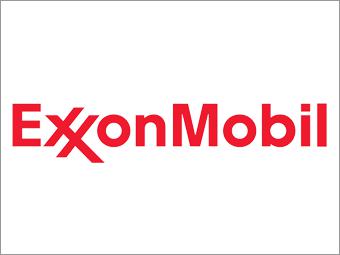 Exxon Mobil (NYSE:XOM) is the world's biggest public oil and gas company and is one of the five "supermajors" of the world. Exxon Mobil has long been considered the gold standard of big oil and gas. But today, I believe an investment in Exxon Mobil will mean sub-standard returns compared to its three largest US peers. This is ultimately due to comparatively slower growth and reserve replacement of oily assets.
Meanwhile, Exxon's 2010 buyout of US natural gas producer XTO Energy has tied up capital in a market that has been depressed until just recently, causing Exxon to fall behind while other companies got into the better growth opportunities of the past ten years. There's a place for big energy companies in most diversified portfolios, but those looking for "big oil" diversification should look at Exxon's US peers. This article will cover the reasons to avoid Exxon and will then look at some alternatives I believe are better.
The Great Tradeoff
Perhaps the most important dynamic in oil and gas companies is the relationship between growth and returns. Oil and gas fields are very expensive to develop. Lots of capital must go into risky exploration ventures and development to begin drilling is usually even more expensive. Until the field is up and producing at full capacity, all that exploration and development money drives down return metrics such as Return on Assets (ROA) and Return On Invested Capital (ROIC).
On the other hand, an energy company which intensely focuses on returns will be reluctant to endeavor for production growth. And because oil and gas are inherently finite, even those great returns will come under pressure. In a world of expanding economic activity, production growth should usually be an energy company's most important strategy. But returns and efficiency are important in any industry. I believe the best large oil and gas companies are the ones that can find a happy medium between the two.
Exxon's Returns Are The Best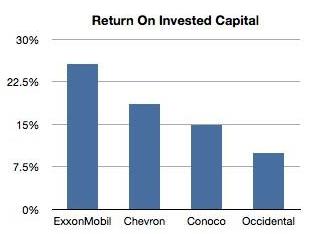 Chart by author, data by Morningstar.
For an oil and gas company, Return on Invested Capital is a good reflection of the effectiveness of each dollar a company uses. For years, maybe decades, Exxon's claim to fame has been its industry-topping Return on Invested Capital metrics. This is a good reflection of Exxon's capital discipline. And as we can see, here Exxon has a great lead on my three other picks, Chevron (NYSE:CVX), ConocoPhillips (NYSE:COP) and Occidental Petroleum (NYSE:OXY).
... But Growth Prospects are Lacking
Unsurprisingly, Exxon's upstream growth prospects do not match that of the other three.
Expected Upstream Production Growth To 2017
Exxon Mobil: 2-3%
ConocoPhillips: 3-5%
Chevron: 4-5%
Occidental: 5-8%
These numbers themselves only tell some of the story. While Exxon was counting pennies throughout the last decade, the other three were getting ahead in various ways. Chevron made strides ahead in deepwater. They now have no less than four multi-billion dollar deepwater projects which will anchor growth going forward. Previous discoveries off northwestern Australia, the Gulf of Mexico, West Africa and the Gulf of Thailand are already adding to production.
ConocoPhillips has completely reinvented itself. Last year it spun off its refining arm and became a focused Exploration and Production company. At the same time, it has shed disparate assets overseas to concentrate on shale assets here in North America. It now has some of the best acreage in the Canadian oil sands and is one of the biggest drillers in the new Eagle Ford shale of South Texas. Most of its Eagle Ford production is oil.
Occidental has the best growth prospects of those listed here. Amazingly, it needed neither the shale nor deepwater. Oxy chugged along with conventional acquisitions and discoveries, nabbing and creating some of the best oil fields in California. Sometimes the best place to find new oil is in old places.
This isn't to say Exxon has sat on its hands. It hasn't. But while the others focused successfully on deepwater, the shale and "easy oil," Exxon put its chips into the US dry gas market. In 2010 Exxon paid a 25% premium for XTO Energy, then the country's biggest onshore natural gas producer. But US natural gas prices have continued to decline and only recently have the begun to recover. In the words of CEO Rex Tillerson, they were "off a year or two."
So, on our growth-returns continuum, Exxon is far to the side of the latter. There's one other thing worth mentioning here. Exxon's growth and reserve replacement should be disproportionately natural gas. Oil and gas companies combine both oil and gas production and reserves into Barrels of Oil Equivalent (or mcf equivalent for gas-centered companies). This can cloud production and resource replacement numbers, especially if one commodity is relatively higher in value and less abundant than the other. Generally speaking, natural gas is much more abundant than oil right now, especially in North America. Due to their big XTO acquisition three years ago, Exxon's reserve replacement and production growth will be increasingly in dry, US gas. This concentration has yet to pay off.
Exxon's production growth lags well behind its peers. And as long as dry gas prices stay relatively low, the quality of Exxon's growth will also be less.
Dividends
For income investors this makes Exxon likely to disappoint. As dividend investors, growth is an important characteristic. Without growth, our income will stagnate and, with time, our buying power will be inflated away.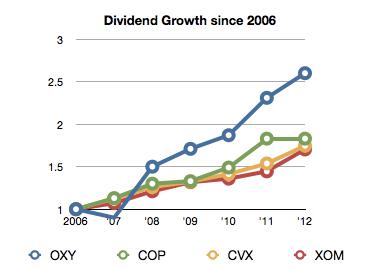 Data compiled by FAST Graphs
All four of these companies have an explicit commitment to dividends. But it takes earnings growth, and hence upstream production growth, to bring about dividend increases. So, while Exxon Mobil has at least kept up with Conoco and Chevron since 2006, that will be less likely going forward.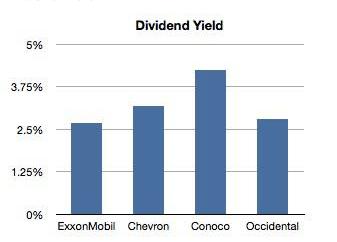 The disparity in dividend yield here is quite surprising. For example, European oil companies, which have minimal to zero growth, tend to pay comparatively high yields to their American counterparts which offer better growth prospects. But when we try to apply that same dynamic within the US it breaks down. Despite Exxon's growth prospects being the lowest of the four big US oil companies, their dividend yield is also the least. I believe Exxon Mobil is getting a premium it does not deserve.
Conclusion
Going back to our tradeoff between growth and returns, I believe both are important. The best big oil companies will be those that can achieve a balance between returns and growth and can therefore still sustainably grow dividend payouts. Unfortunately, Exxon is far at the "returns" end of the spectrum and others have done a better job achieving that balance.
While Exxon has been considered the gold standard of big oil companies in the world, I believe an investment in Exxon Mobil today will mean sub-standard returns when compared to its three largest US peers. Those looking for big oil diversification should look at ConocoPhillips, Occidental or Chevron. These three will still deliver decent returns on capital, but they will also bring higher production and dividend growth.
Additional Sources:
Upstream growth data from respective investor presentations and Annual Reports: COP, CVX, OXY, XOM.
Disclosure: I am long COP. I wrote this article myself, and it expresses my own opinions. I am not receiving compensation for it (other than from Seeking Alpha). I have no business relationship with any company whose stock is mentioned in this article.