On July 15, 2013, Sterne Agee analyst Sam Poser downgraded the rating on the footwear and apparel retailer Genesco Inc. (NYSE:GCO) from Buy to Neutral, based on valuation, and removed the $74.00 price target -- although he said the long-term story remains intact and Genesco is a good company with a solid management.
Should investors sell their current position to take profits, stay neutral by keeping their current holdings, or continue adding to their positions despite this downgrade to neutral?
My opinion is that in the long run Genesco is a good stock to hold. However, there are simply too many headwinds to justify a buy at this time at the current price. I don't think the stock is overvalued. It is fairly valued now. But investors really should wait for a pullback of at least 10% to get some downside protection. Why?
I am of the opinion that 2012 was a peak year for many industries, and there are some strong headwinds straight ahead for Genesco's Q2 and Q3 revenue, both in the general economy -- and in the retail sector -- that may surprise the company and analysts to the downside and slow Genesco's 2013 sales rise.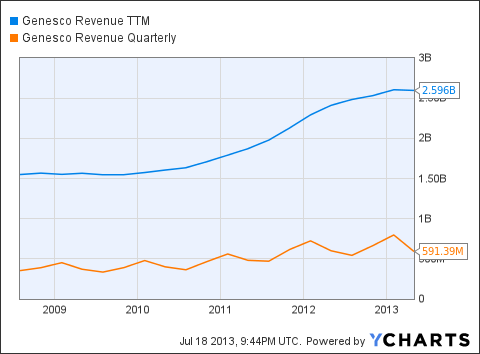 GCO Revenue TTM data by YCharts
And then there is this downgrade to neutral and insiders starting to sell, right after the second quarter's end. As a result, at least part of the planned purchases should be put off until some sort of sell-off takes place.
Moreover, the upcoming August earnings release for the Q2 period tends to be the weakest number of the entire year due to a very strong seasonality, and if a lower-than-expected number is reported, this could really scare investors that the growth trajectory is significantly flattening.
Furthermore, it will be very hard to post strong YoY sales gains in the face of record-setting 2012 sales and the advantage of the extra 53rd week that was reported in 2012 compared to just 52 weeks in 2013.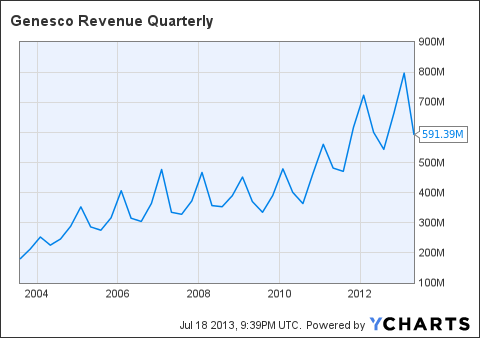 GCO Revenue Quarterly data by YCharts
On the other hand, the next quarter, Q3, tends to be the strongest of the year, followed by another strong season (second strongest last year, but usually the strongest of all), so the stock might have a tendency to be pushed up by seemingly strong results. That's the main risk of staying on the sidelines now, but it is better not to make money than to lose money in this case.
All in all, Genesco is currently not undervalued, and investors will not make a mistake if they wait for a more favorable entry point.
About Genesco
Genesco is a consumer cyclical, retail Mid-cap specialty retailer, which sells footwear, headwear, sports apparel and accessories in more than 2,455 retail stores throughout the U.S., Canada, the United Kingdom and Ireland, mainly under the brand names Journeys, Schuh, Lids, Johnston & Murphy, and on respective internet websites, such as journeys.com. In addition, the company sells wholesale footwear under its Johnston & Murphy brand, the licensed Dockers brand, SureGrip, and other brands, and operates the Lids Team Sports team dealer business. The company does not manufacture any of the merchandise they sell, and a significant amount of the inventory it sells is imported from China.
Past performance - like a clockwork, but strongly seasonal
Genesco has a track record of clockwork-like seasonality in sales, inventory as well as net profit margins. Sales, margins and profits usually peak in the final quarter of the year, with the third quarter being strong as well, while the second quarter most often marks the through. Investment in inventory and accounts receivable normally reaches peaks in the spring and fall of each year. The net margin has remained practically constant throughout the normal years except for extreme situations like 2008-2009: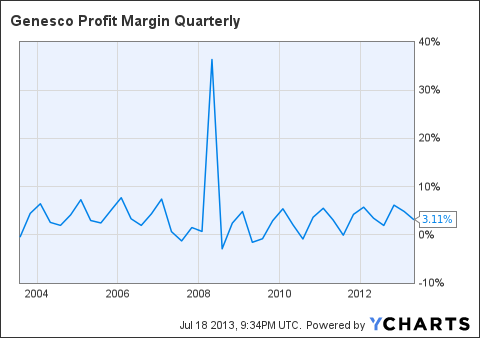 GCO Profit Margin Quarterly data by YCharts
This means that the main factor influencing the future growth of the net present value of Genesco is its ability to grow the top line in the future years.
Net margin keeps rising: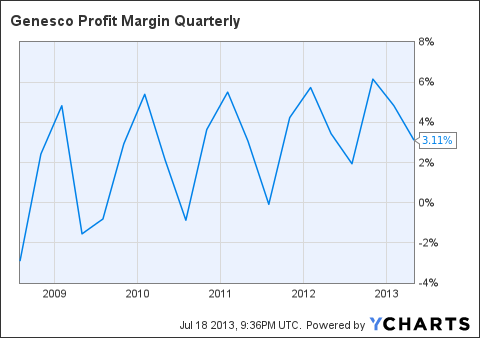 GCO Profit Margin Quarterly data by YCharts
But the net income is flat in the latest quarter on a trailing 12-month basis: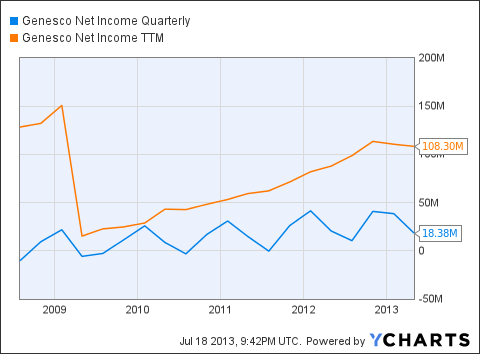 GCO Net Income Quarterly data by YCharts
Financial results
Genesco reported earnings from continuing operations for the first quarter ended May 4, 2013, of $18.5M, or $0.78 per diluted share, compared to earnings from continuing operations of $20.8M or $0.86 per diluted share, for the first quarter ended April 28, 2012. Extraordinary items included payments in connection with the acquisition of Schuh Group Limited, which are benefits awarded to Schuh management if they stay employed at Genesco.
Earnings: Adjusted for the items described above in both periods, earnings from continuing operations were $22.2M, or $0.94 per diluted share, for the first quarter of 2013, compared to earnings from continuing operations of $23.8M, or $0.98 per diluted share, for the first quarter of 2012. In other words, comparable earnings from ongoing operations were down 4% YoY in Q1 2013.
Sales: Strong headwinds from unseasonably cold weather affected the sales, as strong gains in the direct sales channel helped partially offset soft retail traffic. Net sales for the first quarter of 2013 decreased 1.5% to $591M from $600M YoY. Comparable sales, including same-store sales and comparable e-commerce and catalog sales, decreased 4%, with a 2% decrease in the Journeys Group, a 6% decrease in the Lids Sports Group, an 11% decrease in the Schuh Group, and a 7% increase in the Johnston & Murphy Group.
Cash and debt: Cash at the end of the first quarter was $40M compared with $55M last year. Genesco ended the quarter with $53M in debt, compared with $36M last year, giving it a very low and safe 7% debt-to-equity ratio.
Financial outlook and guidance
Genesco experienced improved sales trends during the March to April periods, which accelerated in May with comparable sales up 1% through May 25. Genesco is optimistic about its prospects for the upcoming back to school season. I would not be so sure, based on some of the recent stories that I linked to in the opening paragraphs of this article. Moreover, it will be very hard to beat the record 2012 season, setting the YoY comparison hurdle very high.
Earnings: However, based on first quarter performance and current visibility, Genesco remains comfortable with its previously issued guidance for adjusted 2013 diluted EPS in the range of $5.57 to $5.67, a 10% to 12% increase over 2012's adjusted earnings per share of $5.06. These expectations exclude non-cash asset impairments and network intrusion expenses, which are estimated to be in the range of $0.09 to $0.12 per share, after tax, in 2013, and they also exclude compensation expense associated with the Schuh extra bonuses as described above, which are currently estimated at approximately $0.49 per diluted share, for the full year.
Sales: Genesco's sales guidance assumes a comparable sales increase in the low single digit range for the full fiscal year. In my opinion, with the weak Q1 already reported, in which comparable sales were down 4% YoY, it will be very challenging to generate sales above the strong 2012 for the full year.
Future growth sources
Genesco's strategic goal is to achieve sustainable sales and earnings growth in the years ahead and the company remains on track to achieve its five-year target of $3.5B in sales, which represents a 6% CAGR, and an operating margin of 9.5% by fiscal 2017. There are multiple strategic activities through which Genesco plans to achieve these targets and grow its EPS.
a) Online channel
The main goal of Genesco toward the customer is for them to see the company's various channels as one seamless brand that offers a wide choice of service options. Genesco's online channel that drives sales through multiple individual websites, each branded and targeted to its collection of individual brands, posted a double-digit, 11% growth in 2012 YoY, as well as a strong 16% rise in Q1 2013 YoY.
This is where I see the major growth opportunity for Genesco - leveraging its large collection of strong brands and vendor relations to expand its sales through a strong online channel by adding further language customizations and shipping regions. Genesco is planning to go this route and aims to invest in improving its e-commerce infrastructure. The digital upside potential is the greatest in the brands Lids and Journeys.
b) New net store openings
Another source of growth that I see is optimization of its territorial coverage of brick-and-mortar shops by trimming underperforming stores and adding new perspective locations and concepts. Genesco also plans to utilize this source of growth. As of February 2013, Genesco operated 2,459 stores. It plans net openings and closings of 137 by February 2014 to have a total number of 2,599, a 5.5% annual increase.
c) Acquisitions
To further supplement its organic growth potential, the company has made acquisitions, including the acquisition of the Schuh Group in June 2011 and several smaller acquisitions of businesses in the Lids Sports Group's markets, and expects to consider acquisition opportunities in the future.
Genesco's long-term plan is to generate $500M in cash in the next five years, which obviously brings with it the ability to invest in additional growth if the company sees opportunities with the potential to meet its ROI expectations or to improve EPS and return cash to shareholders by buying back stock. Neither of these uses of cash is reflected in the five-year plan targets of the company's goals, and this is obviously a significant source of potential upside.
d) Share repurchase program
During the fourth quarter of Fiscal 2013, the company repurchased 189,300 shares of common stock at an average price of $59.26 per share at a cost of approximately $11M. Approximately $47M remains available under the board's most recent share buyback authorization of $75M announced in 2010. At the current rate, the company is buying approximately 2.5% of its outstanding shares per year.
Main risks and challenges
a) Intense competition
Competition is intense in the footwear and headwear industry. The company's retail footwear and headwear competitors range from small, locally owned stores to regional and national department stores, discount stores and specialty chains. The company also competes with hundreds of footwear wholesale operations in the United States and throughout the world.
b) Weaker economy and retail spending
Further near-term headwinds include the fact that back-to-school spending is expected to cool after a record 2012, as hinted in the link in the introduction of this article, as well as the fact that we have seen mild downgrades of the future U.S. economic growth recently, as hinted in the link in the opening paragraphs of the article and also for example here. Other strong challenges include the ability of a retailer to stay trendy and fashionable, the weather and seasonality.
c) Lawsuits and scandals
Finally, it should be mentioned that Genesco is not exactly free of scandals and lawsuits. I conclude that investors should demand a 10% discount to Genesco's valuation to gain a 10% downside protection in case of a possible adverse event, given Genesco's history of 2001 accounting scandal involving shifting revenue recognition to an earlier quarter to meet the quarter's targets, a 2007 lawsuit when the acquirer of Genesco, Finish Line in association with UBS, attempted to back out of a merger with Genesco based on worse-than-expected business results, and a 2010 cardholder data security breach in some of its stores.
Valuation
The company's planned 6% annual sales growth is realistic, and it has multiple sources of growth that it can utilize. I strongly believe that in the long run this is a realistic target. The company's planned operating margin improvement from 8.1% to 9.5% translates to an increase of net profit margin from 5% to 6 to 7%. This sales growth, multiplied by an average 6% net margin would translate to a long-term rate of net earnings growth of roughly 7%.
If I add roughly 2% per year to the long-term share repurchase program, which already runs at a short-term 2.5% annual rate and is likely to continue if the company keeps making cash, the long-term EPS growth rate jumps to 9%. Adding 3% per year on external, acquisition-driven growth gives us a 12% annual EPS growth rate.
Using this 12% EPS growth rate in a Future Discounted Cash Flow calculation, taking the company's TTM EPS of $4.54 and assuming a 10% discount rate, the stock's current fair value is $73.65, or 2.7% above the current stock price of $71.67.
Conclusion
Genesco is a very good company with an attractive and realistic 12% EPS growth forecast. Unfortunately, the stock is now fairly valued and faces many headwinds in the upcoming quarters despite the company's many positive moves. Due to these factors and the 10% discount that I recommend to demand for a downside protection, I advise investors to wait for at least a 7% pullback. This would make the stock a buy anywhere below $65.
Disclosure: I have no positions in any stocks mentioned, and no plans to initiate any positions within the next 72 hours. I wrote this article myself, and it expresses my own opinions. I am not receiving compensation for it (other than from Seeking Alpha). I have no business relationship with any company whose stock is mentioned in this article.