It is very rare to find a company whose stock has recently doubled that remains undervalued and simultaneously offers investors significant upside potential in both the near and long-term. Although rare, this seems to be the case with Zhone Technologies (ZHNE), a company offering FTTX networking access solutions. After seeing its legacy business decline for six straight years, the company is now poised to return to a strong growth curve due to a number of new product releases that will have a significant impact on its underlying profitability.
To a large extent, Zhone's conference call last week was the watershed moment for the stock. Until then, investors had been left in the dark about what effect these new products would have on the company's top and bottom-lines. To those on the call, however, the message from Zhone's management team was very clear: not only would the company become incrementally more profitable on the bottom line over the next 6-8 quarters, but it would also now see its top-line accelerate meaningfully for the first time in nearly eight years.
While it is reasonable to feel as though the train has already left the station and that it would be improper to "chase" Zhone's stock after its recent move, we feel quite differently. True, the stock has exploded to the upside, but investors should also be mindful of the fact that Zhone's stock is still 50% off of its 5-year highs and 90% off its highs registered 10 years ago.
ZHNE 10-Year Chart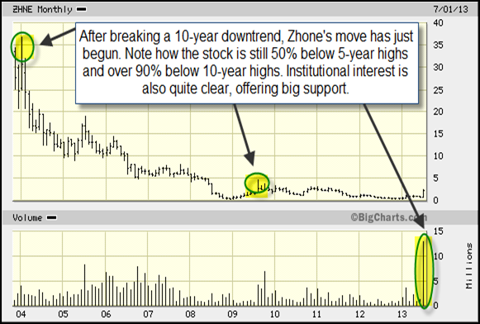 Source: Bigcharts.com
Looked at in this context, we feel very strongly that the move in Zhone's stock has only just begun, especially with the stock still trading at very attractive levels from a fundamental valuation basis.
A Business Finally Aligned For Profitable Growth
Over the past six years, Zhone's revenues have consistently declined, while profitability was elusive: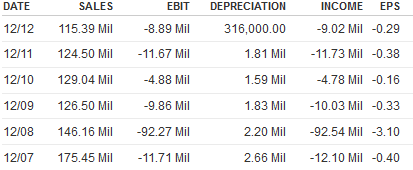 After six disappointing years, a seminal moment for the company occurred last fall when Zhone announced new initiatives that would allow them to achieve profitability. From the late October conference call:
"During the third quarter we also restructured the business to only focus on the existing and new copper and fiber based product lines with a major emphasis on FiberLAN and the next generation broadband products. Accordingly, we suspended the product and market development related to non-broadband product lines until capital spending in these sectors resumes over the next few years.

In the meantime, we will incur substantially lower operating expenses and that will lower our breakeven point for profitability, which as I have said before remains our primary financial goal."
Zhone Finds Religion on Profitability
During the past three quarters, Zhone has made good on its stated goal of sustaining profitability. Note how the leverage in the company's model began to manifest itself in particular this past quarter compared with previous quarters: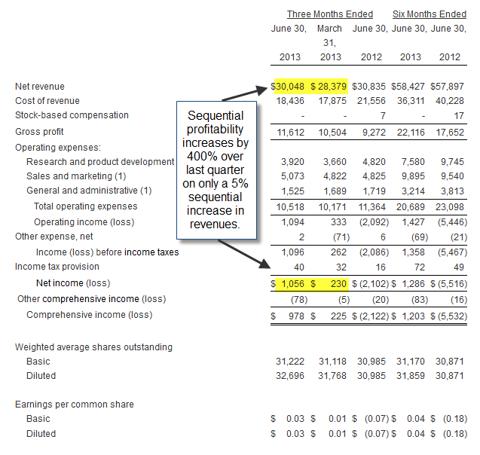 We were particularly encouraged with this commentary from CEO, Mory Ejabat, during last week's call with investors:
"Gross margins continue to exceed historical levels due to an improved pricing environment and concentrated efforts on reducing the cost of our products. We're encouraged by the initial signs of long-term margin expansion that would have a significant positive impact on future profitability."

Finally, OpEx remained low through continued cost containment efforts, which allows us to generate profitability at a substantially lower breakeven point. We continue to believe that we can leverage OpEx to support revenue growth for the next year without substantially changing the cost structure."
Upon reading through this commentary, we were immediately struck by the profound effect the company's improved gross margin profile would have on its underlying profitability. In essence, Zhone has informed investors that it expects gross margins to trend higher over time. With higher gross margins, its operating margins will also improve significantly. After increasing from 1% two quarters ago, to 3% last quarter, operating margins should continue trending higher, potentially reaching 9% in its next fiscal year.
With Zhone predicting a "mid-single digit sequential increase in revenues for the next two quarters," investors can look forward to further improvements in both the company's top-line and bottom-line results.
We expect Zhone to earn $0.04 next quarter on $31.5M in revenues and $0.05 on $33M in Q4 revenues.
This is where things get interesting. Enter FiberLAN.
FiberLAN Product Targets Burgeoning WLAN Market
According to Infonetics, the WLAN market is expected to grow strongly over the next four years: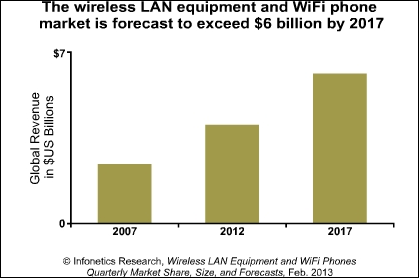 Source: Infonetics Research
Zhone has been prepping for this market growth by designing the FiberLAN product from the ground up over the past few years. Let's now look at why it is expected to be such a big growth driver.
FiberLAN Revenues Poised For a Significant Ramp in 2014
The emergence of video-sharing and editing, new graphic-intensive applications, high-speed data transfers and cloud computing in office and multi-building campus environments have all put critical constraints on legacy copper switches. When designing a new network infrastructure, or simply updating an existing WLAN, companies face considerable up-front IT costs. As a result, network administrators are calling for a network solution that is efficient, secure, and scalable.
Because traditional copper-wire switched LANs connect devices via a Core Switch, a Distribution Switch, and an Edge Switch, in a descending manner, the signals cannot travel more than 300 feet from switch to computer and data transfer rates typically range from 100 mbps to newer systems capable of 1000mbps.
In contrast, Zhone's FiberLAN is a next-generation Optical LAN Solution (OLS), which is fully converged, meaning it can deliver voice, video, and data services over a single fiber-optic cable at much faster Gigabit speeds. In doing so, FiberLAN significantly reduces the amount of infrastructure cables and electronics necessary to build an Ethernet LAN. Networks using FiberLAN can do away with traditional workgroup switches, patch panels and racks while reducing power consumption, space requirements and, most importantly, capital expenditures.
Observe below how FiberLAN's simplified network infrastructure improves upon the 3-tiered Switch network of copper-based LANs, translating to the elimination of wiring closets and dedicated network cooling throughout the office building or campus. In addition, overall power costs are reduced while the allowable distance between the data center to the desktop device is increased: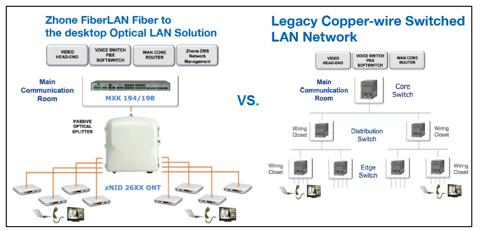 Source: Zhone Technologies
For IT administrators, it's a numbers game. The fewer components to purchase for a new or existing LAN means more capital savings for the company coffers. Take a look at the equipment comps necessary to build a theoretical LAN of 1,024 total desktops over multiple floors. FiberLAN's advantages become quickly clear. It allows for the construct of a more powerful, cost-effective and environmentally friendly network for a fraction of the copper-switched Ethernet LAN costs: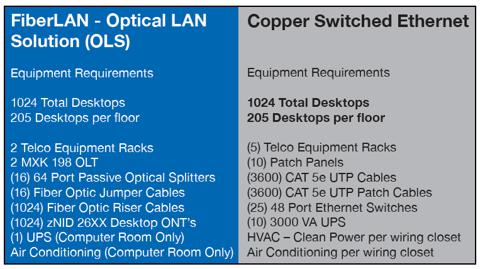 Source: Zhone Technologies
2014: Breakout Year on the Horizon for Zhone Due to Its New and Differentiated FiberLAN Product
While Zhone was busy rightsizing its business for profitability during the past three quarters, it was also quietly adding to its FiberLAN dedicated sales force. These new sales efforts have begun to bear significant fruit. Zhone has secured contracts for FiberLAN with 12 leading hotel brands, along with landing multiple contracts within the enterprise and higher education verticals. The company is also anticipating success in additional verticals such as hospitals, multi-building businesses, multi-dwelling apartment buildings, and manufacturing facilities.
With no analysts following Zhone and the company very quiet about what impact FiberLAN would have on its business up until now, it was reasonable for investors to adopt a "wait and see" approach to this product line. This changed last week during the company's conference call. In particular, we believe it was the following exchange that lit a fire under the stock, causing it to more than double on the week:
Investor

Can you give if possible some sense of magnitude as to what is the size of the opportunity in FiberLAN that is realistically achievable by Zhone?

Mory Ejabat, Zhone CEO

FiberLAN as you know is a replacement for existing LAN infrastructure. Given that the market is huge, what it can be for our size and our product line is that the FiberLAN requires any new building and any restoration of the existing building. So it can be dependent on what the new infrastructure is, where the new buildings are, and what the retrofit is on those, and we see that lots of hotels and government facilities are retrofitting to the fiber at this point. So it can be anywhere from $20 million to $40 million next year for us.

Investor

Okay, now based on your current cost structure what part of each additional revenue dollar will go to the bottom-line as you have some incremental growth?

As I said we anticipate being able to leverage operating expenses significantly to support the growth through 2014. Obviously there will be an increase in sales commissions which will grow with revenue growth and we anticipate that would be about 3% of each revenue dollar, so for each revenue dollar growth we would anticipate a 3% increase and so to specifically answer your question 97% of that would drop to the bottom-line.
Takeaways from conference call
This exchange was eye-opening for a number of reasons. First, with Zhone exiting its current fiscal year on a $0.20 earnings run rate, the impact of the $20-$40 million in FiberLAN revenues will be transformational to the company's underlying profitability. Ninety-seven percent of these revenues will drop down to the company's bottom line.
Assuming a 40% margin and $20 million in revenues from FiberLAN during fiscal 2014, and a modest step-up in OPEX and commission costs, modeling $6.5 million in net income from FiberLAN is a reasonable assumption. Based on 32 million shares outstanding, a run-rate of $0.20 for the existing business, and the additional $0.20 in profit from FiberLAN, we arrive at our $0.40 in earnings assumption for fiscal 2014.
Put an 11x multiple on these earnings and you can see how Zhone could quickly double again by year-end. This is why the stock exploded as it did last week. At current levels, the stock is still very cheap in many regards. On a price-to-sales basis, ZHNE is currently trading for less than half of 1x expected forward sales. On a P/E basis, you are currently paying 5x our forward earnings estimates.
If our projections are correct, Zhone will scale its earnings by almost 300% next year. Inflection point growth stories typically are rewarded with much higher multiples. Assuming a 20-25 P/E on $0.40 eventually is assigned to the shares, a move to $8-$10 by the second half of next year is within reach.
Additional New Product Lines Continue to be Introduced
While it is very clear that FiberLAN will be Zhone's key growth driver, investors should also be encouraged by the company's introduction of new products last quarter. CEO Ejabat was very upbeat about Zhone's new unified provisioning solution which provides service providers with a holistic and simplified approach to multi-service and multi-function access management. By integrating a cloud based provisioning solution into the unified provisioning solution, service providers can manage and configure their entire network from a single point, thereby reducing network and management complexity and also reduced OpEx and CapEx.
The company also introduced the newest version of its MXK high performance Uplink card. Zhone's R&D engineers successfully upgraded the hardware architecture of the Uplink cards, which essentially doubled the network facing uplink capacity.
CEO, Mory Ejabat: Former CEO of Ascend Communications Brings a History of Success
During the late 1990's, one of our biggest winners was in Ascend Communications, one of the top momentum stocks on the NASDAQ. We like it when we run across CEOs with a history of success. In Zhone's case, its CEO, Mory Ejabat, was the former CEO of Ascend Communications from 1995 to 1999. Mory top-ticked the dot-com bubble, by selling Ascend to Lucent for $24 billion in the spring of 1999.
As Zhone shareholders, we are thrilled to have such a well-pedigreed CEO running a $70M+ market capitalization growth story.
Experienced Management Team with 150 Years of High-Level Telecom Executives
In addition to its very well-pedigreed CEO, the upper echelon of Zhone's management team holds impressive credentials:
CFO, Kirk Misaka: CFO since 2003 and Treasurer since 2000, Kirk is a CPA who spent twenty years at KPMG, with 11 years as a partner.
Chief Marketing Officer, Brian Caskey: A 25 year telecom veteran, with stints at UT Starcom and 3Com. Brian has a degree in electrical engineering and he graduated from Wharton and completed Duke University's Advanced Management Program at the Fuqua School of Business.
Chief Technology Officer, Eric Presworsky: Responsible for Zhone's next-generation product offerings, Eric has held strategic positions within Lucent, Ascend, and Level 3 during his career.
Executive V.P. of System Products, Bruce Roe: Bruce has a 20-year track record of building and guiding teams in the development of market-leading products.
Vice President of Business Development, David Misunas: David has held high-level positions at Lucent and Ascend. An electrical engineer from MIT, he also served for several years on M.I.T.'s research staff.
Vice President of U.S. Sales, Michael Fischer: Michael has over 23 years of telecommunications experience, including stints at Advanced Fibre and GTE.
Vice President of Operations, Ed Thompson: Ed has 20 years of telecommunications experience and is responsible for Zhone's manufacturing facilities and all of its supply chain and contract manufacturers.
Taken together, this is a management team that has a history of success, one that should help CEO Ejabat execute his business plan from here.
Is Zhone The Next eGain?
In many ways, Zhone reminds us of eGain Corporation (NASDAQ:EGAN). With CEOs who both experienced the dot-com bubble and its after-effects, both companies have reached escape velocity after many dark years. In EGAN's case, CEO Ashutosh Roy, deserves immense credit for never giving up on his dream to build eGain into an exciting growth story within the cloud software space. With both CEO's also owning significant stakes in their respective companies, they have inherent incentives to drive revenues and profitability.
For eGain, it took a long time for its cutting edge products to gain market acceptance and to ultimately achieve revenue growth. The market has certainly taken notice, lifting EGAN's shares from a low of $0.15 to its current price above $10.
While it is still early, could Zhone enjoy the same type of trajectory over the next 6-8 quarters which eGain enjoyed? We think it could. Assuming the company can execute on its growth plan, the Street will eventually re-engage with Zhone. Analysts will begin to follow the company again, thereby introducing the Zhone story to an entire legion of new investors. Moreover, new institutional investors will be able to invest in Zhone as the stock climbs above $4-$5.
While it will take time to see whether these similarities between the companies will take shape, we look forward to seeing this process play out.
$1B in NOLs On Balance Sheet
In addition to the aforementioned positives, there is another consideration investors should take note of. There is a tremendous asset on the company's balance sheet: over $1B in NOLs, representing $500 million on an after-tax basis.
To put this into context, Zhone's after-tax NOLs equate to 7x the current market capitalization of the entire company!
From the company's filings:
Deferred income taxes reflect the net tax effects of temporary differences between the carrying amounts of assets and liabilities for financial reporting and income tax purposes. Significant components of the Company's deferred tax assets and liabilities as of December 31, 2012 and 2011 are as follows (in thousands):
2012

2011

Deferred assets:

Net operating loss, capital loss, and tax credit carry forwards

$

526,575

$

536,302

Fixed assets and intangible assets

20,802

20,367

Inventory and other reserves

4,995

6,879

Other

128

92

Gross deferred tax assets

552,500

563,640

Less valuation allowance

(552,500

)

(563,640

)

Total deferred tax assets

$

-

$

-
As of December 31, 2012, the Company had net operating loss carry forwards for federal and California income tax purposes of approximately $1,390.7 million and $242.6 million, respectively, which are available to offset future taxable income, if any, in years through 2031.
Risks
What could go wrong? As with any company and stock, there are a number of risks that investors should be mindful of.
First, Zhone has a hearing this week with the NASDAQ. With its stock below $1 for an extended period of time coming into last week, the company received a de-listing notice a few weeks ago. There is no guarantee that the company will be successful in staying listed on the NASDAQ. Nonetheless, considering the dramatic move higher in the stock last week, along with the company's strong forward prospects and profitable execution for the past three quarters, we think that the shares will retain its listing on the exchange.
Zhone already has approved a reverse stock split, so this could be a necessary requirement to keep its shares on the NASDAQ. Investors should receive an update on this near-term event in the next week or so.
A second notable risk to be mindful of is Zhone's spotty track record of execution over the past six years. We blame much of the company's problems during this time on the optical sector being out of favor, along with negative pricing pressure on its products.
This leads us to a third risk - pricing pressure could also eventually return, potentially casting a negative effect upon margins and forward earnings prospects. Current market conditions appear to be strengthening, however, so this risk should be muted for at least the next several quarters.
Turning to the competitive landscape, Cisco (NASDAQ:CSCO) has the largest market share within the WLAN space. It will not be easy for Zhone to gain share against such a formidable incumbent.
Customer concentration is also high, with its top five customers accounting for 39% of its sales. Encouragingly, this trend has improved considerably from last year, when its top five customers accounted for 53% of its sales.
One final consideration: shareholders could also face potential dilution in the next few quarters. While the company has been generating cash and has a few million in net cash on its balance sheet ($12.7 in cash and $10 million on its credit line with Wells Fargo), if the stock were to advance to the $3-$4, we would not be surprised to see Zhone complete a secondary offering to buttress its balance sheet. Nonetheless, considering that the CEO owns 10% of the company, we get the sense that the company will be very mindful of not diluting shareholders significantly.
Conclusion
All signs point to a pivotal inflection point at hand for Zhone Technologies. With the company a member of the red hot fiber optics group and with other stocks such as Alliance Fiber (NASDAQ:AFOP) posting 400% gains over the past 19 months, we expect to see aggressive accumulation in its shares continue in the coming weeks and months.
During the next six quarters, we expect to see the company's top-line growth accelerate and its gross margins to trend higher, causing a dramatic expansion in the company's underlying profitability. To understand our bullishness, look no further than the model we have created for Zhone below: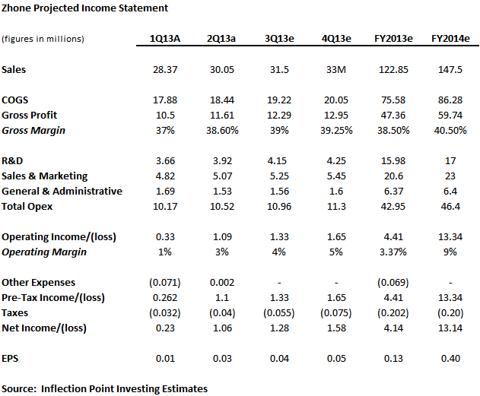 Taken together, Zhone is a $2.30 stock with seemingly minimal downside and tremendous upside in both the short and long term. With improving margins, accelerating top-line growth, and significant earnings leverage about to be revealed, Zhone's valuation should stair-step higher as new investors warm to the stock over the next six-eight quarters.
Disclosure: I am long ZHNE. I wrote this article myself, and it expresses my own opinions. I am not receiving compensation for it (other than from Seeking Alpha). I have no business relationship with any company whose stock is mentioned in this article.