Bloomberg reports on the growing trend in non-performing loans at U.S. banks [emphasis added below]. Non-performing loans are those that are not making payments of interest and/or principal.
This chart (click to enlarge) shows the level of bank loans that are not performing. As usual during a recession, the percentage is going up. The left scale shows the percentage and the right scale indicates the number of banks with serious issues.
The 1990-91 recession also had significant real estate problems and the non-performing loan percentage peaked north of 3% back then. We're at 2.6% or so now and we are probably headed higher this time around.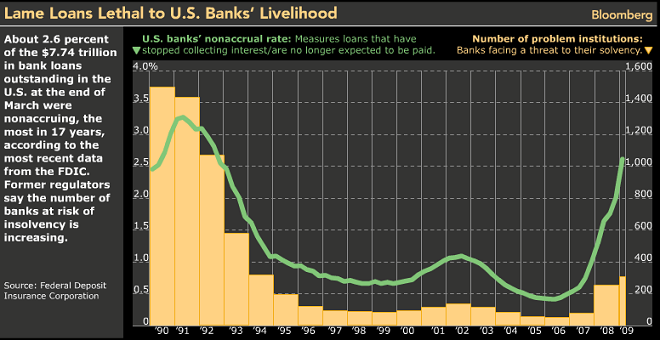 Source: Bloomberg / Big Picture
Toxic Loans Topping 5% May Push 150 Banks to Point of No Return (Bloomberg, August 14, 2009, Ari Levy)
More than 150 publicly traded U.S. lenders own nonperforming loans that equal 5 percent or more of their holdings, a level that former regulators say can wipe out a bank's equity and threaten its survival.

The number of banks exceeding the threshold more than doubled in the year through June, according to data compiled by Bloomberg, as real estate and credit-card defaults surged. Almost 300 reported 3 percent or more of their loans were nonperforming, a term for commercial and consumer debt that has stopped collecting interest or will no longer be paid in full.

… "At a 3 percent level, I'd be concerned that there's some underlying issue, and if they're at 5 percent, chances are regulators have them classified as being in unsafe and unsound condition," said Walter Mix, former commissioner of the California Department of Financial Institutions, and now a managing director of consulting firm LECG in Los Angeles. He wasn't commenting on any specific banks.

…While 5 percent can be "fatal" for home lenders, commercial real estate lenders may be able to withstand higher rates, said William K. Black, former lawyer at the Federal Home Loan Bank of San Francisco and the OTS. Commercial loans carry higher interest rates because they're riskier, he said.

"At the 5 percent range, you're probably hurting," said Black, an associate professor of economics and law at the University of Missouri-Kansas City. "Once it gets around 10 percent, you're likely toast."…
One important additional point is how much of a loan loss reserve a given bank has. That is, if non-performing loans are 3% and there is a fully-funded loan loss reserve of 3%, then the problem is manageable. Conversely, if a bank has non-performing loans of 3% and a reserve of only 1.5%, that's a problem.