In my June 15 article, "Bad News? They're Just Lagging Indicators", I outraged some on SeekingAlpha.com with my statement that: "The recession is over." I said you should not pay attention to the lagging indicators like employment, especially when cited by an otherwise bearish stock market forecaster as a reason the rally was a fake, manipulated, engineered by the evildoers on Wall Street, etc.
In my follow-up July 7 article, "Why The Recession Is Over", I pointed out that the strength in the leading indicators and the coincident/lagging indicator confirmed that the recession ended in June. When I posted that article on SeekingAlpha.com on July 7, the howling doubled. No one actually said: "Off with his head!" But it was close.
So, in the spirit of "I never forget a mistake, that way I can make it over and over" I decided to cover the third group of economic indicators published by The Conference Board: The Coincident Economic Index. This is a bit trickier, because while the leaders turn up before the economy turns up, the coincidents are, well, coincident. So I had to forecast what the four components of the Coincident Index will look like for July, August and September in order to be sure the recession ended in June. I did that, and as my teen-age babysitter would text:
OMG - it's a V-shaped recovery!
Since my first article, the consensus has moved from "no end to this recession" to "it ended in June but it will be a slow, grinding recovery." I think the typical forecast for the September quarter is that GDP will grow at an annualized rate around 1.5%. On August 12, Goldman Sachs tripled their forecast for real GDP growth to a 3% annual rate for the second half of 2009. But looking at the individual components of the Coincident Economic Index makes it clear to me that growth will be closer to 4% in the September quarter and possibly higher in the December quarter. All of a sudden, that fake, manipulated, engineered rally from the March 6 low looks like just another case of Mr. Market divining the future faster and more accurately than most investors. The $10 trillion on the sidelines hoping for a graceful entry after a drop back below 900 on the S&P might have a change of heart after Labor Day, and start looking a bit more desperate to get in on any weakness. As a general rule, Mr. Market does not oblige desperate people.
The Coincident Economic Index
The statisticians at The Conference Board, who massage this data all day every day for a living, have found that they only need four different time series to create an accurate picture of where the economy is today. I have listed these in the order in which I expect them to strengthen:
1. Personal income less transfer payments
2. Manufacturing and trade sales
3. Industrial production
4. Employees on nonagricultural payrolls
Note that none of these have anything to do with housing, foreclosures, commercial real estate, commodity prices or message board sentiment.
In June, the Coincident Economic Index decreased 0.2% to 100.3. It had fallen 0.3% in April and the same in May. Two of the four indicators were up in June. Personal income less transfer payments rose at a 2.6% annual rate and contributed .04 percentage points to the bottom line change in the indicator. Each component of the indicator is weighted differently, so similar percentage changes can make different contributions to the bottom line number. Manufacturing and trade sales rose at a 1.3% annual rate and contributed .01 percentage points. Adding +.04 to +.01 gives us +.05 for the positive components.
On the negative side, employees on nonagricultural payrolls fell at a 4.2% annual rate, subtracting .19 percentage points. The weakest component - no surprise here - was industrial production, down at a 4.6% rate but subtracting only .06 percentage points. Adding -.19 to -.06 gives us -.25 on the negative side. Combining the +.05 with the -.25 gives us the bottom line reading of -.20, or -0.2%.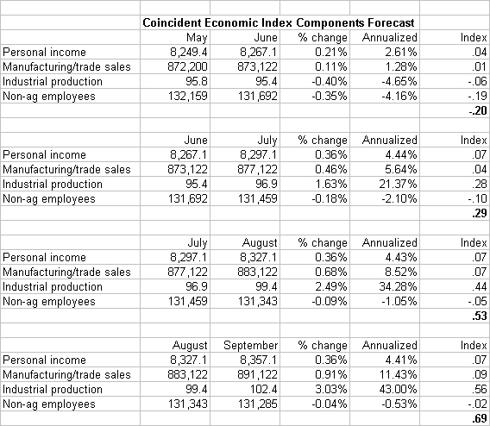 During the September quarter, I expect personal income less transfer payments, which bottomed in March through May and grew almost $20 billion in June, to continue to grow modestly at about $30 billion a month. By the end of September it would still not be up to where it was in January.
Manufacturing and trade sales bottomed in April but are adding only about $1 billion a month. With the Cash for Clunkers program and better sales of some technology products, I have assumed they will slowly grow, adding $4 billion in July, $6 billion in August and $8 billion in September. That would get August sales back to the depressed January level, with September a new high for the year to date.
Employment is a serious weak spot, and I have assumed it keeps declining during the September quarter at a slowing rate. That means it remains a drag on the bottom line, but less each month.
Which brings us to the big swing factor, industrial production. Manufacturers cut inventories early and hard in this recession, with the lessons of 2001 and 2002 fresh in their minds. The inventory/sales ration was bumping along near record lows before Cash for Clunkers kicked in, and most companies that have reported June quarter results have indicated that their inventories and their sales channel inventories are very lean. Even the auto companies have low inventories.
This morning, the Commerce Department said that businesses cut inventories 1.1% in June, the 10th consecutive monthly decline. That's the longest stretch since a run of 15 straight months in 2001-2002, and this time the cuts were deeper early on. Inventories fell at all levels of the supply chain: Manufacturers down 0.8%, wholesalers down 1.7% and retailers down 1.0%.
But business sales at all levels rose 0.9% percent in June, the first increase in total sales since July 2008. So the inventory to sales ratio slipped to 1.38 from 1.41 in May, and is bumping along the recent bottoms around 1.30.
Inventory rebuilding is a classic driver to exit a recession, and after the drop in the June quarter, it appears likely to drive GDP in the September period. I believe the industrial production index set its low in June at 95.4, and will move to 97.0 in July, 99.4 in August and 102.4 in September as companies try to rebuild inventories. We will know soon enough if the pick-up is starting; the July Conference Board coincident index data will be reported on August 20.
The steady improvements in monthly industrial production produce some outrageous looking annual rates of growth, but no one expects this rapid initial inventory rebuilding to continue for long. The Coincident Index driver should change to personal income and eventually, the number of non-agricultural employees, to keep the Index growing.
If this forecast of modest growth or a slower decline in three areas plus an important swing from negative to positive in inventories is accurate, perhaps due to Cash for Clunkers, back-to-school spending or even gearing up for the holidays, the Coincident Economic Index should have turned positive in July and be reported up 0.29%. In my model, that would be followed by +0.53% for August, to be reported on September 21, and +0.69% in September, to be reported on October 22. This would mean the coincident indicator was following the leading indicator up, as it is supposed to after a recession bottoms, at a similar accelerating rate (see The Conference Board pdf graphic). It also would indicate real GDP growth in the September quarter will be closer to 4.0% than 1.5%, and the strength could continue into the December quarter even as foreclosures mount and unemployment remains high.
Disclosure: No positions