As we move through the heart of summer, reports of earnings are starting to arrive for the second quarter of 2013. Last quarter saw some very eagerly anticipated earnings reports from multiple solar companies. SunPower (NASDAQ:SPWR) earnings firmly defeated analyst estimates. The Earnings Per Share (EPS) estimate was $.06, but SunPower delivered an EPS of $.22, a positive surprise of 266.70%!!! SolarCity (SCTY) saw a huge increase in share price the day before its earnings announcement. SolarCity missed earnings estimates of -$.32 by reporting actual EPS of -$.41. Despite the miss, SCTY shares moved on to hit a 52-week high of $52.77 a week later.

Why SunPower Makes for a Good Bet
As investors prepare for a new round of earnings, this article is going to make a case for why SunPower may make an excellent short-term investment as we approach earnings after-hours on July 31st. I'm going to address reasons why I expect customer and revenue numbers to continue to be favorable for SunPower. First, SunPower seems to be the most efficient player in the solar energy industry. They have been focused on developing high-quality solar panels that make the best use of the limited space available on a customer's roof or other property. (image from SunPower presentation)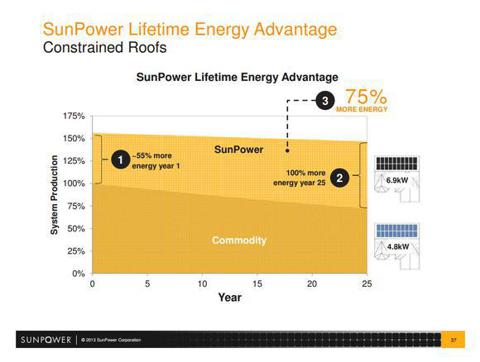 Conventional panels are less effective at capturing solar energy and tend to degrade at a faster pace compared to SunPower's newest panels. As energy storage technologies improve dramatically as expected in the coming years, this extra energy will prove more meaningful.
Second, in this time of iPhones, MacBooks, and other sleek devices, aesthetics is key. SunPower is aware that customers may care about the appearance of panels being placed on their home or business. SunPower panels are now designed in Signature black, offering a more attractive appearance to homeowners versus the conventional panels used by other providers.
Third, SunPower has an excellent domestic and international presence that should help the brand grow significantly over the coming years. SunPower is partnered with seven of the top ten home builders in the state of California. SunPower also does business with 30% of Fortune 100 companies! SunPower plans to operate residential lease programs in six countries outside of the United States, including France, Japan, Germany, Australia, Spain, and Italy.
For the reasons highlighted above, I believe SunPower will continue to add residential and commercial customers and grow revenues as each quarter passes.
The best reason why SunPower makes an interesting short-term investment is their earnings history. SunPower has a tendency to not only beat earnings estimates but to beat those earnings estimates something fierce. The table below shows the estimated earnings, actual earnings, and percentage of surprise over the prior four earnings periods.
| Earnings Period | Estimate | Actual | Surprise % |
| --- | --- | --- | --- |
| Q2 - 2012 | -$.09 | $.08 | 189% |
| Q3 - 2012 | -$.11 | $.03 | 127% |
| Q4 - 2012 | $.14 | $.18 | 29% |
| Q1 - 2013 | $.06 | $.22 | 267% |
One could speculate as to why SunPower often beats earnings. Perhaps management sets the bar low. Regardless, when SunPower beat earnings in the prior quarter, investors were the clear winners as they netted over a 17% single day gain.
Short interest may play a role in the near future as well. With SunPower going from $17.89 per share on 6/24 to $26.23 per share on 7/22, it's easy to understand why some traders are anticipating a sharp fall for SunPower. On the other hand, we've all seen momentum stocks crush investors who were betting on them to fail. Tesla anyone?
Conclusion
In conclusion, I believe SunPower makes an excellent bet this earnings season. SunPower has a lot of positive factors that should contribute to growth and an enhanced outlook going forward. SunPower tends to crush earnings when evaluating its earnings history. I also like SunPower over rivals SolarCity and First Solar (NASDAQ:FSLR) as a long-term solar pick. Does SunPower represent an opportunity to make large gains in a short amount of time? Feel free to share your thoughts and comments below.
Disclosure: I am long SPWR. I wrote this article myself, and it expresses my own opinions. I am not receiving compensation for it. I have no business relationship with any company whose stock is mentioned in this article.
Additional disclosure: I'm receiving no compensation as a result of writing this article. This article is only intended to facilitate investors in making investment decisions, and they should still perform their own due diligence prior to making an investment. Investing in SunPower, as with any stock, is a risk, and that risk lies with the investor.