Commodities should see a nice rise going forward, as China has moved to provide support for its flagging economy by announcing via local media that it will increase spending on rail infrastructure building. The goal is to utilize the excess capacity of steel and cement that is plaguing the country right now, but it should also increase the demand for labor. The goal is to keep growth above 7%, so now that the market knows this we believe there is solid footing to move forward as leadership has essentially drawn a line in the sand.
Chart of the Day
The SPDR Gold Trust ETF (NYSEARCA:GLD) is rallying as gold buyers return to the market, and it certainly appears, by looking at all of the charts, that the rally in gold is going to take us back to a more appropriate level where a base can be built. We do know that some of the issues in the gold market are the result of the issues in China, as well as India's problems with its currency and the rules it has put in place to stabilize the rupee. That, in turn, has made buying gold less attractive.
Click to enlarge images.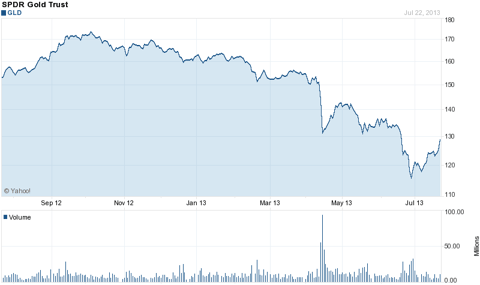 Source: Yahoo Finance.
Commodity prices this morning are as follows:
Gold: $1331.30/ounce, down by $4.70/ounce
Silver: $20.22/ounce, down by $0.289/ounce
Oil: $106.06/barrel, down by $0.88/barrel
RBOB Gas: $3.0501/gallon, down by $0.005/gallon
Natural Gas: $3.741/MMbtu, up by $0.064/MMbtu
Copper: $3.1825/pound, down by $0.0025/pound
Platinum: $1428.90/ounce, down by $19.10/ounce
Uranium
There is a lot of chatter we are picking up from readers and others regarding the uranium market right now. A lot of that excitement is being caused by a certain uranium supplier that has seen a short squeeze the last few days, which is no doubt the result of the illiquidity created by the recent reverse split the company did. The company is far too small to mention on Seeking Alpha since its sharp decline over the past year or so, but it did nearly double in price yesterday, which caused a rally in other uranium names. Many of the smaller miners saw shares rise as well, and as more conservative investors sought to partake in the rally via the ETFs we saw a situation where the tail began to wag the dog. Cameco (NYSE:CCJ) saw its shares rise $0.75 (3.53%) to close pennies shy of $22 on volume of 2.2 million. That in and of itself tells you how serious this coming uranium bull market could be, as investor capital seeks exposure when that move does in fact take place. Keep an eye on this sector.
It looks as if we are making another run at breaking out. We like it, but only wish it had come on the back of something more significant rather than the short squeeze in one small uranium supplier, which kicked off an industry-wide rally yesterday.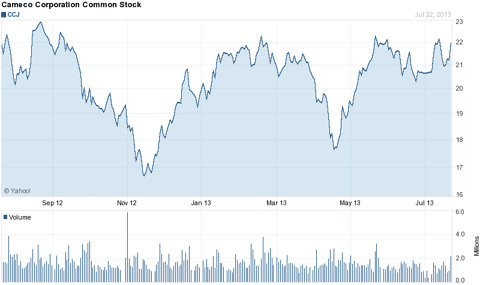 Source: Yahoo Finance.
Rare Elements
Yesterday we discussed Molycorp (MCP), as it was mentioned in an Associated Press article, the first bullish mainstream media piece we have seen in some time. We also noticed yesterday that Forbes put out an article highlighting that Molycorp had crossed its 200-day moving average (read the article here), which forced us to look at the chart ourselves. There are bullish factors taking place here as the 50-day MA crossed above the 100-day MA line as the stock was turning higher, and when we see that it usually denotes the opportunity for a trade. We are currently managing the risk we have and have no room in the portfolio for additional trades, but for our readers who have liked to trade the name, we do see an opportunity here for a trade so long as a tight stop is implemented.
It sure looks like a bullish move to us.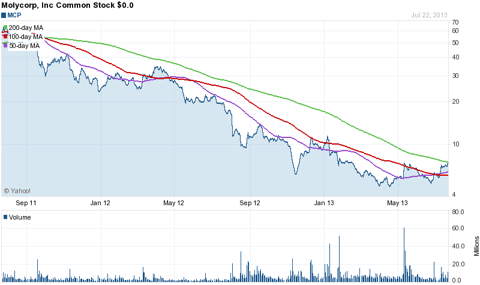 Source: Yahoo Finance.
Precious Metals
We have come under scrutiny for our recommendation the other day of Silver Wheaton (SLW) as a way to play silver and yesterday's discussion regarding Barrick Gold (NYSE:ABX). Some readers believe that it is lost on us that these are the bigger names in the sector, and that we could get better returns by getting more exposure via the smaller names. Yes, we get it. However, the safe way to play this move, following the most recent dramatic sell-off in the precious metals markets, is in the big-cap names. That's because they insulate you from making the mistake of buying shares in an illiquid junior miner, as well as provide a diversified portfolio of projects and cash flows.
We have remained long our physical gold and silver holdings and kept our junior positions, but that was simply due to our risk portfolio being set up as such. Most investors need to stick to the big names and avoid that unnecessary risk altogether. We can safely state as a fact from past experience that taking on the risk of the junior miners in most cases results in the loss of capital.
In closing, it should not be lost on investors that the underperformance of these names vs. the smaller precious metals players is not all that bad. Both Silver Wheaton and Barrick Gold saw their shares up just over 6% yesterday, while the smaller names were up around the same amount all the way to the low double digits. When factoring risk in, that sure looks like a good tradeoff to us.
Disclosure: I have no positions in any stocks mentioned, and no plans to initiate any positions within the next 72 hours. I wrote this article myself, and it expresses my own opinions. I am not receiving compensation for it (other than from Seeking Alpha). I have no business relationship with any company whose stock is mentioned in this article.