When the SPDR Gold Shares (NYSEARCA:GLD) famously broke below its prior level of support at $130 back in June, it was widely believed that the yellow metal would forever perish into the abyss. The breakdown below that key baseline seemed to vastly separate the gold bugs from the gold haters with the level of contempt for the price slide vastly skewing the consensus to the negative. Many market pundits were calling for GLD to fall to $100 or lower with the bulls seemingly nowhere in sight.
Never one to run with the crowd, I suggested last month that investors who were considering an allocation to this sector start to leg into some small positions to take advantage of the depressed prices. One of the indications that at least a short-term bottom was near was the overwhelmingly negative headlines that permeated the media spotlight. In my experience, markets typically turn when the news is most bearish because there is no one left to sell.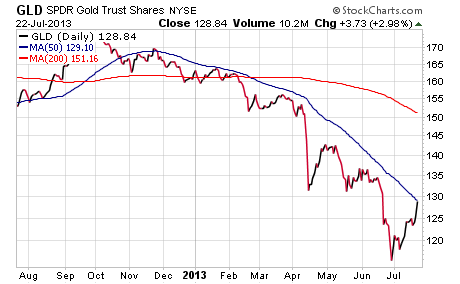 Since the June closing low in GLD, this ETF has risen over 11% through 7/22/13. A great deal of this move has likely been spurred by short covering from aggressive traders and hedge funds that were holding bearish bets in precious metals. Even Ben Bernanke was kind enough to suggest that he doesn't understand gold prices, which most likely helped fuel the upward momentum. Without a doubt, the sector has continued it streak of volatility which is an attribute that short-term traders love.
GLD is rapidly approaching its 50-day moving average and is again flirting with the $130 level, which should now act as a level of resistance in its bid to recapture additional gains. I believe that this level may prove difficult to overcome on the first attempt but that subsequent moves may convince investors that gold has regained its glitter.
My advice for investors in this sector is to not become too overly bullish or bearish at this juncture. I would not be immediately jumping into gold if it continues this streak, nor would I be looking to call a top and sell everything. I am approaching precious metals with cautious optimism and a balanced mindset that takes into account both sides of the trade. If you use the June low as the new floor then you can start to establish new positions on any backfill in the price action. That low can also be used as a stop loss point for those who have put money to work in this space. A risk management approach should be a key component of any trading strategy, but especially one in this erratic environment.
While gold miners may ultimately represent the biggest upside potential in this sector, I am still avoiding them based on their inherent volatility. I think that accessing the price of gold bullion through GLD represents the easiest method of participation for the average investor. The benefit of this ETF is that it is large, liquid, and easy to understand. In addition, when you use GLD you don't have to worry about purchasing, storing, and protecting physical gold which can be a challenge.
Disclosure: I have no positions in any stocks mentioned, and no plans to initiate any positions within the next 72 hours. I wrote this article myself, and it expresses my own opinions. I am not receiving compensation for it. I have no business relationship with any company whose stock is mentioned in this article. David Fabian, Fabian Capital Management, and/or its clients may hold positions in the ETFs and mutual funds mentioned above. The commentary does not constitute individualized investment advice. The opinions offered herein are not personalized recommendations to buy, sell or hold securities.