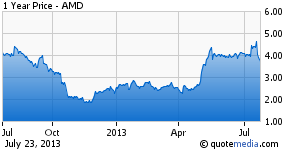 When I last wrote about graphics and computing semiconductor chip maker AMD (NASDAQ:AMD), in AMD Game Console Triple Crown, on May 20, 2013, I asked whether sales into the next generation gaming consoles from Microsoft (NASDAQ:MSFT), Sony (NYSE:SNE) and Nintendo (OTCPK:NTDOF) would be sufficient to turn AMD around. I also stated "AMD could gain enough share in the PC market to compensate for any overall market declines." The closing price of AMD that day was $4.07.
On July 18, 2013 AMD reported results for its second quarter. Despite beating its own guidance and guiding to a good to strong Q3, AMD's stock price crumbled and has stayed down so far, after hitting a 52-week high of $4.65 not long before results were released. It is a fair guess that those who sold had hoped revenue and profits from game console chips would be more visible in Q2, which was never in the cards. The overall gloom surrounding declining PC unit sales, as also shown in Intel's (NASDAQ:INTC) Q2 results, means that AMD will has to go further to convince investors to come back on board.
The real question for long term investors like myself is whether or not AMD's turnaround plan can work, and whether AMD is executing on plan. A look at Q2 details shows execution is going well. We can pretty much count on console chip production ramping in Q3 and into Q4. The ability to gain significant sales outside the PC market remains harder to project.
Looking at Q2 results and management commentary, while revenue in the quarter was down 18% from year-earlier, it was up 7% sequentially from Q1, to $1.16 billion. With the exception of chips for the Nintendo Wii U, which has been in production for some time, almost all of the new revenue would be in the classic PC, server, and game chip space. In contrast, for the same quarter Intel had revenue of $12.8 billion which was up 2% sequentially and down 5% y/y. Thus in general Intel has gained market share in the past year, but AMD gained share in Q2.
In the computing segment AMD revenue was up 12% sequentially, with increases in notebook, server, and desktop unit shipments. In particular mobile (notebook) processor unit shipments were up double digits sequentially with new APU introductions targeted at high-volume designs, by region, price point, and form factor, with key OEM customers. This points to the viability of AMD's APUs, which combine CPU and graphics circuits on a single chip, with a substantial graphics lead over Intel. Because in the sub-$600 notebook market graphics tends to be the bottleneck for most applications, an increasing number of SKUs from major OEMs are using AMD chips. I confirmed this with spot checks at retailers.
Bigger usually crushes smaller, but as we all know from the defeat of the Spanish Armada, sometimes, with a little help from the weather, maneuverability can triumph over incumbency. AMD has been working on maneuverability, but for semiconductor design there are long lead times that mask results from being immediately obvious. The new AMD strategy can be summed up as producing "semi-custom" SoC (System of Chip) solutions. The gaming console chips are the first announced examples, but management made plain that more SoCs will be going into production in 2014. These will go into the industrial and medical markets. For semi-custom SoCs the needs of particular OEMs are discussed, and varied chunks of pre-existing computation and communications circuitry are assembled into a chip design. Two different medical imaging devices could require two different SoC solutions, even though each needs CPU and graphics cores.
It is important to note that much of the cost of SoCs is upfront engineering cost. Margins should be good once chips are in regular production. The semi-custom chips use circuit designs already worked out for traditional chips. It costs less in R&D dollars to design a custom chip than to design a new high-end server or graphics chip. AMD still has to design the high-end chips, but starting in Q3 2013 it should be getting more revenue out of each R&D dollar spent.
A weak spot in Q2 was the Graphics and Visual Solutions segment, which includes both traditional stand-alone graphics chips, the game console chips, and the new semi-custom products. Revenue was down 5% sequentially and 13% y/y, to $320 million. Most of this loss would have to be in traditional, stand alone graphics chips where AMD has been toe-to-toe with Nvidia (NASDAQ:NVDA) for years. There is reason to think that AMD will start taking market share from Nvidia later this year or in 2014 as more game makers optimize for AMD graphics, since they have to produce software for the game consoles regardless of how they approach the PC space. With Nvidia and AMD roughly at par most of the time for pure graphics performance, the results get skewed towards whichever franchise game designers optimize towards.
Guidance for Q3 is for revenue to increase between 19% and 25% sequentially, or to between $1.38 billion and $1.45 billion. Even below the low end that would beat Q3 2012 revenue of $1.27 billion. Given the projected decline in units shipped the PC market, AMD is showing a new working model that I believe has not been accounted for in the stock price.
AMD should be able to apply the same semi-custom design strategy to the server chip market in 2014. By combining graphics, a choice of an x86 or ARM core, and fabric for interconnects, AMD should be able to sell into niches and erode Intel's current overwhelming dominance. However, I expect that to be a slow process, more a 2015 story, given the conservative nature of the server industry.
For all that, Q3 will be the first profitable quarter for AMD in some time. Because Q1 is usually seasonally down, particularly in game chip shipments, analysts have been wondering if AMD can show a profit in Q1 2014. CEO Rory Read seems confident (without giving specific guidance) that because of further expense cutting and the ramping of new chip designs in embedded, medical and industrial uses, Q1 will be the third consecutive quarter of profitability.
Things could go wrong. Delays in new chip introductions have haunted AMD over the past decade. AMD is now fabless, and so dependent on TSMC and GlobalFoundries for production. Demand for PCs or game consoles could plunge. Intel could initiate a price war to preserve its share of the $600 and under PC market. Intel, however, seems focused on breaking into the smartphone market; a price war there would benefit it more.
Another issue is visibility. Consumer and server chip products tend to get announced relatively early, allowing for analysis. In industrial and medical we may never see announcements, even when equipment is in full production. We will only see revenue, and margins, after the fact.
I would say that AMD at today's price (closing at $3.90 on July 22, 2013) is an attractive bet if you can stand the risk. There is a good turnaround plan in place and verifiable signs that execution is going well. There are considerable risks, as discussed above. If AMD executes well in Q3 and Q4, then ramps the newer SoC industrial customer designs in 2014, we could be looking at a very different company within 1 and 1/2 years. Maybe not a new Apple, but a well-positioned, profitable niche semiconductor player, with a stock price over $10 per share. This goal is based on $400 million in operating profits in 2014 (mostly in the second half), a P/E ratio of 20, a market cap of $8 billion, and shares around 720 million. We probably won't be hearing AMD's guess for 2014 until January 2014, and management will probably want to be more conservative, rather than generate a miss.
Disclosure: I am long AMD. I wrote this article myself, and it expresses my own opinions. I am not receiving compensation for it (other than from Seeking Alpha). I have no business relationship with any company whose stock is mentioned in this article.