Sometimes there are material events that make their way into the public domain that the financial news doesn't pick up on. For example, recently EOG (NYSE:EOG) filed a >8,500 boepd Eagle Ford initial production rate with the Texas Railroad Commission, and the first anyone who wasn't checking regular filings with the TRC heard of it was in an article I posted here on Seeking Alpha.
In the aftermath of that news, both EOG's and Lucas Energy's (LEI) stocks rose considerably. That happened as the market processed the implications of that well on the value of EOG's Eagle Ford land holdings, and started to price in the incremental value improvement in landholdings by neighboring companies -- such as Sanchez Energy (NYSE:SN), Marathon Oil (NYSE:MRO), and Lucas Energy . All of their stocks are up since then. In particular, Lucas is up over 8%, which makes sense as it is the most levered to this particular area relative to its size and valuation. And EOG is up almost 4%, which is a huge move considering EOG is a ~$40 billion company -- obviously the well result was impactful.
Click to enlarge images.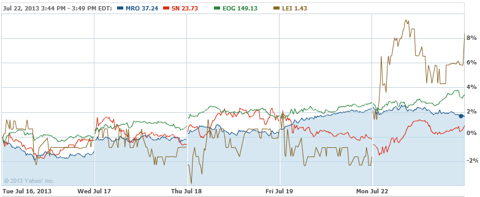 Since then, there have been three news items that seem to be missing from the headlines, two related to Lucas Energy and one related to Gastar Exploration (NYSEMKT:GST). Each of these are material and could move the respective stocks considerably.
First, Gastar Exploration won an appeals case against its insurers. This was available via Lexis Nexis, but did not make the mainstream news and certainly did not hit Yahoo Finance or other financial news aggregators. It is highly material -- it is related to reimbursement of a $20 million payment plus $4-$5 million in legal fees from prior litigation that Gastar believed its insurers should cover, and for which Gastar is suing for reimbursement. $25 million is ~$0.42 per share, which is material to a company with a ~$3.60 stock price and that, until recently, had been battling misconceptions about liquidity risk. With the 30%-plus rate of return Gastar is achieving in its two main development assets -- the Marcellus and the Hunton -- this $25 million could compound over a few years into a far larger figure. That could mean substantial gains for shareholders.
Second, Lucas Energy has seen significant insider buying. Meson Capital Partners, LP bought an additional 185,000 shares of Lucas Energy on July 17. That is ~0.67% of the company, in one transaction in one day. This is particularly meaningful when considering the next news item.
Third, the board chairman of Lucas Energy and the managing partner of Meson Capital Partners, LP -- Ryan Morris -- recently made an offer to buy out the other company of which he is chairman, at a 30%-plus premium to where the stock was trading prior to his offer. The news of the offer for the other company did come out, but what didn't hit the wires was Meson's relationship with Lucas and the parallels between the two companies. Considering the large discount Lucas trades at relative to its proved reserve value, it seems to have been attractively positioned even before the insider buying and other news.
So, in short, there are occasionally publicly available data points that don't make the news but are available to diligent investors. These data points can move stocks, as evidenced by the EOG well data point and the significant move in EOG and LEI in the aftermath of that data being more widely disseminated. And there are a few such data points that are being discussed in a widely disseminated format for the first time in this article. This includes data relevant to Gastar Exploration and Lucas Energy.
Disclosure: I am long GST, LEI. I wrote this article myself, and it expresses my own opinions. I am not receiving compensation for it (other than from Seeking Alpha). I have no business relationship with any company whose stock is mentioned in this article.
Disclaimer: This is not a recommendation to buy or sell any security, and Lucas Energy is a micro-cap company, with incumbent risks associated with investment. I reserve the right to buy or sell any security mentioned at any time without further notice.