WWJ2's new expansion pack had a mediocre start. Last Saturday, NetEase (NASDAQ:NTES) launched "Tian Gong Kai Wu" (TGKW), an expansion pack for its key game WWJ2. Special activities were also held in WWJ2 to celebrate its 7th anniversary. My monitoring shows TGKW has not performed well so far: WWJ2's daily concurrent users actually dropped slightly during last weekend versus the prior weekend (see chart below).
In my opinion, such a mediocre start indicates TGKW's core feature - the "life skills" system - has not been well-received by players. Life skills system allows players' in-game figures to learn agricultural or handicraft skills and use them to produce virtual items. These products can then be sold to other players in exchange for game coins. This system is very effective in increasing users' stickiness for popular free-to-play games such as Tian Long Ba Bu. However, life skills system is very time-consuming, so it may not be suitable for time-based games such as WWJ2, where players are very time-sensitive.
My checks show that NetEase wants life skills system to replace "80-ring task" (80 Huan) as low-spending players' major way of making game coins in WWJ2. However, I found this life skills system is much more complex than "80-chain task" and has caused some confusion among players.
TGKW still has a chance to be successful. First, I believe TGKW was launched prematurely to catch up with the seventh anniversary of WWJ2, which was last Saturday. As WWJ2's development team takes more time to completely finish TGKW, the expansion pack may become more popular. Second, NetEase's WWJ2 team is famous for their ability to adjust the game in response to players' complaints. There is a chance that TGKW's life skills system will finally satisfy most players after being adjusted. Third, despite its complexity, life skills system does a better job than "80-ring task" in combatting gold farming studios. In the long term, TGKW may prove effective in maintaining a healthy in-game economic system, which is critical to extending the life cycle of the seven-year old WWJ2.
Game monitoring and methodology. The chart below shows the trends of WWJ2's daily Peak and Average Concurrent Users (PCU and ACU). In the past six weeks, WWJ2 reached its PCU on July 30, 2009, driven by "Da Nao Tian Gong", a popular in-game activity held on every Thursday. My methodology is based on these articles: Article 1; Article 2; Article 3. If you have any suggestions on improving the monitoring, feel free to contact me.
Disclosure: No positions
Chart: WWJ2's Daily PCU and ACU Trends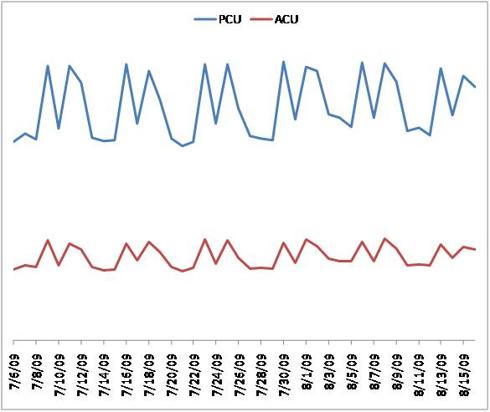 Source: Monitoring by Xiaofan Zhang