Stocks sustained their first weekly fall in five weeks as the Dow closed down 77 Friday (though a late, late buying spree did limit the damage from being a 3 figure decline) on worries that a less confident US consumer is running on empty. Given the market is up nearly 50% from the March lows, the economic data last week suggested that stock valuation may not be justified by the underlying fundamentals and that the market may have gotten a tad ahead of itself in seeing only a 'V'-shaped recovery.
All markets were in the red this morning – declines were hefty in the more advanced markets. Even Chinese equities, which are at least correlated with the Dow, had fallen sharply in the morning session. It is now becoming clear that equity markets have priced in all the good news and for them to propel further, much stronger signs of an improvement in US growth and consumption in particular are needed. Expect miners/oil producers and commodity stocks to be pressured today. Dow Futures are currently down three figures.
Today's Market Moving Stories
Japan's Nikkei share average slumped 3.1 percent (Sony was off 4.1%, Honda down 3.9%), pulling away from a 10-month high struck on Friday which also boosted government debt prices with the September 10-year JGB futures hitting their highest since end-July. Commodity bulls retreated, ending the sizzling rally in oil and copper prices, which were largely fuelled by optimism the global economy had turned a corner. The sell-off in Asian stocks was broad-based with financials, industrials and materials providing the biggest drag on the MSCI index of Asia Pacific shares traded.
Oil prices extended their steep losses made on Friday, when they fell by the biggest margin since end-July, to trade below $67 to a barrel and Shanghai copper futures was limit down, ending last week's four-day rally. Oil had rallied for four straight weeks, while copper prices had their biggest weekly rise in over two months last Friday.
Japan is now the third large industrial nation after Germany and France to post growth in the second quarter and has therefore overcome the recession earlier than expected. At 0.9% q/q, growth in the Japanese economy has even surpassed the levels of expansion in Germany and France. Accordingly, the Asian economic region as a whole is leading the economic cycle, which is probably also due to the enormous fiscal stimulus package in China. However, it remains to be seen whether there will be a self-sustaining upswing, or whether the economy will slump again after the economic programmes come to an end.
Reuter's reports that the China Investment Corp (CIC), the country's $200 billion sovereign wealth fund, is set to pour up to $2 billion soon into the U.S. mortgage system by hiring mandates under the U.S. Treasury-backed Public-Private Investment Plan (PPIP), sources told Reuters. Under the PPIP program launched earlier this year the U.S. government plans to seed a number of public-private investment funds that would combine taxpayer money with private capital to buy as much as $40 billion in toxic securities from banks.
Asking prices for homes in England and Wales are an average 3.1 percent lower this month than a year ago, property web site Rightmove said on Monday. That matched July's annual fall, but a monthly decline of 2.2 percent this month more than reversed July's 0.6 percent rise from June, leaving the average price of a home at 222,762 pounds. London was the only region where house prices rose in August, up 2.1 percent on the year at 387,265 pounds. Rightmove said the number of new sellers entering the market was down 23 percent from last year at 87,200. Shipside said the number of sellers may never recover. "Even with a return of equity, employment and wholesale mortgage funding, these levels of sellers may never be seen again," he said.
European Central Bank Governing Council member Axel Weber on Sunday said the German economy had bottomed out, but warned that the financial crisis may not be over yet. Weber's comments chimed with remarks by fellow ECB Governing Council member Erkki Liikanen, who had said on Wednesday that financial markets are in a better situation now than they were before the collapse of U.S. investment bank Lehman Brothers last September. "I warn against prematurely declaring the financial crisis to be over," Weber told the Sueddeutsche Zeitung newspaper in an interview to be published on Monday, adding however that the economy had passed its low point.
US Housing Data Clue To Consumer Confidence
US housing data will be key this week, with the NAHB survey this evening and sales data due later this week. The idea of a basing-out in the housing market has been a key element for those looking for a V-shaped recovery scenario. And while the data may improve marginally, recent foreclosure listing and delinquency data make it clear that this at the price of huge price destruction in the housing market. Distressed selling cannot really be seen as a sign of great strength, although it should allow the base to be achieved sooner than would otherwise be the case.
With sharply negative consumer spending correlating very closely with the NAHB index it will likely be some time before gains in the index are sufficient to make us more optimistic on the consumer outlook. This is especially true in the longer-term context of the shifting behaviour of consumers, who are adjusting to their impaired balance sheets by increasing saving and de-leveraging. The weakness of final demand should thus be a sustained longer-term theme.
Irish Equity News
More rumours abounding over the potential Maple-leafed investor in AIB. Looks like RBC has ruled itself out from taking the speculated 10% stake in AIB and now focus switched to CIBC with rumours that CIBC could be looking to acquire AIB's 24% stake in US regional M&T Bank (NYSE:MTB) (c$1.8bn). Long way to go in this, certainly nothing pre NAMA (Sept 16th), and though it's nice to see an investor looking at an Irish bank for once, outside of monetising the M&T stake, a 10% stake in AIB is worth about €200m right. CIBC has a market cap of CAN$26 billion and has the firepower for an approach. According to reports, the CEO of the group, Gerald McCaughey led a delegation to Minister Brian Lenihan about a possible investment in AIB in recent weeks. However, CIBC is also reported to be linked to Euro10 billion loan book owned by Anglo, implying that the visit was very much an opener without specifics.
Bloxham's have an excellent 20 pager on Irish building companies CRH, Grafton and Kingspan. They note (1) the importance of Ireland to CRH, Grafton and Kingspan has reduced significantly in recent years with Ireland no longer the primary market for any of the three companies; (2) financial discipline has been strong with the highest net debt to EBITDA ratio of the three companies at a comfortable 2.5x; (3) significant cost cutting has been implemented to help mitigate the impact of lower volumes on margins; (4) cashflow generation is benefiting from tight control of capital expenditure and working capital improvements; (5) they rank about the stocks in order of preference as follows – CRH, Grafton and Kingspan.
If You've Got Time…
Solving the "Earnings" Riddle
One piece of US data went a long way toward explaining the paradox of stronger-than-expected earnings and the related strength in equity prices and credit spreads vs. on-going concerns over the robustness of the economy, expressed last week by the Fed and by a number of private observers. Productivity soared 6.4% in Q2, much more than is typical for this stage of the cycle. In a nutshell, individual companies continued to slash payrolls even as supply conditions (eg inventories, orders, and industrial production) improved.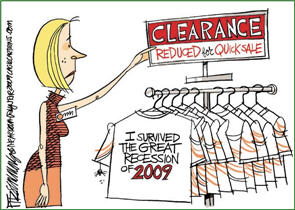 While this behavior helps explain the stock market's surge in July, it also has a negative side that was clearly in evidence last week. Retail sales (ex-autos, which got some boost from cash for clunkers) and consumer confidence came in much weaker than many economists expected in July. But they should not have been surprised had they realized that weak labour markets and anaemic consumption are a consequence of these outsized productivity gains. Given that consumption and private capital spending will have to pick up for the supply-side based recovery to be sustained, I'm skeptical of both the July equity rally – which is showing signs of topping out in August – and also of the related narrowing of credit spreads.
And finally…
Penn and Teller Explain Obamanomics
Disclosures: None