One day, we will awake to find that we have socialism. One of these days, you and I are going to spend our sunset years telling our children, and our children's children what it once was like in America, when men were free.

-Ronald Reagan
Weekly percentage performance for the major indices
Based on last Friday's official settlement...

INDU: -0.5%
SPX: -0.6%
COMPQ: -0.7%
RUT: -1.5%

Market
The market pulled back hard on Friday on disappointing news about consumer sentiment. In spite of the strong market run up over the past five months, government stimulus, a steepening yield curve, and improving leading economic indicators, consumers still seem to be in retrenchment mode. This doesn't necessarily mean the economy is or isn't in recovery mode as many economists are now insisting since consumers are typically lagging indicators coming out of recessions. What this does indicate is that any recovery is going to be long and slow, a "two steps forward, one step back" process.

Since the crisis began we have been recommending adding to core, strong companies on pullbacks and trimming weaker holdings on run-ups. This most recent run-up certainly has exceeded our expectations; however, we still suggest maintaining a high quality portfolio during this rough economic period. Barron's highlights a similar strategy this week, commenting on the strength of the rally among the weaker companies at the expense of the Blue Chips.

The two charts below, courtesy of The Big Picture and thechartstore.com, compare the 1973-74 bear market (first chart) with the present bear market (second chart). There are strong similarities between both the economic environment and the market action during these two periods. If this market were to follow the path of the bear of 35 years ago, the S&P would top out in about 17 points before pulling back and then continuing to a peak around 1050. The recent rise in the S&P 500 has also resulted in a jump in the P/E ratio of the index, from 10x in March to 18.4x today (according to Bespoke Investment Group). With earnings continuing to decline and no growth on the horizon, the market is getting quite expensive.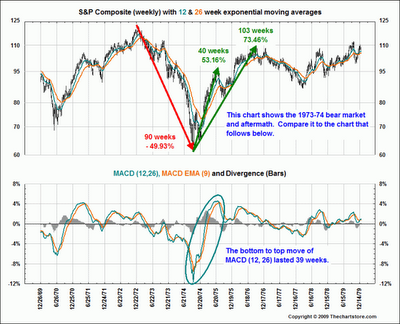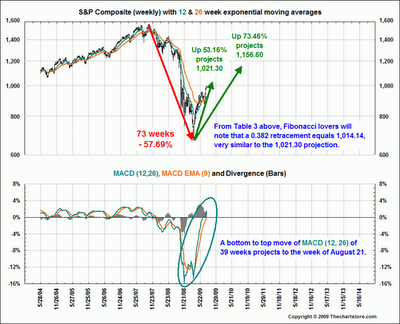 Economy

Actual Consensus Prior
Productivity 6.4% 5.5% 0.3%
Unit Labor Costs -5.8% -2.5% -2.7%
Wholesale Inventories -1.7% -0.9% -1.2%
Trade Balance -$27.0 bil -$28.7 bil -26.0 bil
Initial Claims 558K 545K 554K
Retail Sales -0.1% 0.8% 0.8%
Retail Sales ex-auto -0.6% 0.1% 0.5%
Business Inventories -1.1% -0.9% -1/2%
Core CPI 0.1% 0.1% 0.2%
CPI 0.0% 0.0% 0.7%
Capacity Utilization 68.5% 68.3% 68.1%
Industrial Production 0.5% 0.4% -0.4%
Michigan Sentiment 63.2 69.0 66.0

The trade deficit widened in June on an increase in imports of $3.5 billion to $153 billion. Exports increased to $126 billion from $124 billion. Imports remain 31% below year ago levels.

Surprisingly to those not living in the real world, retail sales fell in July as consumers continued to cut back on spending. As we discussed last week, spending on autos was supported by government incentives, and may have diverted spending from other areas. Furniture, electronics, building materials, groceries and sporting goods were all weak in July. Department store comps were down 1.6%, the biggest decline of the year.

Consumer Sentiment fell well short of optimistic expectations as the Michigan Consumer Confidence Index came in at 63.2 versus 69.0. Consumer confidence tends to track the stock market, but also is reliant upon the employment outlook, which really hasn't improved despite some recent reports interpreted otherwise.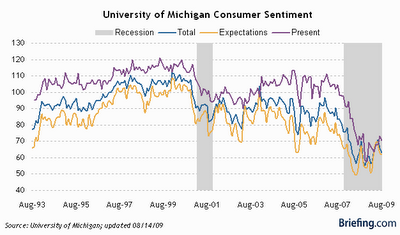 Capacity utilization remains low, and this is the fly in the inflation ointment (for now). While excess dollars are being pumped into the system, it is doubtful that supply constrained inflation will develop because of the amount of excess capacity. If capacity utilization improves significantly, inflation will be a concern. We have been focused on inflation created by a collapse in the dollar and a resulting spike in commodity and import prices, which could happen with or without an improvement in capacity utilization.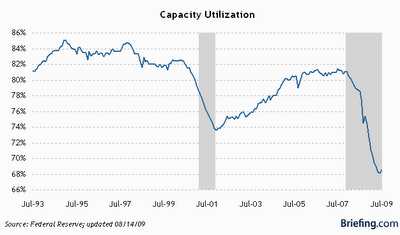 Industrial production rose for the first time in almost a year, led by a 20% increase in auto production month over month. Year over year auto production is still down 32%.

Government Spending
According to the US Treasury Department, government outlays exceeded $330 billion in July, an all time record for any month. The deficit was $180.7 billion for the month. The government is pushing hard to stimulate spending, however, with consumers in retrenchment it is like pushing on a string.

With two months left in the U.S. government's fiscal year, the budget deficit is now at a record high, hitting $1.27 trillion in July.

Employment
In addition to the recession related layoffs occurring across the country, large corporations have been in an international outsourcing mode for many years. Companies in all industries have been moving their call centers to India, and according to a contact IBM recently released a large portion of their domestic sales force, also outsourcing those positions to India.

Euroland
Germany and France, typically laggards in the economic cycle to the US, both posted positive GDP in the second quarter. Both countries reported GDP of 0.3%. "The data is very surprising," French Economy Minister Christine Lagarde said. "After four negative quarters, France is coming out of the red."

Commercial Real Estate
The Wall Street Journal reported that Maguire Properties (NYSE:MPG-OLD), one of Southern California's largest office-building owners, will be handing over buildings layered with $1.1 billion in debt to the creditors. Rising vacancies and declining rents are pressuring the sector.

Fitch reported that CMBS delinquency rates jumped 0.5% in July to over 3%, a record. They are expecting a rate above 6% by the first quarter of 2010, citing exceptional weakness in hotel and retail space.

As we have discussed since last fall, commercial real estate will come under severe pressure during this downturn as tenants close their doors, while the ones left standing will push for decreases in rents. Starbucks (NASDAQ:SBUX) cited a $500 million savings through renegotiated leases, and virtually every CEO and small business owner we speak with has pushed hard on their landlords for concessions.

Earnings
Ford (NYSE:F) announced they would be boosting their second half output by 26% to address increased demand generated by the Cash for Clunkers program. The leading sellers have been the Ford Focus and Escape.

Gasoline
Rising gasoline prices have preceded or been coincident with the past four recessions. The chart below, courtesy chartoftheday.com, shows the inflation adjusted price of gasoline since 1980. As you can see, while the price has fallen significantly from its 2008 high, it still sits well above the levels of the 2001 and 1991 recessions. If the recent spike isn't temporary, these higher fuel costs will keep a lid on any recovery as both consumers and producers will face the prospect of higher expenditures in a slower growth economy.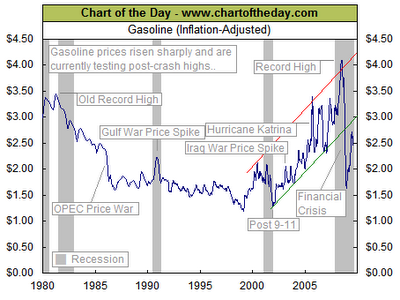 Banks
Bloomberg reported that at least 150 publicly traded banks own nonperforming loans equal to 5%(+) of their holdings. Walter Mix, the former commissioner of the California Department of Financial Institutions, said "at a 3% level I'd be concerned that there's some underlying issue, and if they're at 5%, chances are regulators have them classified as being in unsafe and unsound condition." So far this year 72 lenders have failed, the most since 1992. The list of "problem banks" was over 300 at the end of the first quarter.

Real Estate
Real estate website Zillow.com reports that as many as 30% of US homeowners could be underwater by mid 2010. Today nearly 25% of homes are underwater. According to Stan Humphries, chief economist of Zillow.com, "The negative equity rate will rise and spin off more foreclosures."

RealtyTrac.com, reported July 2009 foreclosure filings were filed on 360K U.S. properties, an increase of 7% from June and an increase of 32% from July 2008. The report also shows that one in every 355 U.S. housing units received a foreclosure filing in July.
James J. Saccacio, chief executive officer of RealtyTrac, noted:
July marks the third time in the last five months where we've seen a new record set for foreclosure activity. Despite continued efforts by the federal government and state governments to patch together a safety net for distressed homeowners, we're seeing significant growth in both the initial notices of default and in the bank repossessions.
According to Reuters, home sales are showing signs of life, but 24.4% of the houses on the market at the beginning of the month had their prices marked down in July, according to a survey by real estate website Trulia.com. The average reduction was 10%. "Sales are increasing, but prices are still falling," said Pete Flint, CEO and co-founder of Trulia.com. "Homes that are priced competitively are the ones that are selling in today's market."

The New and Improved GM
The Washington Post reported that GM will begin selling new cars via the internet, utilizing eBay Motors (NASDAQ:EBAY) for distribution in California. If the test succeeds, they may roll the program out nationwide. "GM and our dealers are reinventing the car-buying experience" said Mark LaNeve, GM's VP of US sales. The company also said the move is evidence of its "new, innovative sprit."

Imagine that, nearly 20 years after the internet went mainstream, GM has discovered its existence. Porsche, BMW, and other auto manufacturers have allowed you to configure, order, and buy cars online for years. Autobytel, which came public sometime around 1998, has been offering new cars online for years. While I applaud GM for joining the new millennium a decade late, it's insulting when they claim innovation when the only thing that has really changed is they are now owned by the taxpayers.

Healthcare - Is it a Right?
Cliff Asness answers this question in a well written opinion piece, which I partially quote here:
"Nope, it's not. But we are at the nuclear bomb of the discussion. The one guaranteed to get me yelled at or perhaps picketed by a mob waving signs printed up with George Soros's money. Those advocating socialized medicine love to scream "health care is a right." They are loud, they are scary, but they are wrong about rights (as the 1980 kid in me resists the temptation to type "TO PARTY" – you had to be there).

This is more philosophy than economics, and I'm not a philosopher. But, luckily it doesn't take a superb philosopher to understand that health care simply is not a "right" in the sense we normally use that word. Listing rights generally involves enumerating things you may do without interference (the right to free speech) or may not be done to you without your permission (illegal search and seizure, loud boy-band music in public spaces). They are protections, not gifts of material goods. Material goods and services must be taken from others, or provided by their labor, so if you believe you have an absolute right to them, and others don't choose to provide it to you, you then have a "right" to steal from them. But what about their far more fundamental right not to be robbed?"
Employment
Finding a job that pays on Wall Street these days may be difficult, but traders can look to the Fed for job opportunities. With their portfolio doubling over the past year to $4 trillion, the Fed has been aggressively hiring traders, going from 250 a year ago to 400 recently.

Consumers
Anecdotally, we were out here in town last night to have a glass of wine with some friends, and the restaurant was absolutely packed. I discussed the improved traffic at Starbucks a few weeks ago as well. It certainly seems that consumers are beginning to stick their head out of their shells just a bit.
Conclusion
It's August, and it remains relatively quiet. Congress is in recess, which means we don't have to listen to the blowhards pontificating about evil corporations and greedy taxpayers who want to keep what they earn. The healthcare debate is raging, and the Administration is doing their best two-step to reframe the discussion. When it was pointed out that "death panels" would "pull the plug on Grandma", the President quickly responded with a letter to the NY Times saying that improved care for seniors and cost savings via more efficient Medicare operations would be the keys to more affordable healthcare for all. Hey, they already run Medicare, how about making it more efficient first as a way to prove you can really operate an efficient healthcare system, before you try and take on an even bigger one?