Property and Casualty (P&C) insurers have been operating in a challenging environment for the past few years. They have witnessed the decline in interest rates, which have led investment returns to fall substantially; and suffered from abnormally high levels of catastrophe losses. Many insurers now see the U.S. P&C insurance market hardening, which puts pressure on future premium rates. This is happening whilst claims are getting more expensive and in the midst of regulatory uncertainties; which is putting ever greater pressure on strong underwriting results, and promoting greater efficiencies.
However, with interest rates expected to rise in the near future, investment returns are set to improve. Insurers have also looked internationally to reduce their dependence on the U.S. economy, and avoid the increasingly competitive pricing environment. Finding market niches in specialist lines is also another way to seek growth opportunities outside of the already competitive markets.
The Hanover Insurance Group (NYSE:THG), is one insurer which has been able to substantially grow its revenues in this challenging operating environment. It has avoided some of the pressures of the hardening premium environment, and has seen pricing increases in its core commercial lines, and it has moved towards domestic specialties.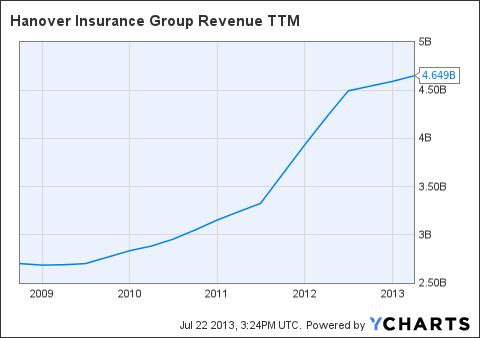 THG Revenue TTM data by YCharts
The Hanover Insurance Group
The Hanover Insurance Group, based in Worcester, Massachusetts, is one of the top 25 property and casualty insurance companies operating in the United States. It offers a wide range of insurance products to businesses and individuals through a select group of independent agents across the U.S. The company has also expanded internationally by acquiring Chaucer, a specialist underwriter operating in the Lloyd's of London.
Earnings have been particularly weak for the past three years due to the unusually high level of catastrophe related losses, including Superstorm Sandy, which affected the Northeast in October 2012. THG was especially affected because of the geographical concentration of insurance coverage in the Northeast of the U.S. The company reported a combined ratio of 104.4% for 2012. The combined ratio represents the percentage of the premiums earned by the insurer, which is spent on claims and expenses. It is therefore a measure of the profitability of underwriting at the insurer. This compares to 104.7% in 2011, and 100.3% in 2010. (A combined ratio over 100% indicates an underwriting loss prior to consideration of investment income.)
However, on an ex-catastrophe basis, THG enjoyed a combined ratio of 95.7%, which is an improvement of 1.5 percentage points over 2011. This was the result of its diversified portfolio of risks and strong underwriting, especially from Chaucer, which delivered a total combined ratio of 90.3%.
Together with the low interest rate environment, THG has suffered from declining investment yields, and therefore low investment returns. For the first quarter of 2013, the overall yield earned on fixed income securities fell to 4.03% from 4.38% in the prior year quarter. Nevertheless, THG generated net income of $56 million in 2012, compared with $37 million in 2011.
The Hanover Insurance Group has over $8 billion in cash and investment assets. Fixed income securities represent approximately 83% of cash and total investments. The duration of these fixed income securities are approximately 4 years. Given that many of these fixed income securities have shorter term durations; this minimizes the impact to book value from increases in long term interest rates. Management is also expected to hold these securities until maturity; and this would allow the insurer to reinvest into higher yielding assets in the future, and minimize the impact of interest rate fluctuations in the short term.
The Outlook for the Future
A look at the results for the first quarter may give some indication of what is to come for the future of THG. For the first quarter of 2013, net income was $66.2 million, which meant diluted earnings per share were $1.46. This compares to $49.7 million or $1.09 in the corresponding quarter in 2012. The combined ratio improved to 96.1% from 98.1%, primarily due to lower catastrophe related losses.
THG is likely to continue to see its net premiums written rise above the industry average; as the insurer expands its presence in fast growing specialty markets, which also carry higher margins. Its acquisition of Chaucer expands THG's higher margin product mix to include energy, and marine and aviation insurance, as well as P&C reinsurance. Chaucer continues to deliver strong underwriting results, and reported a high cross-cycle return on equity of 13%, between 2004 and 2012.
Pricing increases have been particularly strong in personal and commercial auto, in response to liability trends. But, with high retention levels, pricing momentum has been strong across core commercial and specialty lines. With increasing scale, and focus on delivering operating efficiencies, the expense ratio, which currently stands at 34.2% in 2012, should see improvement. Absent of any major catastrophe events, THG would likely see its profitability catch up with its premiums growth.
Earnings and Valuation
In February, management had issued guidance for FY 2013 to be in the range of $3.60 to $3.90. The consensus analyst forecast is near the top end of the guidance, at $3.89. The expectation for a sharp increase in profitability is primarily attributed to the expectation for catastrophe losses to revert to the long term average. For both, 2011 and 2012, THG had seen more than twice the average catastrophe losses in a given year. For FY 2014, the consensus analysts forecast for EPS is $4.46. This means that THG trades at a forward P/E ratio of 13.80 on FY 2013 earnings, and 12.04 on FY 2014 earnings.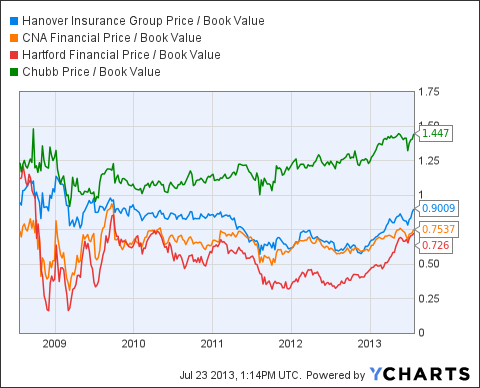 THG Price / Book Value data by YCharts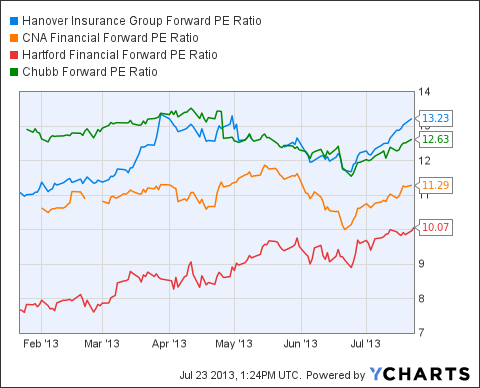 THG Forward PE Ratio data by YCharts
Book value per share was $59.58, at the end of the first quarter. This means that THG trades at a price-to-book (P/B) ratio of 0.90. The dividend yield is currently 2.46%, and the company is expected to repurchase $70 million worth of stock for 2013.
Although, THG is not exactly a bargain, the insurer is worth a consideration given its strong growth in premiums; which is expected to continue as it increases its focus towards specialty lines.
Disclosure: I have no positions in any stocks mentioned, and no plans to initiate any positions within the next 72 hours. I wrote this article myself, and it expresses my own opinions. I am not receiving compensation for it (other than from Seeking Alpha). I have no business relationship with any company whose stock is mentioned in this article.