Biodel (BIOD), MannKind (NASDAQ:MNKD) and GTx (NASDAQ:GTXI) share common ground here. These companies all have binary events occurring in the third quarter of 2013 (be it Phase II, or Phase III data). Savy biotech investors realize that this is where you can make substantial portfolio percentage gains. These plays are risky, of course, but are three developments that I feel have the best chance at successful results in the near term. Here they are:
Biodel Inc.
Biodel is developing novel forms of insulin and other peptide hormones for use in treating diabetes and its complications, including hyperglycemia, hypoglycemia, cardiovascular complications and weight control.
BIOD-123
On September 13/12, Biodel initiated a Phase II trial for BIOD-123, an ultra-rapid-acting formulation of recombinant human insulin (RHI), this is the main focus for investors moving forward. None of the currently marketed meal-time insulin products adequately mimic the first-phase insulin release. The natural spike of the first-phase insulin release in a person without diabetes occurs within several minutes of glucose's entry into the bloodstream after a meal. By contrast, injected human insulin enters the bloodstream slowly, with peak insulin levels occurring within 120 to 180 minutes following the injection. One of the key improvements in insulin treatments was the introduction of rapid-acting insulin analogs, such as Humalog®, Novolog® and Apidra®. However, even with the rapid-acting insulin analogs, peak insulin levels typically occur within 50 to 70 minutes following the injection. The failure of currently marketed insulin products to adequately mimic the first-phase insulin release results in deficient insulin levels at the beginning of a meal and excessive insulin levels between meals. This time lag in insulin delivery can result in excessive glucose levels shortly after eating, leading to hyperglycemia and then, two to three hours later, inadequate glucose levels between meals, which may lead to hypoglycemia. These swings between excessive and inadequate levels of insulin are highly deleterious to the health of people with diabetes.
The company is expecting top line Phase II data to be released in the 3rd quarter. (expected sometime between September 1 to 15th). This is a binary event for the company, which could more than double the current price per share of 4.21.
BIOD has a very promising pipeline in the works which already has big pharma taking notice and talking partnership (according to the May 8th earnings call at the 21:45 mark).
Pipeline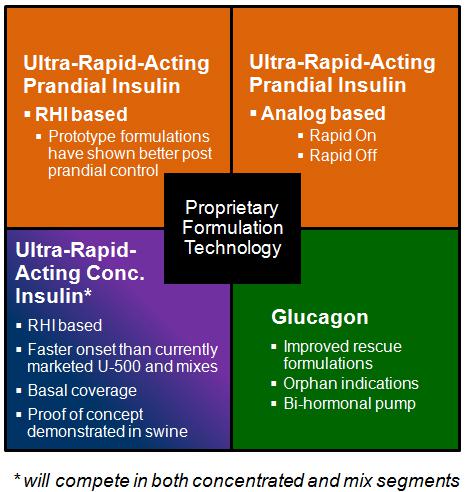 Analog-Based Ultra-Rapid-Acting Insulin

Our insulin analog-based program involves developing proprietary formulations of injectable insulin analogs designed to be more rapid-acting than the "rapid-acting" mealtime insulin analogs currently used to treat patients with Type 1 and Type 2 diabetes. We, therefore, refer to these formulations as our "ultra-rapid-acting" insulin analog-based formulations.

Concentrated Ultra-Rapid-Acting Insulin

Our concentrated insulin formulations have a unique time-action profile to address the growing population of severely insulin resistant type 2 diabetes patients and the existing population of patients currently using premixed insulins to manage both prandial and basal glucose control requirements with a single injection.

Glucagon

We are developing room temperature stable glucagon presentations for use as a rescue treatment for diabetes patients experiencing severe hypoglycemia, or very low concentrations of blood glucose.

We expect to submit an Investigational New Drug application to the FDA and initiate a pivotal clinical study by the second half of 2014, putting us in a position to file an NDA to the FDA under the 505(b)(2) regulatory pathway in 2015. We are also developing liquid glucagon for pump use and are exploring other portability options.
MannKind
AFREZZA is a novel, ultra rapid-acting mealtime insulin therapy in late stage clinical investigation for the treatment of adult patients with Type 1 and Type 2 diabetes mellitus for the control of hyperglycemia. It is a drug-device combination product, consisting of AFREZZA inhalation powder pre-metered into single use dose cartridges and the light, discreet and easy-to-use AFREZZA inhaler.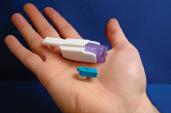 AFREZZA is able to satisfy diabetes patients' needs by being highly synchronized with the normal digestion of a typical meal.
To date, the AFREZZA clinical program has involved 56 different studies of AFREZZA and over 5,300 adult patients. In clinical trials that compared AFREZZA to present "state of the art" insulin treatment, AFREZZA has shown:
A significant reduction in post-meal glucose fluctuations, which are believed to be an important risk factor in the development of complications

The ability to achieve comparable levels of overall glucose control

Lower fasting glucose levels

A lower risk of hypoglycemia, which is considered to be a major problem for patients

Less weight gain than is typically associated with other insulin treatments

In a two-year pulmonary safety study in Type 1 and Type 2 adult diabetes patients, the changes in pulmonary function tests associated with AFREZZA were comparable to the changes seen in patients treated using usual care, consisting of insulin or oral therapies. The most common adverse events reported during AFREZZA clinical trials were hypoglycemia and mild, transient, non-productive cough.

AFREZZA has the potential to change diabetes therapy by offering significant benefits to the growing population of patients with diabetes.
Phase III Trials
On May 31, 2013, MannKind announced the completion of Phase III trials related to Study 171 for type 1 diabetics. Results of these studies will be released in August according to Mannkind management.
On June 17, 2013, the company announced that all follow-up visits have been completed for the patients enrolled in Study 175, a Phase III clinical study . Again, MannKind expects to release data from this study in August.
The results of the Phase III trials are obviously a binary event for the company. Successful results, will likely mean a strong increase in the price per share. An immediate appreciation of 50 to 60% is not unreasonable. Positive trial results mean that MannKind will be ready to apply for a New Drug Application (NDA) for Afrezza in October. Negative results would be disastrous for the company, as they would have to go back to the drawing board. The company would have to scrap, or possibly narrow the indication for AFREZZA, to a smaller, more specific patient base that would benefit from the inhaled drug.
GTx Inc.
GTXI is developing enobosarm (Ostarine®;GTx-024), a selective androgen receptor modulator, or SARM, for the prevention and treatment of muscle loss in patients with non-small cell lung cancer and for other muscle wasting diseases.
The company recently announced that as per protocol safety review of unblinded safety data on Friday April 12, 2013, by an independent Data Safety Monitoring Board (DSMB), resulted in a determination that GTx continue as planned its two pivotal Phase III clinical trials of enobosarm.
As everyone is aware, this is big news. Combined with the fact that the FDA, on January 8th, has granted Fast Track Designation to enobosarm. This expedites the FDA review process to 60 days and confirms that Enobosarm has the potential to fill an unmet medical need.
Citi is aware of the potential of this drug, and that is why Citi had raised its price target on GTXI from $8 to $19. Citi even estimated that positive results from the Phase III data alone would be worth $11/share to potential biopharma company bidders. In the note, Citi stated that GTXI is "currently one of the most compelling small-cap biotech companies.
Topline data from the studies will be released during the third quarter of 2013. I anticipate an uptrend from now until Phase III results, to around $8.00 per share and a share price of $12.00 per share upon positive results.
Conclusions
BIOD, MNKD and GTx are three speculative investments that can offer huge rewards for the astute. Biodel has a miniscule market cap of around 90 million in a Diabetic drug arena in the billions. MannKind is nearing its completion of a new sophisticated way to deliver inhaled insulin to diabetics. GTx is on the verge of developing a brand new breakthrough drug that will benefit cancer patients around the world.
Astute investors are urged to do further due diligence on these companies, as they will likely reward investors with substantial gains in the near future.
Disclosure: I am long BIOD, MNKD. I wrote this article myself, and it expresses my own opinions. I am not receiving compensation for it (other than from Seeking Alpha). I have no business relationship with any company whose stock is mentioned in this article.