Following my post last week "What goes up must come down", in which I looked at the two largest producers of copper, Chile's Codelco and also the American firm Freeport McMoRan (NYSE:FCX), I spent some time over the weekend researching the copper market to see if I could find any more signals that would show market direction.
Re-capping on the trade, FCX saw some very significant selling volumes from the open on Friday and the trade triggered as FCX fell through the 65 mark, where I committed to 50% of my planned exposure; the remaining 50% was then entered at 64.25 and I rode this down to 63.06. I am looking to repeat this trade as a swing this week and here are some of the reasons why.
As previously stated on Freeport McMoRan, the company has scaled back copper production and has increased gold production to an all time high. Freeport is making some serious cutbacks and cost management is a major theme, as with many other major stocks, so I am still bearish on FCX as a whole from a fundamental standpoint.
What's more interesting is looking at some other factors that help bear out (nice pun) my thesis that we are looking at short term oversupply of copper. First let's have a look at the copper exchange traded fund: OTC:JJC has seen a strong uptrend since early this year, returning a tad over 100% year to date; however, looking at this technical chart, it would seem to be overbought and is signalling this.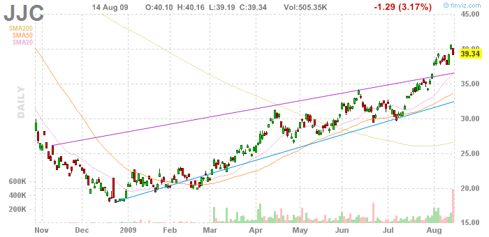 Turning to a shorter term chart and looking at volumes on JJC, we can see that it hit and refused its upper Bollinger on Thursday, August 13th and saw some very aggressive selling in high volumes on Friday.
If we then look closer at the history of the ticker, it has a habit of withdrawing back to its 20 day moving average, which would give a reasonable bottom at 36.90 on any significant breakdown.
So, I am looking to take another short position in JJC (if I can; it's pretty illiquid) and see if I can't double up on my FCX trade.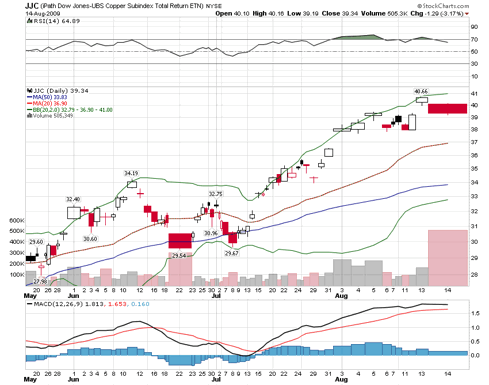 Another indicator that all may not be well is the performance of the Base Metals ETF: DBB, which holds an equal 33.33% in copper, aluminium and zinc. DBB has also had quite a year so far, with a return rate of 53%. On Friday this started to look fragile and there was fairly spiky activity in the ticker all through the day, finally closing 3.8% down. Not a bright day for metals at all.
Again looking at a 3 month chart, we can see that DBB has been hitting its head against the upper Bollinger since mid July and at the latter end of last week also refused. Needless to say that Friday saw some volumes selling off, although not as heavily as FCX and JJC. The reasoning behind this is that DBB is held by select financial institutions and they are unable to un-reel their positions very quickly.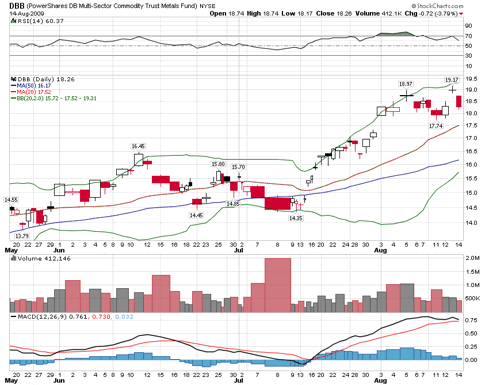 So to summarise, FCX still looks weak, JJC in my opinion is looking to implode and another major ETF intrinsic to the sector is in the retreat.
Again, I'll be looking at shorting Freeport down, as per the tactics from my last post, and if I can get in on JJC, I'll be tapping into a short there too, looking for an exit at around 38.50.
If the sell off continues, the next stop for me is the 34.20 mark, so I'll look to drop the short at 34.50. Add to all this the negative sentiment on China and commodities right now and I think these swings could be real earners for this week.
Disclosure: Author has no current holdings in any stock mentioned