Merchants Bancshares Inc (NASDAQ:MBVT) is a $208 million bank holding company that operates through its wholly owned subsidiary, Merchants Bank, in 33 branches throughout Vermont. When last reported, the bank had $1.6 billion in assets, $1.2 billion of deposits and a book value of $18.24 per share.
Merchants has been very effective at posting above average returns as its cost controls and liquidity allows the bank to leverage equity more than most. However, some concerns over asset re-pricings and loan growth has me wondering how well the bank's book value will hold up as interest rates rise (all graphs in thousands).
Second quarter earnings reported moderate improvements ($0.64 per share vs 2Q2012's EPS of $0.60) in earnings and Merchant's well-below average efficiency ratio but, loan growth has been very hard to find and a $7.35 million decrease in comprehensive income saw the bank's book value decline by 3.69% to $18.24 (from $18.94 in March). Collectively, this puts 2013's comprehensive income at a loss of $9.027 million (from a gain of $887 thousand in 2012 - full year). A lot of people seem to not be worried about these losses as they don't affect the income statement but they do represent a decline in earning power and value.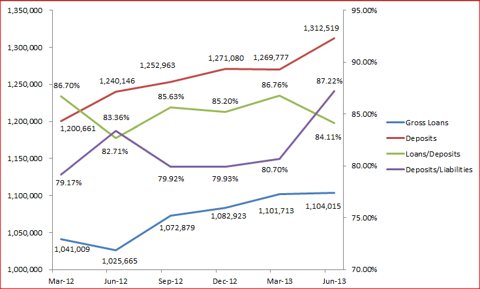 Deposit growth has been steady and has pushed the bank's loan/deposit ratio down slightly but this liquidity is a positive because it represents unencumbered funds that the bank will be able to deploy on higher interest earning loans/assets (as rates rise). The bank now has 87.22% of its liabilities made up of deposits which will significantly lower interest expenses in the coming quarters (~18% of deposits are non-interest bearing).

Loan growth has stalled with residential real estate and construction being the only type with material gains but, the real story is the bank's very low NPL/gross loan balance (shown below).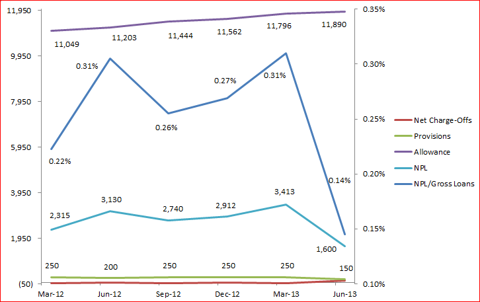 Even with an already extremely low number of non-performing assets and loans, Merchants' NPL balance improved this quarter by 48.8% YOY. Allowances now have NPLs covered by 743% which seems high but only amounts to 1.08% of total loans. I would normally say this is excessive but at only 1.08% of total loans, this appears to be more a case of a very strong portfolio as opposed to over provisioning. This is one of the lowest NPL ratios I've seen!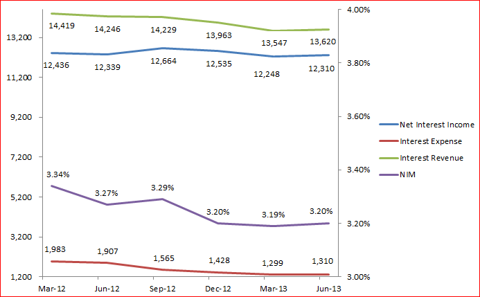 Net interest revenue has been flat as declining interest expenses have been close to par with the bank's lower interest revenues. At 3.2%, NIM is slightly below other regionals but I think the liquidity and higher percentage of deposit funding sets up Merchants for significant margin improvements as interest rates rise. From the 10K, management indicated that a 200 basis point increase in interest rates would raise net interest income by 3.47%, where a 100 bps decline would lower it by 1.04%.
I think negatively so bear with me but I just want to point out that an increase of 3.47% in net interest income only amounts to ~$420 thousand compared to the $7.85 million AOCI decline in the last quarter.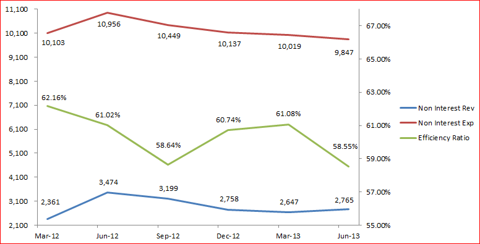 Back to the praise. Where most banks dream of a 60% efficiency ratio, Merchants decided not to stop there and brought its ratio down to 58.55% last quarter. Management has indicated that non-interest revenues might be affected by less refinance activity (like all banks) but the bank doesn't rely on a great deal of these types of transactions so a large decline doesn't appear to be that much of a risk. YOY, close to every non-interest expense line item declined with compensation and benefits declining the most (down $249 thousand or ~22% of the YOY decline).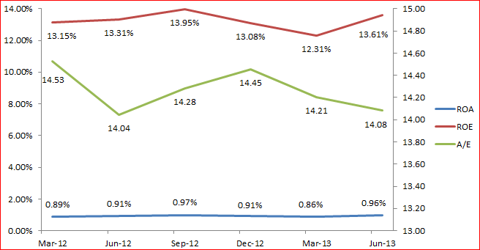 Book value per share and the banks equity has not improved despite the high returns shown on the graph above. Even so, the assets the bank has have slowly started to generate more money and now are approaching an ROA of 1%. Equity is very highly leveraged but appears to be safe considering the liquidity and asset quality of the bank which is a big plus for anyone keeping score of management.
Bottom Line
Great loan portfolio, growing deposit base and superb efficiency ratios all tell me this bank is worthy of an investment but, I'm rather mixed on how I feel about the loss in asset values. I really haven't seen any other regional bank (this quarter) report such a large decline and am fearful of what's to come when interest rates move up even more, definitely something to look for in the upcoming quarters.
All said, investor's lost $0.70 per share in book value last quarter despite the bank's reporting earnings of $0.64 (only retained $0.36 after dividends were paid). This immediately raised the company's P/TBV and set up next quarter for a higher ROE. So, there's the one side that likes to see higher returns and there's me that will stay away from these shares because I don't see a discount and because I prefer TBV growth over dividends.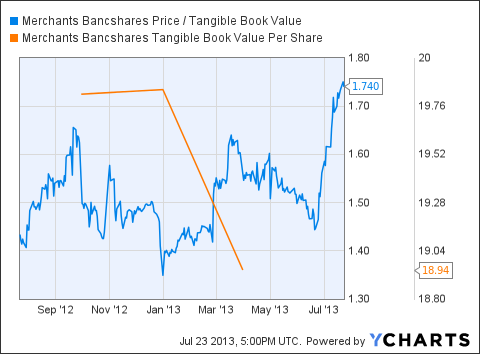 MBVT Price / Tangible Book Value data by YCharts
Disclosure: I have no positions in any stocks mentioned, and no plans to initiate any positions within the next 72 hours. I wrote this article myself, and it expresses my own opinions. I am not receiving compensation for it (other than from Seeking Alpha). I have no business relationship with any company whose stock is mentioned in this article.