After the close on June 28, News Corp completed its long-awaited split into two companies: 21st Century Fox (NASDAQ:FOX) and "New" News Corp (NASDAQ:NWS) and (NASDAQ:NWSA). The former contains the entertainment assets, and bulk of the value, consisting of legacy News' studio, cable and satellite assets. New News consists mostly of "publishing assets," including newspapers and book publishing but also Australian television assets, a floundering education division and the largest Australian real estate portal. New News comprised about 12% of the value post-split, and shareholders received 1 share or New News for every 4 shares of legacy News Corp. It's thus possible that New News represents a bargain opportunity in a spin-off, which may be disregarded or indiscriminately sold.
News will begin life with a strong balance sheet. It received $2.5 billion in cash and will carry no debt, aside from $500 million in legacy obligations. Given the diverse nature of their assets, we think it makes sense to value the company on a sum of the parts basis.
Perhaps News Corp's single most venerable asset will be Dow Jones, publisher of The Wall Street Journal, Barrons, and a provider of financial data. News purchased DJ in 2007 at a total enterprise value of $5.7 billion. At the time the price appeared very high, with an enterprise value to three-year average, trailing EBIT of 50x. You read that correctly. The WSJ has the highest subscriber base of any U.S. newspaper when including both digital and print subscribers. It has fared far better than other print peers due to the exclusive nature of the content and its foresight in establishing a "paywall" for online content. Since purchasing Dow Jones, news has significantly increased subscription prices at both Barrons and the WSJ after realizing that the WSJ's wealthy subscriber base is relatively price insensitive. News does not, however, break out the subsequent financial performance of Dow Jones from the rest of the newspaper assets, which are mostly U.K. and Australian dailies and are not faring as well.
News' Australian assets are relatively asset lite and of high quality. It purchased the remaining 50% of Fox Sports Network and an additional 25% of Foxtel in the fall of 2012, valuing the entire 100/50% stakes at $4.2 billion. News also owns 62% of REA, the largest real estate portal in Australia. The business trades in Australia, and News' stake is presently being valued at about $2.3 billion.
News' Harper Collins division (book publishing), contrary to conventional wisdom, is actually doing well. Overall book demand is steady, with big growth in ebooks and digital offsetting declining paper demand. As this transition occurs, it frees up working capital (book inventory), and Harper scores much higher margins from book downloads than it does from paper books.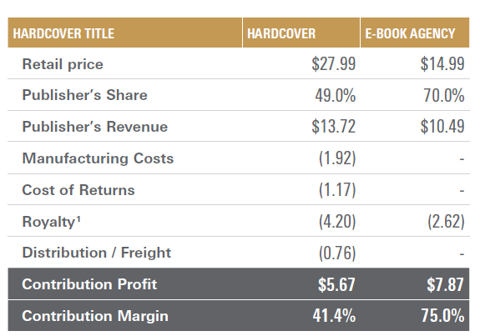 Source: News Corporation investor presentation
Harper Collins had $1.2 billion in revenue last year and $135 mil in EBITDA. Capex is modest and declining due to the digital transition. Assuming $120 mil in PT income and an 8x multiple, we assume a modest $1 billion valuation.
Bellow are some of News' more valuable assets and their respective values. Note that the publishing assets are omitted. This is notable because these are the assets which are typically thought of when the market considers this "cast-off" spin-off, but in reality most of the value is in assets that U.S. investors are less aware of:
| | | |
| --- | --- | --- |
| Item | Value ($USD) | Value/shr |
| Cash | $2.5 bil | $4.27 |
| Australian Media | $4.2 bil | $7.18 |
| Australian Real Estate | $2.3 bil | $3.93 |
| Harper Collins | $1.0 bil | $1.71 |
| | | |
| Total | $10 bil | $17.10 |
News Corp's B shares recently traded at $16. Thus the publishing assets, including Dow Jones, Australian newspapers comprising 63% of national circulation, The Times of London, and the New York Post are being thrown in for free. The loss-making education division, essentially an option, is free. News Corp also has $1 billion in inter-company loans to Foxtel, which is offset by $500 mil in legacy obligations, thus one might add $0.85/share, net. Depending on how one values the newspaper assets, a sum-of-the-parts value for New News might be in the low $20s.
While investors may be rightfully concerned about erosion in the results of the New York Post and the Australian and UK papers, from a value standpoint New News appears to hold its own relative to the current share price. News began its new incarnation with an authorized $500 million share buyback program, and regular dividends are expected although the amount has not yet been announced.
Disclosure: I am long NWS, NWSA. I wrote this article myself, and it expresses my own opinions. I am not receiving compensation for it (other than from Seeking Alpha). I have no business relationship with any company whose stock is mentioned in this article.