Nokia (NYSE:NOK) announced the Lumia 625 today. A 4.7" phablet competitively priced at $290 packing exactly the right features to take on Samsung's mid-level range. Phones like the Lumia 1020, the 41 megapixel toting camera phone may steal the headlines, but it is phones like the L625 which truly have the potential to make or break Nokia. With higher-end smartphone margins supposedly collapsing across all manufacturers, the battle has shifted to the "next billion." These are ordinary consumers upgrading primarily from feature phones. They may not be able to afford flagship phones, but they do want new phones toting modern technology instead of last year's hand-me-downs. In this article I discuss first the product and then move onto discuss its positioning and the wider strategic implications for Nokia.
The Lumia 625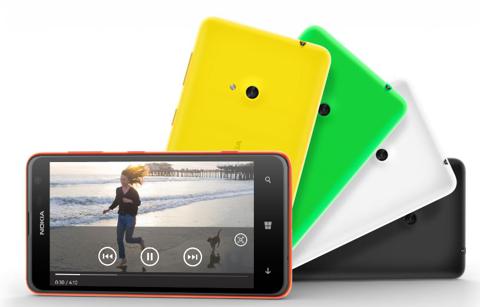 Source: Nokia Press
The Lumia 625 is a direct competitor with the Samsung Galaxy Grand Quattro (OTC:SSNLF). For the benefit of readers, I've created a brief comparison chart below.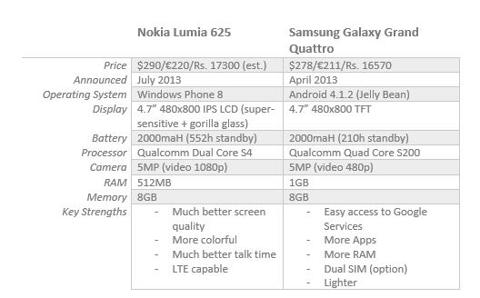 As can be seen, in terms of quantitative specifications, the L625 is very comparable to the Samsung Galaxy Grand Quattro. While I am bullish on Nokia, I hope I'm being fair when I say that the range of colors of the Lumia is much more appealing than the monotone grays and whites available for the mid-range Samsung. The latter does have some key advantages including easy access to Google apps and the Google Play store. There is not much Nokia can do to dissipate that advantage. However it would have been beneficial for the phone to come with a dual-SIM option.
Nevertheless, the L625 does have some impressive advantages over its Samsung competitor. Its battery life statistics certainly gave me space for pause. I do not know how Nokia manages to cram twice the talk and standby time of the Samsung into the same sized battery. I can only presume that there are some optimizations in WP8 and Nokia software which give it such a sizeable advantage. I also think it's admirable that Nokia used super-sensitive screen technology (usable with gloves etc.) and LTE in its phones. When flagship phones like the Galaxy Nexus 4 lack these capabilities, it shows just what Nokia can deliver even at modest price points. On the other hand, while I have seen Indian family members wear gloves at 15 Celsius (!), I think it might have been a better bet for Nokia to try to give this device 1GB of RAM instead of glove-capable screen technology.
Also, while over 99% of apps in the WP8 store only require 512MB to run, it is undeniable that many high profile apps such as Temple Run and Halo are first suitable only for 1GB devices. I think it is now time for Nokia to start looking forward and to ensure that as many of its phones are compatible as possible for future upgrades to WP, be it WP 8.1 or even WP 9. This should therefore be Nokia's last 512MB phone.
Nokia's mid-range efforts are better than BlackBerry's
Regardless of my slight reservations with the phone, on price, on specifications, on capabilities, everything the L625 has to offer leads me to conclude that this is well-positioned. That honorific is not easy to come by when we consider that other challenger to the Android hegemony, BlackBerry (NASDAQ:BBRY). Recently, the Canadian company announced that it would launch the Q5, its supposed mid-range entrant at $415. As fellow SA contributor Sneha Shah put it: "…the Q5 is overmatched in terms of features, brand value and popularity in this price range." Considering this in mind, I think Nokia shareholders can rest easy and be confident that WP8 will retain its third-place status for the next few quarters at least.
Or in the words of senior Microsoft (NASDAQ:MSFT) Windows Phone product manager Larry Lieberman:
"I don't think they [BlackBerry] can bring to the table some of the things we have … The fact like we're delivering across such a different set of price points to such a large audience."
Where Nokia's sales are concentrated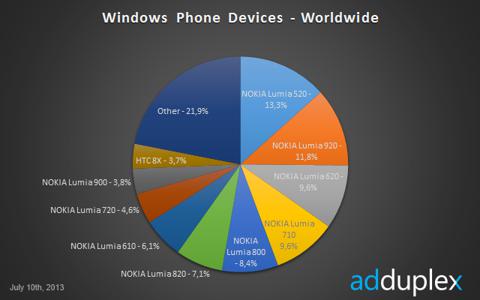 Source: AdDuplex
One of the reasons that professional analysts were slightly surprised at the ASP drop of Nokia's smartphones in its latest quarter (2Q13) was due to the success of the L520. This 3-month old phone as the above chart shows is now the world's most popular WP8 device. Other companies may have balked at this phone negatively impacting on its ASP (but note, not its gross margins which only fell slightly to 24.4% from 25.1% QoQ). Instead, Nokia's embraced it and is rolling out further budget smartphones to appeal to the target public which is buying its phones the most. This can only be a good thing.
There was another tidbit of information, which links to this, that Stephen Elop, Nokia CEO, revealed this week.
"A number of our Windows Phone products are on six to eight month delivery cycles. We are moving so much faster"
Source: Reuters
This shows just how much more responsive Nokia is becoming to consumer demand and is a far cry from the 18-24 month lifecycle Nokia ran on pre-WP. I suspect that the L625 is one of these new accelerated development phones. Nokia clocked that budget phablets were starting to take off and quickly got in on the action. This is exactly the type of responsiveness Nokia needs.
Getting Ready To Fight Apple
I would also invite readers to take a look at this photo.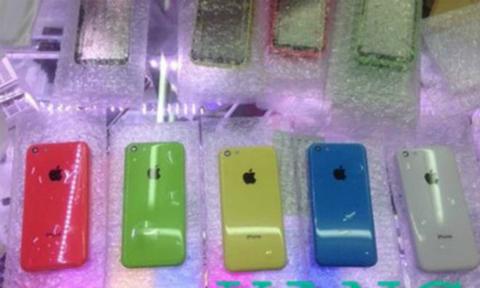 Source: Apple Insider
It is strongly suspected that Apple is developing a budget, colourful iPhone which looks somewhat like the above photo. I was originally worried by this development as I felt it had the potential to out maneuver Nokia. Now with the launch of the L625, I am much more confident of Nokia being able to handle this new entrant. It may even increase its sales as people become more interested in this segment and compare it with the iPhone.
Final Thoughts
Back in May, I was intrigued when the L925 launch event concluded promising a "summer of announcements." I think with three major phone launches in the last 2 months, we can be satisfied with what Nokia has delivered. The L925 may not send heart rates soaring, but it is a solid refresh of the L920. The L1020 on the other hand is a superb halo product, which will do much to help Nokia get back into conversation. The L625 though, may have been the most important launch of all. This phone in all likelihood will greatly surpass the other two in sales and will help keep Nokia growing as we start heading into the crucial 4Q13 quarter.

Disclosure: I am long NOK. I wrote this article myself, and it expresses my own opinions. I am not receiving compensation for it (other than from Seeking Alpha). I have no business relationship with any company whose stock is mentioned in this article.
Disclaimer: This article is not an investment recommendation. Any analysis presented in this article is illustrative in nature, is based on an incomplete set of information and has limitations to its accuracy, and is not meant to be relied upon for investment decisions. Please consult a qualified investment advisor. The information upon which this material is based was obtained from sources believed to be reliable, but has not been independently verified. Therefore, the author cannot guarantee its accuracy. Any opinions or estimates constitute the author's best judgment as of the date of publication, and are subject to change without notice.