China's telecommunications industry is comprised of three competitors: China Mobile (NYSE:CHL), China Unicom (NYSE:CHU), and China Telecom (NYSE:CHA). This article discusses the battle for market share that is being waged between these three companies. Obviously, the outcome of this battle could affect their values.
Brief History of China's Telecom Industry Since 1999
China Mobile, China Unicom, and China Telecom are spin-offs of an old government-owned entity called China Telecom, which had a monopoly on all telecom services in China. The Chinese government broke up that company and distributed its assets to form several new companies, for the purpose of creating competition.
China Mobile, formed in 1999, was given the mobile business. After some other distributions, China Telecom was left with a fixed-line business. Later in 2002, China Netcom was formed. Distributed to it were China Telecom's assets in the 10 northern provinces of China. China Netcom merged with China Unicom in 2008 to form the China Unicom we know today (the former China Unicom was established in 1994 and had built a mobile business). China Telecom retained its assets in the 21 southern provinces of China.
This description of past events is a vast oversimplification. It does, however, serve to show how these companies came to be and just how actively involved the PRC government actually is.
Overview of China Mobile, China Unicom, and China Telecom
China Mobile is strictly mobile, although there are reports that the company is building its own fiber-optic network and plans to offer fixed-line broadband. This network is solely operated by China Mobile and allow it to compete with China Unicom and China Telecom for the internet market. In addition to mobile, China Unicom and China Telecom offer fixed-line service, which China Mobile does not. China Mobile does, however, "cooperate" with China Tietong in providing fixed-line services. Both China Mobile and China Tietong have the same government-owned holding company as their parent corporation.
China Mobile's network extends into much of rural China, whereas Unicom and Telecom have focused relatively more on urban areas. While this means that China Mobile has a de facto monopoly in some parts of rural China, customers in those areas tend to be poorer. As mentioned already, Unicom's and Telecom's fixed-line business were originally concentrated in northern China and southern China, respectively. Since 2008, China Telecom's mobile business has expanded to all 31 provinces in China (counting Chongqing, Beijing, Shanghai, and Tianjin as provinces). China Unicom also expanded its services to all 31 provinces in 2009.
What the Companies Are Battling for and the Impact on Market Share, Revenues, Earnings, and Profit Margins
The impacts of the battle for market share are evident in the tables below, which shows mobile subscribers, market shares for mobile subscribers, revenues, pretax earnings, and pretax profit margins.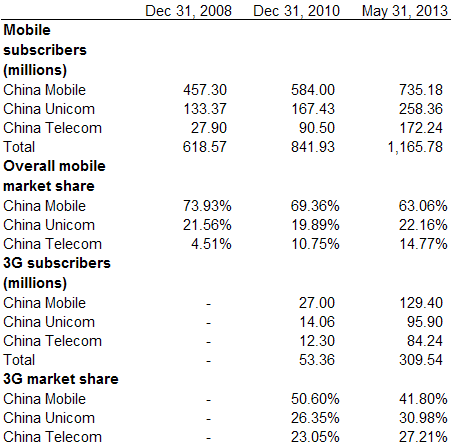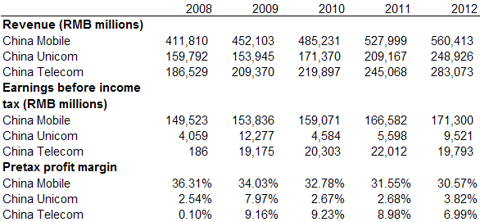 *Source: For 2008-2012, 20-F statements and company presentations. For 2013, Reuters. *Note: (1) Revenue and earnings before income tax include revenues from fixed line subscribers. (2) Currency conversions in this article are at the rate of 1 RMB = 0.162933 USD. The terms Renminbi (NYSEARCA:RMB) and Yuan are used interchangeably to refer to the currency of China.
Observations from the tables above:
1. From the first of 2011 to May 31, 2013, there was a huge increase in 3G subscribers in China - from 53 million to 310 million. China Mobile added 102 million 3G subscribers, China Unicom added 82 million, and China Telecom added 72 million. However, China Mobile's share of 3G customers dropped from 51% to 42% while both China Unicom (31%) and China Telecom (27%) have gained market share.
2. From 2008 to 2012, China Mobile's total revenue increased by 36%, but during the same time frame China Telecom's revenue increased by 52% and China Unicom's revenue increased by 56%.
3. Since 2008 there has been a huge difference in pretax profit margins between the three companies. In 2012, China Mobile's pretax profit margin was 30.57%, China Unicom's was only 3.82% and China Telecom's was 6.99%.
4. China Mobile's pretax profit margin has decreased every year since 2008.
Recently, the focus for these three companies has been to compete for higher-end customers who can afford smartphones and 3G/4G service. As implied earlier, such customers tend to be found in urban areas. From the start of 2009 to May 31, 2013, China Mobile saw its market share drop from 74% to 63%. That loss went almost entirely to China Telecom, whose market share increased from 4.5% to 14.8%. As seen in the table, much of this can be attributed to China Telecom and China Unicom gaining share of the 3G market.
In order to stop its market share from declining further, China Mobile is increasing its spending on 4G and on handset subsidies. The company announced last March that in 2013 it plans to spend 41.7 billion Yuan ($6.79 billion) on developing a 4G network and 27 billion Yuan ($4.4 billion) on handset subsidies, a 13% increase from 2012. Analysts expect China Mobile's annual profit for 2013 to decline from 2012 partly because of the 4G spending. If that occurs, it will be the first time the company's profit has decreased since 1999. As an additional effort to retain higher-end customers, China Mobile has lowered international roaming fees.
China Telecom has also been spending heavily in order to increase its market share. After China Telecom signed its iPhone deal with Apple in 2012, it spent a large amount for advertising and customer subsidies. This resulted in China Telecom's profit being lower in 2012. Wang Xiaochu, Telecom's Chief Executives, says the costs are investments for greater long-term profits.
Conclusions
1. As stated earlier, the Chinese government's intent has been, and probably still is, to make its telecom industry more competitive. The government has imposed mergers and divestitures on all three companies in the past and could do so again in the future for the sake of stimulating more competition. Needless to say, rarely does increased competition result in values increasing for all the competitors.
2. China Mobile is not burdened with fixed-line operations. An obvious societal trend is the switch away from landlines to mobile phones, yet Unicom and Telecom still have to maintain their landline systems. The fixed costs in those systems is big and, all else equal, revenue falling in that business will squeeze profits. As an example, China Telecom mentioned that its lower year-over-year profit in the fourth quarter of 2012 was partly attributable to declining fixed-line phone revenue. In order to maintain revenues, China Telecom has to invest in mobile network assets, yet at the same time its fixed line assets are losing value.
3. China Mobile will probably continue to lose market share in the future as more people switch from 2G to 3G. This can be seen in the relative market shares between the three companies for 2G and 3G. This is based on the assumption that any new future 3G users will be distributed roughly according to present market shares.
4. China Mobile is currently uncontested in many rural areas, but Unicom and Telecom have stated a desire to also compete for rural customers.
5. If I had to choose to invest in any of these 3 companies, I would probably choose China Mobile for the reasons that it is the cheapest by conventional measures of value (EV/EBITDA and dividend yield) and it has the highest pretax profit margin. There are other factors to consider, however, such as growth and any future changes in profit margins. An in-depth analysis of such factors is beyond the scope of this article, and I have not done a full-fledged valuation for all three companies. China Mobile's pretax margin has consistently declined in the past five years, though this could change in the future if China Mobile can steal back some of the high-end 3G market by selling iPhones.
6. The main point of this article is this: before anyone invests in these companies, they should be aware of the battle for market share that is going on. This battle is causing all three companies to increase spending. It is too soon to know how this battle will end and the ultimate impact it will have on profits. There are many factors that come into play: the shift from fixed-line phones to mobile phones, increasing internet usage, government pressures, and the quality of decision making by management - all of which deserve their own individual analysis. In any case, it is highly unlikely that intensified competition will result in an increase in the profits of China's three telecom companies.
Note: The sources for facts mentioned in the sections titled "Brief History of China's Telecom Industry Since 1999" and "Overview of China Mobile, China Unicom, and China Telecom" are the 20-F filings for China Mobile, China Unicom, and China Telecom.
Disclosure: I have no positions in any stocks mentioned, and no plans to initiate any positions within the next 72 hours. I wrote this article myself, and it expresses my own opinions. I am not receiving compensation for it. I have no business relationship with any company whose stock is mentioned in this article.