Synopsis - Two weeks before Nokia released its Q2 interim report, I claimed that Nokia (NYSE:NOK) was at the crossroads. It looks as if Nokia is paralyzed under the burden of choice. It appears that Nokia is trying to remain a one-stop-shop for all things telecommunication, not yet ready to let go of some of its past. At the same time, its struggling partner Microsoft (NASDAQ:MSFT) turns out to be its enigma. Many investors have no confidence yet in Nokia's turnaround story as it unfolds, like the YTD chart indicates. Remaining very skeptical, I believe that Nokia's shares continue making for a good trading vehicle around key events.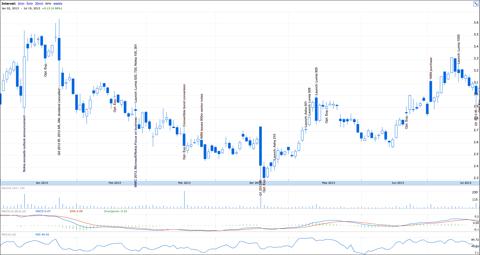 On a side note, I suspect that Dodge & Cox, which was invested in Nokia at 5.3% in Q2 2012, has meanwhile increased its exposure from 6.8% in Q1 to 8.4% in Q2 at April lows, because of Nokia's potential for being dismantled and sold. If this rationale were true, it could serve as a bullish investment template for those not interested in short-term trading.
I recently covered HERE (I believe it is a value annihilator and should be divested) and am looking at Nokia Siemens Networks (I believe Nokia had no other choice than buying NSN in order to be able to divest it as a whole in the near future); therefore, I focus on the Devices & Services division and why it, at best, behaves like a communicating vessel, as fellow SA contributor Jacob Steinberg recently suggested.
1. Smart Devices …not with a bang but a whimper
The numbers (my assumption in italics):
Smart Devices

All

(M)

All Δ

(QoQ%)

Lumia

ASP

(€)

ASP Δ

(QoQ%)

Net sales

(m€)

Q4

6.6

+5

4.4

186

+20

1225

Q1

6.1

-8

5.6

191

+3

1164

Q2

7.4

+21

7.4

157

-18

1164

Q3

9.3

+26

9.3

162

+3

1506

Q4

12.2

+31

12.2

176

+9

2147
Catalysts:
Paradigm shift ("good enough," "smartphone fatigue," …)
Product portfolio (too many models, too many variants, …)
Launch strategy (wrong timing, wrong carriers, …)
Business adoption (lack of interest, lack of adoption, …)
Entrenchment (deficient OS, deficient ecosystem, …)
Paradigm shift … when good is bad
When good is bad… at first, such statement sounds irrational, nonsensical even. How can, for example, the new Lumia 925/928 and 1020, which are certainly excellent products, be bad for Nokia?
The Lumia 1020, released on 11th July 2013, is the pinnacle of Nokia's efforts to date - very positively received by many technology reviewers.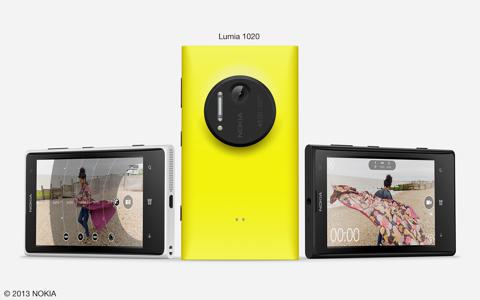 Brian Klug of AnandTech, living up to his family name, provides the right clues: "[…] I think it's fair to say that once again Nokia has set (sic) basically set the bar for the rest of the smartphone imaging world - in terms of both hardware and software features […] Of course, the ultimate question is whether consumers are going to appreciate all of it and be willing to pay the premium for the Lumia 1020 over the Lumia 925/928 or another smartphone entirely. Although imaging quality is a big emphasis for smartphone shoppers, it isn't the only one, and the Windows Phone 8 pill is still a big one for me and many others to swallow."
Consumers in today's commodified and overabundant markets, as any marketer worth her salt knows, are satisficing - wanting to make decisions converging on the optimal, but usually ending up acceptable. This good enough paradigm, which meanwhile informs many consumer product categories (coinciding with the slow demise of the middle class in many developed nations), has consumer behavior skewed for good.
Those for whom the smartphone is no longer the de rigueur status-cue, but rather Swiss army knife for all their communication needs, are happy to settle for less, which explains the relative success of the low-end Lumia 520/521 and 620 as well as the booming market for used and refurbished devices, (which also affects Apple and Samsung, who launched trade-in programs to tap some of that lucrative market for themselves).
Now, regarding consumers' imaging needs: the incessantly increasing barrage of images is often filtered and processed to be then shared via social media platforms (soon forgotten), which require rather small image sizes for viewing on PCs, laptops and especially mobile devices.
| | | |
| --- | --- | --- |
| Most popular social media | Max. px | Upload for storage |
| Facebook timeline image preview | 403x403 | |
| Facebook timeline image light box | 960x720 | 2048x2048px |
| Google + shared image | 497x373 | 2048x2048px |
| Instagram photo | 510x510 | |
| Instagram light box | 612x612 | 2048x2048px |
| LinkedIn careers | 974x238 | |
| LinkedIn products & services | 646x220 | |
| Pinterest board pin | 222x… | Scaled height |
| Pinterest enlarged pin | 600x… | Infinite height |
| Twitter shared image | 375x375 | |
| Home theater TV/projector | 1920x1080 | |
The Lumia 520's 5.0mpx camera handles these rather gracefully.
Nokia's obvious hi-end camera-centrism - and the supportive advertising focus - depicts Nokia as a brand for imaging specialists or night-owls - not necessarily as the provider of all-round companionable terminals for a compelling life online. The focus on imaging will probably not be the killer volume and ASP-driver some make it out to be.
Product portfolio …blinded by science?
Microsoft's osborning of the Lumia 800 and 900 in April 2012 was Nokia's zero hour. Since then, Nokia has stepped up its efforts considerably, based on its extensive R&D and patent portfolio, and fleshed out a range of 11(!) devices that cover most price-points - focusing on location based services (read GPS/GLONASS) and imaging (read OIS, lens assembly, sensor) technology in particular.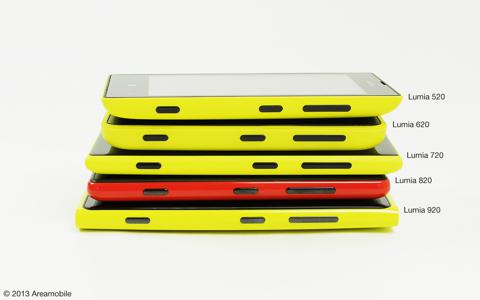 According to traditional product portfolio theory, everything for an increasing consumer interest-share, growing sales and, resultantly, profits, should have fallen into place.
Lower-end Lumias (Lumia 625 was not released at time of writing):
| | | | | | |
| --- | --- | --- | --- | --- | --- |
| Feature | 520 | 521 | 620 | 720 | 820 |
| Screen size | 4.0" | 4.0" | 3.8" | 4.3" | 4.3" |
| Screen res. | 480x800px | 480x800px | 480x800px | 400x800px | 480x800px |
| Screen type | IPS | IPS | TFT | IPS | AMOLED |
| Proc. | 1 GHz | 1 GHz | 1GHz | 1GHz | 1.5GHz |
| RAM | 512MB | 512MB | 512MB | 512MB | 1GB |
| Camera | 5.0mpx | 5.0mpx | 5.0mpx | 6.1mpx | 8.0mpx |
| Memory | 8GB | 8GB | 8GB | 8GB | 8GB |
| M. exp. | Micro-SD | Micro-SD | Micro-SD | Micro-SD | Micro-SD |
| Battery cap. | 1430mAh | 1430mAh | 1300mAh | 2000mAh | 1650mAh |
Higher-end Lumias:
| | | | | | |
| --- | --- | --- | --- | --- | --- |
| Feature | 822 | 920 | 925 | 928 | 1020 |
| Screen size | 4.3" | 4.5" | 4.5" | 4.5" | 4.5" |
| Screen res. | 480x800px | 768x1280px | 768x1280px | 768x1280px | 768x1280px |
| Screen type | AMOLED | IPS | AMOLED | AMOLED | AMOLED |
| Proc. | 1.5GHz | 1.5GHz | 1.5GHz | 1.5GHz | 1.5GHz |
| RAM | 1GB | 1GB | 1GB | 1GB | 2GB |
| Camera | 8.0mpx | 8.0mpx | 8.0mpx | 8.0mpx | 38mpx |
| Memory | 16GB | 32GB | 16/32GB (Vodaf.) | 32GB | 32/64GB (Telefon.) |
| M. exp. | Micro-SD | No slot | No slot | No slot | No slot |
| Battery cap. | 1800mAh | 2000mAh | 2000mAh | 2000mAh | 2000mAh |
However, despite Nokia's "Rolling Thunder" approach, in Q2 only 500k Lumias were sold in the U.S., up 100k from Q1, and 6.9m in the rest of the world, while in total ~210m smartphones were sold globally. As I have shown in my first article on Nokia, Kantar Worldpanel's ComTech figures ending May paint a lackluster picture of Windows Phone adoption:
| | | | | | | |
| --- | --- | --- | --- | --- | --- | --- |
| | 3 m/e Dec 2013 | 3 m/e Jan 2013 | 3 m/e Feb 2013 | 3 m/e March 2013 | 3 m/e April 2013 | 3 m/e May 2013 |
| Germany | 2,6 | 5,1 | 6,8 | 6,1 | 6,4 | 6,1 |
| GB | 5,9 | 6,2 | 6,7 | 7,0 | 8,4 | 7,8 |
| France | 4,1 | 5,7 | | 7,2 | 6,2 | 7,4 |
| Italy | 13,9 | 14,0 | 13,1 | 10,9 | 10,5 | 9,7 |
| Spain | 1,8 | | | 1,3 | 1,5 | 1,9 |
| USA | 2,6 | 3,2 | 4,1 | 5,6 | 5,6 | 4,6 |
| China | 0,9 | 1,2 | 1,4 | 2,0 | 2,4 | 2,9 |
| Australia | 2,8 | 3,4 | 3,4 | 4,1 | 5,1 | 5,6 |
| EU5 | 5,4 | | | 6,5 | 6,7 | 6,8 |
(Source and previous monthly reports)
In my view, the slow adoption progress and confusing product portfolio show that Nokia's management is still not focused enough, trying too hard to be everything to everybody, rather than sending consumers and markets that already suffer from smartphone fatigue an easily decipherable message.
The relatively fast ascension of low-tier low-margin Lumias is telling…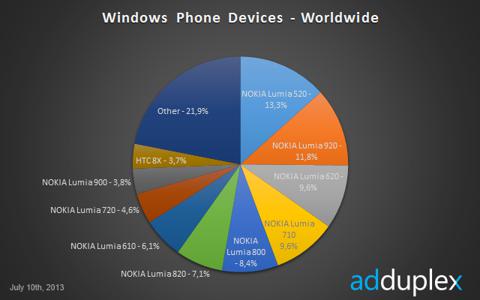 (Source)
Nokia appears somewhat "blinded by science"; their approach to out-engineer the engineers (device thickness, audio recording and playback, augmented reality navigation, optical image stabilization, low-light image capture, imaging sensor size), is verging on featurism - in danger of approaching the world-leader in can-do-ism and gimmickry, Samsung - and has so far resulted in a "same-same, but different" portfolio (with the exception of the special-interest-device Lumia 1020). A product portfolio with too many and probably redundant devices adds complexity to the operations, draining valuable resources.
Launch strategy …better late than never?
Consumer electronics are seasonal products. The Lumia 920, launched on 5th September 2012 was available as late as early November - and then either constantly sold out or not shipping in all colors. The all-important Q4 Christmas shopping and holiday season was missed; an opportunity for premier and trustworthy free product marketing by family and friends. Orders for the TD-SCDMA version Lumia 920T for the Chinese New Year were equally not fulfilled; heavily advertised by China Mobile (NYSE:CHL), it remained unobtanium at a crucial moment. In fact, being sold out after launch has sadly become one of the "features" of Nokia's devices.
As far as Lumia promotion by carriers and Microsoft is concerned, the situation has not improved. Imprisoning models at carriers like AT&T (NYSE:T) in the U.S. or EE in the UK - both not so very much in favor with consumers - restricts accessibility at a time when Nokia needs maximum exposure. Accosted by a Forbes journalist at the Lumia 1020 launch event, Stephen Elop nearly stooped to apologize on AT&T's Ralph de la Vega's behalf for their lackluster support. Similarly, Verizon's (NYSE:VZ) dedication to Nokia's products is questionable, as long as they have to digest their substantial iPhone commitment to Apple. Judging from AT&T, Verizon or EE, the claim that carriers are eager, even desperate, to establish a 3rd ecosystem, may turn out a mirage.
Last but not least, Microsoft's hustling capacity of Nokia products in America's favorite look-see store Best Buy (NYSE:BBY) remains to be seen. After all, Apple and Samsung are present and Microsoft intends to "show a selection of 3rd party products" amongst all things Windows, which, in turn, does not bode too well for Nokia being served customers on a silver platter in that retail environment.
Business adoption …many a mickle makes a muckle?
Although, in theory, Windows Phone - by way of Microsoft Office integration and potential synergies with Microsoft's ecosystem still in the making - should be ideally suited for small, medium and large businesses, if Terry Myerson was to be believed, it has never really caught on. With no dedicated sales force of their own, Nokia - as is the case with the still deficient core functionality of WP - has to rely on their partner Microsoft to do the heavy lifting. So far, the following enterprise device wins
19th January: Foxtons (real estate), UK, Lumia 820, 900 units
21st February: Mall of America (retail), USA, Lumia 920, no number
22nd February: The Coca-Cola Company (beverages), VN/KH, no details
23rd February: Sports Direct (retail), UK, Lumia 820, no number
27th June: Miele (white goods), GER, Lumia 520 620 720 820 920 925, 1000 units
16th July Gi Group (staffing), IT, Lumia 620 820 925, 800 units
were seen fit for a press release by Nokia, since WP8 and the Lumia range were launched. That in itself speaks volumes.
Entrenchment… osland and appland revisited
The low-cost Lumia 520/521 and 620 are the most popular WP8 devices, popular with first-time smartphone buyers that, by and large, will use their device as a glorified feature phone. As such, they are not interesting for the app developer community (and the accessory market, for that matter). As I recently illustrated, Windows Phone 8 remains deficient for the foreseeable future and the app situation remains dire as ever, especially outside the U.S., Nokia's core markets by volume. I am not at all convinced that Microsoft will succeed in just buying their way into the app developer community's heart on a global level; also, the SDK economy is simply not there. Looking at it from the current global developer economics perspective shows why.
Charlie Wolf of Needham & Co., who recently retracted his previous bullishness, has this to say: "The argument has been made ad nauseam that carriers would like to see a third major smartphone platform emerge to compete with the iPhone and Android. However, Nokia's second quarter results raise the possibility that consumers are content with just two platforms. If so, this does not speak well for the Microsoft/Nokia duo going forward. It appears that the market is reaching the now-or-never moment for the Windows 8/Nokia duo. We expect Microsoft to throw enormous resources behind Windows 8 to prevent its demise. But with a single digit market share, the challenge will be enormous. We thought the "Modern" (Metro) user interface, featuring live, continually updated information relevant to a user might turn the trick. The reality is that so far, Windows 8 has been a bust despite the advertising Microsoft has thrown behind it and that the Modern user interface is not a must-have feature in the smartphone market. In other words, it suggests that we misjudged the enthusiasm of smartphone owners to the Modern interface. The failure of Windows 8 to gain meaningful traction also suggests that smartphone buyers are content to choose between high-end iPhones and Android smartphones in mature markets and between Android and feature phones in emerging markets."
2. Mobile Phones… fade to grey
The numbers (my assumption in italics):
Mobile Phones

All

All Δ

(QoQ%)

Asha

ASP

(€)

ASP Δ

(QoQ %)

Net sales

(m€)

Q4

79.6

+4

9.3

31

0

2468

Q1

55.8

-30

5.0

28

-10

1590

Q2

53.7

-4

4.3

26

-7

1405

Q3

51.0

-5

4.0

25

-3

1275

Q4

48.0

-6

3.7

25

0

1200
From Nokia's Q2 interim report: "Compared to the first quarter 2013 we had lower sales of our devices that we sell to our customers for above EUR 30. This decline was partially offset by higher sales of our devices that we sell to our customers for below EUR 30."
I think it is safe to say that Nokia's Mobile Phones business will just wither away sooner or later. While doing so, it will consume valuable resources much needed elsewhere. One could ask: is Nokia's $302m Vietnamese facility, which is still ramping up to become fully operational only in Q3, already redundant, producing devices for a rapidly declining low-tier low-margin market? Samsung, vertically integrated, is expanding its existing Vietnamese facility in Nokia's back yard, investing another $670 and is already building the world's largest facility for $2bn in record time.
There are other formidable competitors, offering well-received bargain basement forked Android smartphones from India (Karbonn, Micromax, or Spice) and China (Coolpad, Huawei or Xiaomi) that have already put Nokia's Lumia offerings under immense pressure.
First-time buyers may just leap-frog feature phones and Ashas altogether and go directly for low-end Android devices, which, no matter what seasoned consumers in developed nations may think, are regarded as proper smartphones, providing access to the world of Google, Baidu, etc.
Finally, a low-price iPhone, if it ever arrives, could damage Nokia's low-end proposition in Asia (and elsewhere) further.
Conclusion
Let me be blunt: With a "partner" like Microsoft, Nokia is home alone. A requiem could already be in Dodge & Cox's filing cabinet - the question is, which conductor will want it to be performed, and when. Until a clearer picture emerges or Nokia unexpectedly outperforms in all-important Q4 and sustains that momentum, I suggest to continue trading Nokia's volatility or investigate Dodge & Cox's potential motives for increasing its stake to new levels.
Disclaimer: This is no recommendation to buy or sell securities as that carries with it very high risks. The information contained in this article is for informational purposes only and subject to change at any time. Do your own due diligence and consult with a licensed professional before making any investment decision.
Disclosure: I am long ALU, HPQ. I wrote this article myself, and it expresses my own opinions. I am not receiving compensation for it (other than from Seeking Alpha). I have no business relationship with any company whose stock is mentioned in this article.
Additional disclosure: I might continue to occasionally purchase and sell NOK for short-term trading purposes.