It's tough times for the mining equipment makers. Analysts slashed estimates on Joy Global (NYSE:JOY) after the company lowered full-year guidance. This Zacks Rank No. 5 (Strong Sell) is expected to see earnings fall both in fiscal 2013 and fiscal 2014 as the global economy remains sluggish.
Joy Global is one of the world's largest underground and surface mining equipment makers. It is usually one of the first beneficiaries of a global recovery because the miners can lead a recovery. But that also means it can be the first to see a slowdown.
2013 Outlook Cut
On May 30, Joy Global reported second-quarter results that confirmed the slowdown in the mining industry had arrived. Sales fell 12% to $1.4 billion from a year ago. Original equipment sales fell 16% while aftermarket sank 8%. Bookings were also down 8% year over year to $1.1 billion, with surface mining equipment bookings slumping 28%.
In its outlook, the company said that mined commodities were generally in supply surplus, so demand must increase in order to clear out the excess. The problem is that demand isn't increasing. If anything, it is turning the other way. China and Europe both remain weak, with China seemingly sinking even further as the year progresses.
Estimates Slashed
Given the grim outlook, it's not surprising that Joy Global cut its full-year guidance to a range of $5.75 to $5.95 from $$5.75 to $6.35. Fourteen estimates were cut over the last 60 days to get in line with the revised guidance. The fiscal 2013 Zacks Consensus Estimate fell to $5.86 from $6.20.
The company saw an earnings contraction of 15.1% compared to fiscal 2012. The story isn't much better for fiscal 2014 either. Thirteen estimates have been cut for that year, and earnings are also expected to decline another 4.4%.
Shares Sink
Investors have been fleeing the shares all year.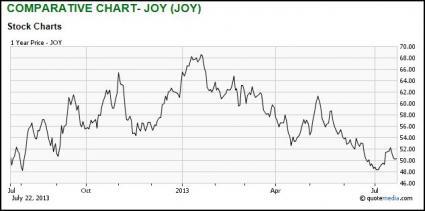 And while it's trading at just 8.6x forward estimates, which may seem cheap, an investor gets contracting earnings. For investors looking at the construction/mining industry, it's a hard sell right now. The Zacks Industry Rank is 244 out of 265.
If you must own a mining equipment maker right now, only Komatsu (OTCPK:KMTUY) has a "buy" Zacks Rank. It is a Zacks Rank No. 2 (Buy). But even Komatsu is expected to see negative earnings growth next fiscal year. 2013 is going to be a tough year for the whole industry. Joy Global's Zacks Rank No. 5 (Strong Sell) reflects that reality.
Joy Global: Free Stock Analysis Report (email registration required)
Komatsu: Get Free Report (email registration required)