Prime Minister Shinzo Abe recently won a landslide reelection in Japan. The victory had been widely anticipated, but the benefits of monetary policy stability is still being scrutinized.
As Abe first came to power, he pressured the Bank of Japan (BOJ) to undertake its largest and most aggressive easing measures in the country's history. The central bank has been creating $70 billion monthly to purchase Japanese debt -- an amount so massive for Japan's economic output that it makes U.S. policy look tame. Shortly after the plan had been leaked, the yen lost roughly 20% of its value and boosted the perception that the stimulus would help Japanese corporations.
Unfortunately for other countries in the region, the rapidly declining yen made it difficult for those neighbors to export goods at competitive rates. Countries like South Korea were particularly hard hit. Granted, there may be exceptions. For the most part, however, Asian stocks have been among the world's weakest while Japanese stocks have topped nearly all challengers.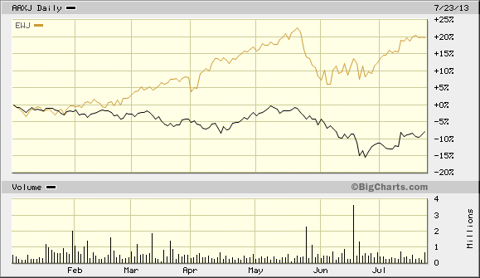 As it stands in 2013, iShares All-Country Asia excluding Japan (NASDAQ:AAXJ) has offered -7.5% in the same time period that iShares MSCI Japan (NYSEARCA:EWJ) has gained 20%. The dollar-hedged WisdomTree Japan Hedged Equity (NYSEARCA:DXJ) is up about 32%. Indeed, it's difficult to see how Japan's massive quantitative easing can be viewed as a net positive to Asian neighbors.
Nevertheless, some commentators are now making the case that Southeast Asia is benefiting from extreme stimulus by the world's third-largest economy. Aaron Back at WSJ.com argues that the extra liquidity of money creation will eventually flow throughout the region, not only through direct investment, but also through large financial institutions with a global presence. Back suggests that the lenders can borrow at ultra-low rates domestically and then lend out the money at higher interest rates throughout Southeast Asia. He cites $8 billion having been spent in the prior eight months by Mitsubishi and Sumitomo to build stakes in financial companies in Thailand, Indonesia, and Vietnam.
On the other hand, if Japanese money printing and subsequent debt acquisition is such a boon to Southeast Asian economies, one has to wonder why the International Monetary Fund (IMF) has lowered its global growth forecasts for 2013 and 2014. Similarly, the majority of non-Japanese stock ETFs in the region have abysmal six-month returns.
Are Asian Neighbors Genuinely Benefiting From "Abenomics"?
Approx 6 Month %
iShares MSCI South Korea (NYSEARCA:EWY)
-10.7%
SPDR S&P China (NYSEARCA:GXC)
-9.7%
First Trust Asia Pacific excl Japan (NYSEARCA:FPA)
-8.2%
iShares S&P Asia 50 (NYSEARCA:AIA)
-7.0%
iShares Emerging Market Asia (NASDAQ:EEMA)
-6.7%
Market Vectors Vietnam (NYSEARCA:VNM)
-3.3%
iShares MSCI Hong Kong (NYSEARCA:EWH)
-2.8%
iShares MSCI Japan (EWJ)
23.0%
WisdomTree Japan Hedged Equity (DXJ)
28.5%
Shinzo Abe's political success notwithstanding, there are reasons for newfangled optimism for non-Japanese Asian ETFs. Specifically, China's leaders appear to be looking for an avenue to stimulate the Chinese economy. Beijing News reported that Premier Li Keqiang will make sure to keep economic growth above 7%. Unlike the volatility associated with yen-devaluing quantitative easing in Japan, fiscal and monetary programs by Chinese leadership are likely to increase demand for foreign-made products and services. Hong Kong (EWH), Taiwan (NYSEARCA:EWT) and Korea (EWY) could benefit.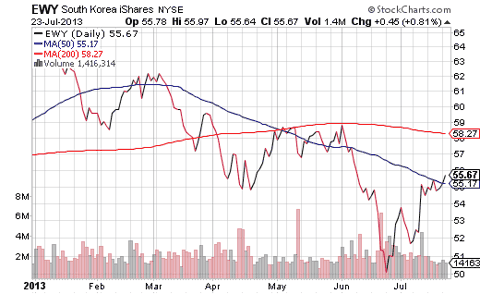 Disclosure: Gary Gordon, MS, CFP is the president of Pacific Park Financial, Inc., a Registered Investment Adviser with the SEC. Gary Gordon, Pacific Park Financial, Inc, and/or its clients may hold positions in the ETFs, mutual funds, and/or any investment asset mentioned above. The commentary does not constitute individualized investment advice. The opinions offered herein are not personalized recommendations to buy, sell or hold securities. At times, issuers of exchange-traded products compensate Pacific Park Financial, Inc. or its subsidiaries for advertising at the ETF Expert web site. ETF Expert content is created independently of any advertising relationships.