Bargain hunting investors perusing the consumer discretionary aisle might want to keep on walking. As regular readers of my articles know, I've long been advocating that investors remain cautious on consumer discretionary stocks. And after last week's disappointing economic data, I wanted to quickly reiterate the case behind this call.
The weak economic reports -- from retail sales to housing starts -- confirmed that the U.S. economic recovery is still fragile. In fact, as I write in my new weekly commentary, second-quarter gross domestic product (GDP) is likely to come in well below 2% for a third quarter in a row.
Continued slow growth can be blamed in part on a surge in part-time workers, one of the few dark spots in June's decent jobs report, and resulting lackluster income growth. The shifting nature of the job market and weak income growth are also significant headwinds facing U.S. consumption. In June, higher mortgage rates seemed to take some of the wind out of the housing market's sales. If this were to continue, it would remove one of the big props holding up the U.S. consumer.
As such, consumer-related companies continue to look expensive. In fact, as the chart below shows, the relative price-to-book ratio of U.S. consumer discretionary stocks vs. the S&P 500 has increased in recent years.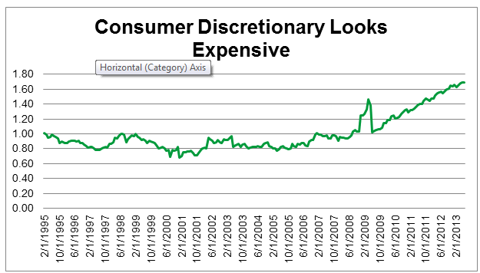 Source: Bloomberg June 28, 2013.
And as of last Friday, U.S. consumer discretionary companies traded at nearly 4x book value, about a 70% premium to the broader market. In other words, investors are currently paying a big premium for retailers and restaurants at a time when consumers are still struggling and spending remains weak.
To be sure, I still believe global and U.S. stocks can move higher over the next 12 months thanks to a combination of slow growth, low inflation and relatively low interest rates. But I continue to advocate caution toward sectors of the market -- like consumer discretionary -- that are discounting too much optimism.

Source: Bloomberg.