Apple (NASDAQ:AAPL) beat earnings forecasts, sending the stock up in after hours. It's always good to surpass estimates, especially after the glum action in Apple over the last 9 months. However, the quarter is not all roses. I'm concerned about the declining average profit Cupertino makes off each iDevice. Apple's unit profit (operating income/number of devices sold) has been in an unhealthy downtrend for the last 5 quarters. Back in January 2012, unit profits maxed at a sensational $263. Since then, Apple's unit profits have been skidding.
The chart below documents the decline comparing y/y quarters. The first quarter of this fiscal year dropped 18% y/y (blue ); the second plunged 28% (red); and the most recent quarter's unit profit (green) dropped 21% to $170, a level not seen since October 2010.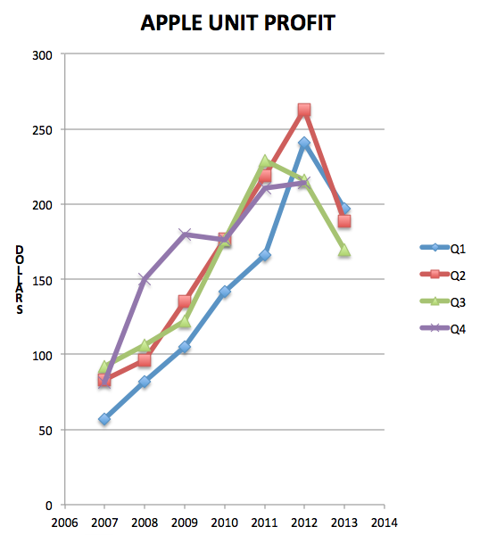 While unit profits reflect to some extent product mix, it is interesting to note that the contribution from lower margin iPods has been dropping quickly falling some 32% y/y. In fact, iPods only contributed 8.5% of unit volume for the quarter as opposed to 12.6% in the year-ago quarter, suggesting that margins on its iPhones and iPads are tumbling.
Moreover, the downtrend is getting uglier by the quarter. Apple's unit profits have been falling the last 3 consecutive quarters: $197 (Q1), $189 (Q2), and $170 (Q3).
Apple will need to pull its unit profits out of the tailspin. I've chronicled Nokia (NYSE:NOK) and Blackberry's (BBRY) fall from grace using their plummeting unit profits to tell the tale. Once they too had sky-high unit profits. Those days are long over.
And unfortunately for Apple, one last thing. The total number of iPhones, iPads, iPods, and Macs, or unit volumes, increased a meager 0.7% y/y. That's so not Apple. With the exception of Q4 2009 and last quarter, this is the first time in over 10 years that Apple hasn't sold at least 20% more of its iProducts than the year ago quarter. The only way to make up for falling unit profits is by selling more product and that is something Apple is finding harder and harder to do.
Note how the number of devices sold over the last 2 quarters has started to show sagging growth.
Unless Apple can halt the steady declines in its unit profits, I'd be a seller than a buyer of the stock. Without a new must-have product, Apple's unit profits are going nowhere but down.
Disclosure: I have no positions in any stocks mentioned, and no plans to initiate any positions within the next 72 hours. I wrote this article myself, and it expresses my own opinions. I am not receiving compensation for it (other than from Seeking Alpha). I have no business relationship with any company whose stock is mentioned in this article.
Additional disclosure: The opinions in this document are for informational and educational purposes only and should not be construed as a recommendation to buy or sell the stocks mentioned. Past performance of the companies discussed may not continue and the companies may not achieve the earnings growth as predicted. The information in this document is believed to be accurate, but under no circumstances should a person act upon the information contained within. We do not recommend that anyone act upon any investment information without first consulting an investment advisor as to the suitability of such investments for his specific situation.