We often hear the argument of markets being rigged, biased towards institutional investors and disadvantageous towards retail investors. In some respects this statement is true, without a few million dollars in capital, many private investment deals are closed off the large majority of investors. So how can the average person gain access to the brilliant minds which stand behind private equity deals? Fortunately in the current market environment, we are seeing a large amount of private capital take non-controlling (less than 50% ownership) equity positions in small-cap publicly traded companies.
As the homebuilding industry gets back on its feet once again, smaller builders are not finding capital as easy to come by as their larger competitors. Private investment dollars are beginning to fill this void and provide the retail investor a chance to invest alongside. AV Homes (NASDAQ:AVHI), builder of large master planned communities in Florida and Arizona, could be a great way to play the rebound of real estate. Additionally, private equity firm TPG recently invested $135 million in the relatively unknown homebuilder. The cash infusion is getting this capital constrained homebuilder back on its feet and hopefully growing in the right direction.
Throughout this article, I will highlight the current business model of AV Homes, potential growth opportunities, and how TPG is going to be invested alongside you. The company recently went through a rebranding and drastically changing how its operations are run. Following the TPG investment AV Homes appears to offer the potential for significant returns.
About AV Homes
AV Homes, formerly known as Avatar Holdings, is based in Scottsdale, Arizona and has been building master planned communities since the late 1960's. The company's primary focus is developing active adult communities targeted towards the age 55+ demographic but also builds homes for first time homebuyers. While many readers may have zoned out after learning that this company caters towards the 55+ crowd, the facts surrounding these baby boomers are worth noting. Over the next 16 years, an estimated 78 million people are set to retire. Florida and Arizona, the only two markets AV Homes operates in, are projected to rank in the top five states in terms of population growth over the next 20 years. Given the warm weather, affordable housing, no estate taxes and minimal state income taxes (zero state income tax in Florida), one could easily argue that these two states are attractive places for retirees to land. Statistics for AV Homes target markets are listed below.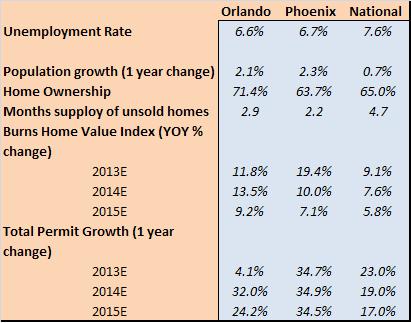 Source: AV Homes Investor Presentations
Over the past few years, AV Homes has gone through its fair share of challenges, the stock price peaked around $87 a share during the housing boom and currently trades in the high teens. However, it appears things are about to turn around. The company recently brought on a highly regarded CEO, Roger Cregg, who served as the CFO at PulteGroup (NYSE:PHM) from 1998 to 2011 (Pulte is a major builder of active adult communities). In addition to Mr. Cregg, the management team is built around individuals with extremely strong real estate backgrounds (many with a focus on active adult communities). This was a great kickoff for the newly branded company and we are now seeing previously closed communities reopened, new strategic land acquisitions, and development on new communities. The management change alone seemed to shift AV Homes in the direction of growth. However, following the investment from TPG, the company will again be changing the way it is positioning itself.
TPG Investment
In my opinion, one of the most attractive features of this newly re-branded AV Homes is the substantial ownership by TPG. Although TPG structured a deal which will be very beneficial to themselves, I believe investors who purchase the common stock have the ability to generate significant returns while riding the wave TPG is creating. The agreement by the two companies was quite complex, but I will briefly summarize a few of the main points.
On 3/31/13 (the most recent financial statements available), shareholder equity at AV Homes was $161.7 million. With the addition of $135 million in capital from TPG ($127.9 net of fees), equity was boosted to $289.6 million. The company issued TPG 2,557,474 shares of common stock at $14.65 per share and 665,754.3 shares of Series A Preferred stock at $146.50 per share (exchangeable into 10 shares of common stock). Beginning 180 days after the TPG investment, the preferred stock will pay an 8% dividend for the first three quarters, a 12% dividend for the next four quarters, and a 15% dividend thereafter. Assuming the preferred stock is converted, this represents a 41.9% ownership stake.
In addition to the preferred dividends, AV Homes has agreed to enter into a management service agreement with TPG. The first portion of this fee was paid from the $135 million investment, with $4.7 million going back to TPG as a transaction fee and another $1 million reimbursed for TPG management due to expenses incurred with the investment. So long as TPG maintains a 30% ownership stake in the company, they will also receive a monitoring fee equal to $465,000.
TPG has also structured the deal in a way that allows for substantial decision making. The board of directors will ultimately be increased to ten members, TPG will be allowed four seats on the board. AV Homes cannot make any major changes to the company without prior written consent of TPG; this includes liquidation, bankruptcy, increase/decrease in the size of the board, change in the compensation committee, issuance of equity securities, expenditures over $10 million, hiring or firing managers, and other various restrictions. Additionally all shares will now trade with a rights agreement attached to them. This will restrict any investors from gaining access to more that 4.9% of the company (more on this shortly).
While the paragraphs above may seem lengthy, they are in fact a brief description of TPG's investment in AV Homes. Although the deal is structured to TPG's advantage, the main takeaway should be the substantial equity ownership stake in AV Homes. The interest in seeing this company grow is directly aligned with other common shareholders. Although the preferred stock dividends are generous, the real return will come from TPG selling its equity stake at one point. By owning AVHI, you will be able to directly invest alongside this newly branded company.
Growth Opportunity and Deferred Tax Asset
The proceeds from TPG will be used for land acquisition, land development, new home construction, working capital and general corporate purposes. I highlighted in a table above the tremendous growth estimates in Arizona and Florida over the next few years. A lot of this growth potential comes from the fact that both states have experienced weak sales for active adult communities. As baby boomers still recover from significant losses in their investment accounts and falling real estate prices during 2008-2009, the last thing on their mind has been buying a new home. However, time has healed those wounds and it appears confidence in home ownership is making a comeback. Over the past year AV Homes has reopened a number of its communities which were shut down due to poor demand (Bellagio in Orlando, Vitalia at Tradition in Port St. Lucie, and Isles of Bellagio in Orlando to name a few). As you can see in the chart below, the majority of land AV Homes carries on the balance sheet is comprised of active adult communities, a rapidly expanding segment of the housing market. So what does TPG see in AV Homes?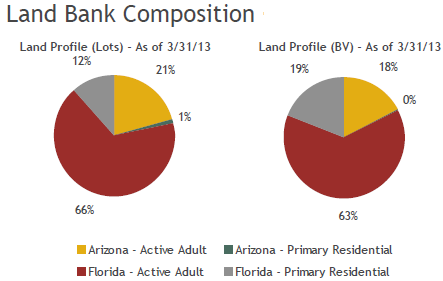 Source: AV Homes Investor Presentations
First and foremost is the strong rebound in real estate across Arizona and Florida. The S&P Case Shiller Home Price Index released each month continues to show double digit growth in home prices for major cities in both states. In the table below, you can see the backlog data for both AV Homes active adult communities and primary residential homes. Since reopening many communities, and selling out of all but one active adult community in Arizona, AV Homes seems to have re-sparked demand for their product. Although the company does not expect to be profitable during 2013, if we continue to see backlog growth like we witnessed in Q1 of 2013 (70% over the same period), one could argue that AV Homes will be posting positive earnings per share over the next few quarters.
There is one more ingredient that TPG observed when making this investment, a deferred tax asset valuation allowance of $128.4 million. The valuation allowance has not be reversed, but given the growth mentioned above and strong likelihood of profitability, we are likely to see this occur soon. The general trend among publicly traded homebuilders over the past year has been reversal of valuation allowances and moving them onto the balance sheet as deferred tax assets. Assuming all shares of TPG's preferred stock are converted to common stock, we would have roughly 22 million shares outstanding, equating to a DTA valuation allowance per share of $5.84 (keep in mind that EPS may be $0 this year, making the DTA very valuable if reversed). A large component of the deferred tax asset is from net operating losses (NOL). The reason TPG did not take greater than 50% ownership in the company was to protect this NOL (IRS rule). Additionally, the rights provision attached to common stock I mentioned earlier is designed to protect an individual from taking too great of ownership and destroying the use of these NOLs. Although it is difficult to predict the timing these will be utilized, it is safe to say that AV Homes will not be paying a high level of taxes for the next few years.
Valuation
Although we saw a significant jump in the stock price of AV Homes on the day TPG announced its investment, shares still trade at very low valuation levels. While there's no direct company comparison to AV Homes given the large amount of active adult communities they sell, the closest fit would be Pulte Homes and Toll Brothers (NYSE:TOL), which both cater towards the 55+ crowd for a portion of their sales. I have also included a handful of other homebuilders for reference. As you can see in the chart below, AV Home trades at a significant discount using a price to book value ratio. If shares traded at the low end of this industry, 1.8x BV, we would have 36% upside in the stock price. Depending on how the market perceives this company's growth moving forward, this is a highly realistic scenario.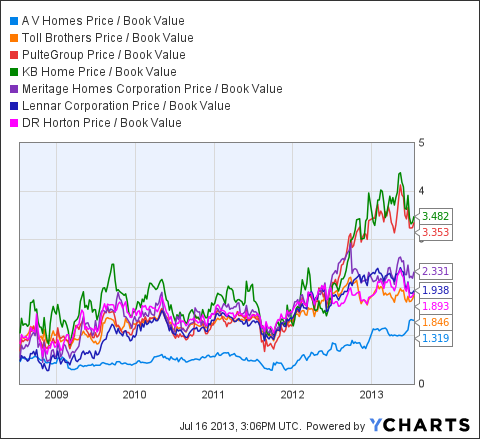 AVHI Price / Book Value data by YCharts
Looking at a price to trailing twelve month sales ratio (see chart below), shares may look rather expensive compared to the rest of the industry. However looking at the rebound in other homebuilders, we have not seen AVHI's P/S multiple increase as dramatically as the others. Additionally we are trading below the historical average for the company. Assuming sales continue to grow as new communities are opened, the market may bid up shares and thus award AV Homes with a higher P/S multiple.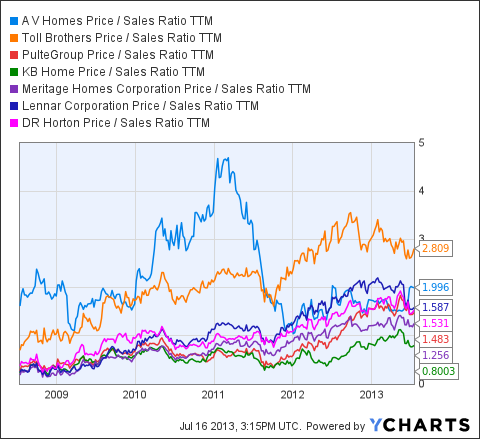 AVHI Price / Sales Ratio TTM data by YCharts
Conclusion
The newly branded and newly managed AV Homes is certainly not the same company it was a year prior. With a housing rebound well underway, an experienced CEO, and capital from a private investment firm, AVHI has a high degree of potential price appreciation over the next few years. TPG has already had success in some of their recent real estate ventures, a couple of the publicly traded companies which received funding were Parkway Properties (NYSE:PKY) and Taylor Morrison (NYSE:TMHC). Will AV Homes be added to the list of profitable investments in TPG's lineup? Time will tell, but given the macro environment they are operating in, current demand suggests profitability is likely.
Consider your investment goals and objectives before initiating a position in AV Homes, and please remember that the value of investments in equity securities, like AVHI, will fluctuate in response to general economic conditions and to changes in the prospects of particular companies and/or sectors in the economy. For long-term shareholders or investors looking to play the housing market, I think AVHI makes sense for an investment opportunity.
Note: All data reported and graphed is pulled directly from AV Homes SEC Filings, Press Releases, and Investor Presentations.
Disclosure: I have no positions in any stocks mentioned, and no plans to initiate any positions within the next 72 hours. I wrote this article myself, and it expresses my own opinions. I am not receiving compensation for it (other than from Seeking Alpha). I have no business relationship with any company whose stock is mentioned in this article.