Aside from valuation (19x forward) which apparently is no longer a valid reason to either not buy a stock or to sell one, I like the story of AutoNation (NYSE:AN). Less competition is always a good thing - at least from a corporate standpoint. [Oct 1, 2008: Reuters - 1 in 5 Auto Dealers Could go Under by 2009] And if we do the "comparatively it's cheap game" I suppose compared to some stocks being bought day after day on 50, 70, 90x forward estimates, it's cheap.
But that game was popular in late 90s NASDAQ and it meant nothing other than we are happy to overpay for 1 stock relative to overpaying even more for another. The quandry here is what sort of multiple could this expand to? Are we willing to pay 28x for a car dealer? I guess since investors are willing to pay anything on most stocks nowadays, it's a rhetorcial.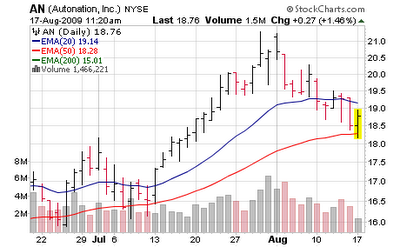 Carmax (NYSE:KMX) is another name I've been watching for the better part of 2 quarters, and I appear to be the only one whose heart drops at valuation, now at mid 30x forward estimates. These are not trailing estimates - these are forward estimates.... i.e. if you are willing to pay 25x trailing earnings in general you should ask for a discount go forward. Unless you're a V shape consumer recovery person.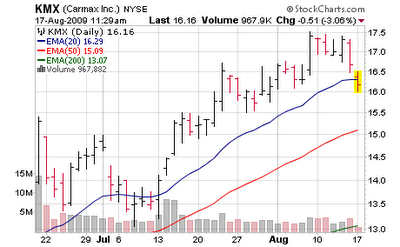 Some of the recent run in these stocks is from bringing in 2010 auto buyers into Q3 2009, but as we normalize our auto volumes from 9M area (down from 16M) to something in the 11-13M range, they should benefit. I have a short list of CEO's who I really enjoy, and Mike Jackson is one of them. (p.s. I was very impressed with BHP Billiton's CEO on the CNBC video last week as well, first time I had heard him)

AutoNation has corrected after the Cash for Clunker surge, and now sits just over the 50 day moving average. Despite an excellent report, sell the news was still the game. [Jul 31, 2009: AutoNation Solid Results - A Way to Pay Cash for Clunkers 1.0 and 2.0] This is a name I considered adding to the portfolio as it bounced smartly. A very low risk entry could be had here with a stop out below the 50 day moving average. An analyst upgradeis helping to buttress the stock:
Bank of America Merrill Lynch raised its estimate on AutoNation Inc. Monday, citing an increase in auto sales due to the "Cash for Clunkers" rebate program. Research analyst John Murphy upped his estimate on the nation's largest auto retailer to "Buy" from "Underperform," adding that the Fort Lauderdale, Fla.-based company, as well as other dealerships, stand to benefit from the program in the third and fourth quarters of the year.
The company's target price was also raised to $23 from $16.
"We believe that AutoNation is a high-quality name and that growth and cost savings potential justify our increased estimates," said Murphy in a research note. "In the short term we anticipate a confluence of factors that stand to benefit the dealers."
Murphy estimated that the clunkers program would lift the annualized selling rate by nearly 30 percent in the third quarter from the second quarter. But a "slight correction" is expected in vehicle sales during the fourth quarter.
Lower-than-expected inventory on dealer lots may also improve AutoNation's financial position, Murphy wrote, as demand for vehicles may lead to better pricing power and lower floorplan interest expenses.
Florida and California -- states hit hard by home foreclosures -- were previously a liability to AutoNation, but signs of economic stabilization in those states may give AutoNation an additional financial boost, Murphy said.
Disclosure: No position