Ocera Therapeutics (NASDAQ:OCRX) announced the closing of a merger with Tranzyme on July 15. Immediately following the closing of the merger, certain of the Ocera investors invested approximately $20 million in the company through a private placement financing at $6.03 per share. Following the merger and the financing, the company has approximately 11.3 million shares outstanding, which gives Ocera a market cap of $106.8 million.
Click to enlarge images.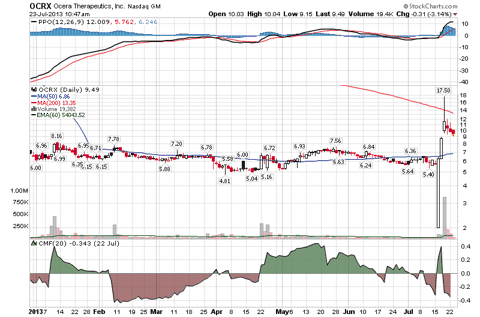 Three different insiders bought shares at the private placement:
Sofinnova Venture Partners VI LP purchased 391,166 shares on July 15 pursuant to a private placement. Sofinnova Venture Partners VI LP currently holds 1,242,492 shares, or 11.0%, of Ocera Therapeutics.
Nina Kjellson purchased 431,435 shares on July 15 by InterWest Partners IX, LP pursuant to a private placement. InterWest Partners IX, LP currently holds 825,826 shares, or 7.3%, of Ocera Therapeutics. Nina Kjellson has served on Ocera's board of directors since June 2011. Kjellson is a managing director at InterWest Partners, a venture capital firm.
Domain Partners VI, L.P. purchased 331,873 shares on July 15 pursuant to a private placement. Domain Partners VI, L.P. currently holds 1,897,336 shares, or 16.8%, of Ocera Therapeutics.
Pipeline
Ocera's pipeline consists of two clinical stage compounds targeting acute and chronic liver disease as well as gastrointestinal disorders.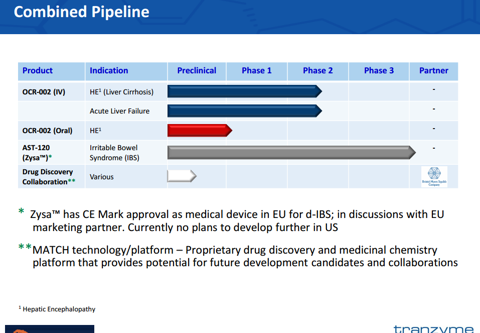 Ocera's lead program, OCR-002, is an ammonia scavenger, designed to treat hyperammonemia (elevated ammonia in the blood) and associated hepatic encephalopathy, a complication of patients with liver cirrhosis. When the liver is no longer able to remove toxic substances from the blood, there is an accumulation of such toxins, particularly ammonia. Ammonia accumulation in the blood impairs brain cell function, and can lead to a neuropsychiatric condition called hepatic encephalopathy (HE). HE is marked by a worsening of brain function, impaired cognition, uncontrolled movements and decreased levels of consciousness. If it progresses untreated, HE can lead to coma and death due to brain swelling.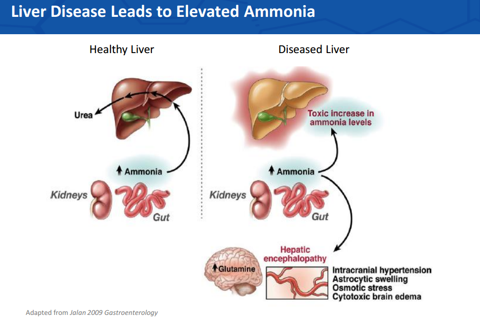 In addition to OCR-002, Ocera has developed Zysa (AST-120), a spherical carbon adsorbent, for the treatment of irritable bowel syndrome (IBS). IBS is a chronic disorder affecting approximately 20 percent of the Western population and is characterized by abdominal pain, discomfort and alterations in bowel habits for which there are very few safe treatment options available today. AST-120 is a novel proprietary spherical carbon adsorbent with a selective adsorption profile for a variety of unwanted substances and toxins which may be responsible for conditions such as irritable bowel syndrome.
Ocera licensed the compound from Kureha Corporation of Japan in 2005. AST-120 has been used chronically by over 360,000 patients and studied in over 3,000 patients worldwide. In March 2012, Ocera received CE Mark for the sale of AST-120 as a medical device for the treatment of diarrhea predominant irritable bowel syndrome (d-IBS) in the European market. The company is currently evaluating strategic options for the commercialization of this product.
Financials
The company reported the pro forma first-quarter financial results with the following highlights:
| | |
| --- | --- |
| Revenue | $0.6 million |
| Net loss | $3.5 million |
| Cash | $12.5 million |
On July 15, Ocera closed a $20 million private placement.
Upcoming Milestones
The company is planning to initiate a company-sponsored Phase IIb, randomized, double-blind, placebo-controlled efficacy study of OCR-002 as an intravenous treatment for acute hepatic encephalopathy in hospitalized patients with liver cirrhosis. Enrollment is expected to begin in late 2013.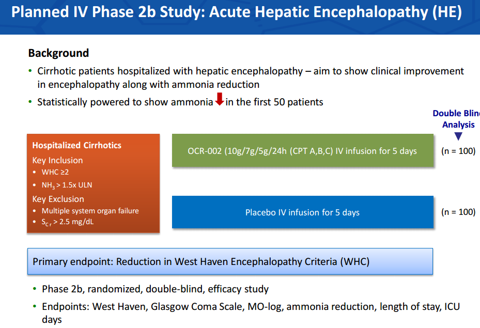 There are also two externally sponsored, Phase IIa studies of OCR-002 ongoing. Data from these studies are expected in 2014.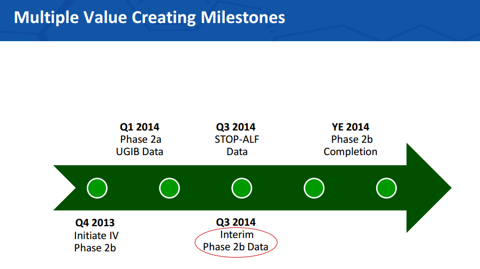 Market opportunity
Liver cirrhosis is a large, and growing, market due to hepatitis, alcohol, and obesity. A high percentage of cirrhotic patients develop hepatic encephalopathy and require hospitalization. OCR-002 has the potential of becoming the standard of care for the treatment of hepatic encephalopathy in patients with acute and chronic liver disease. No competing therapies are available for acute care, which represents an approximately $500 million market opportunity in the United States. The unmet medical need creates an attractive commercial opportunity, which includes market protections for being the first drug in the market, the potential for developing strong relationships with key physicians and a seven-year period of marketing exclusivity applicable to Orphan Drug status.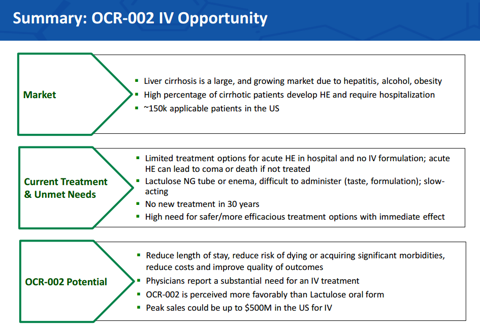 Competition
Ocera faces competition from established pharmaceutical and biotechnology companies, as well as from academic institutions, government agencies and private and public research institutions, which may in the future develop products to treat HE, acute liver failure, and irritable bowel syndrome. If Ocera completes development, obtains regulatory approval and commercializes OCR-002 to treat HE in chronic patient population in oral formulation, Ocera will face competition from Salix Pharmaceuticals (NASDAQ:SLXP), the manufacturer of rifaximin, as well as generic manufacturers of lactulose. Hyperion Therapeutics (NASDAQ:HPTX) has announced its intent to develop HPN-100 (Ravicti), currently approved for the treatment of Urea Cycle Disorder, for the treatment of HE, which Ocera expects to compete with OCR-002, if approved.
In addition, researchers are continually learning more about liver disease including HE, and new discoveries may lead to new therapies. As a result, OCR-002 may be rendered less competitive. Other early-stage companies may also prove to be significant competitors, particularly through collaborative arrangements with large and established companies.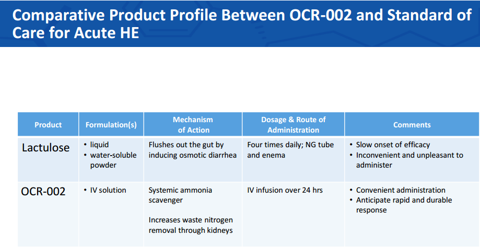 Conclusion
There have been three different insiders buying the shares and there have not been any insiders selling the shares during the past 30 days. There are zero analyst buy ratings, two neutral ratings and zero sell ratings with an average target price of $12.00. The next clinical data catalysts for OCR-002 are expected in early 2014. The insiders bought their shares at $6.03 and the stock is currently trading at $9.45. I believe the stock could present a good buying opportunity around $6 based on the intensive insider buying.
Disclosure: I have no positions in any stocks mentioned, and no plans to initiate any positions within the next 72 hours. I wrote this article myself, and it expresses my own opinions. I am not receiving compensation for it (other than from Seeking Alpha). I have no business relationship with any company whose stock is mentioned in this article.