First-time home buyers, long a key underpinning of the housing market, are increasingly getting left behind in the real-estate recovery...The depressed level of first-time buyers could prove to be a drag on the housing rebound and the broader economic recovery over the longer haul. -Wall Street Journal, July 22, 2013
In Part 1 of my housing market series, I focused on macroeconomic factors that have driven sales and prices higher since housing stocks started lifting off their lows in late 2011. In Part 2 I focused on the market for new homes and presented my argument for why this segment of the housing market had likely peaked. In this Part 3, I will review the market for existing home sales and will explain why I believe the housing market as a whole is on the cusp of plunging to a level that will take the market to new bear market lows.
Before I get into actual home sales, let's see what the stock market it is telling us about the housing sector. Below is a daily chart of the Dow Jones Home Construction Index, which is an index of the publicly traded homebuilders: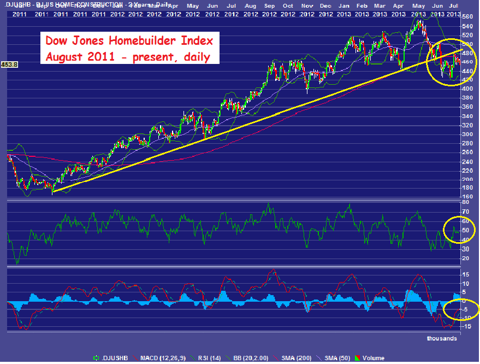 This chart goes from August 2011, which is when the homebuilders moved off their post-bubble bottom, to present. As you can see, the index is definitively below its 50/200 day moving averages (bearish). From it's peak at 550 on May 14, 2013, to its recent low-close, it declined 25%. It closed today down 17% from its top. Based on the 25% decline, technically, the homebuilders are back in a bear market, although I would argue the move off the August 2011 bottom was nothing more than a cyclical bounce in a secular bear market that started after this index peaked at its all-time high of 1100 in July 2005.
The fact that housing starts plunged at an annualized quarterly rate of 31% in the 2nd quarter does a lot to explain why the stock market is telling us that the current housing market trend has peaked and is getting ready to head south again. This message from the market was confirmed by yesterday's (July 22) existing home sales for June, which were reported to have declined 1.2% from May vs. an expected 1.5% increase. Additionally, May's existing home sales were revised lower than what was originally reported. This is an ominous omen for the housing market. As you can see from the graph below (sourced from the Calculated Risk blog, edits in red are mine), existing home sales should experience a healthy increase from May to June: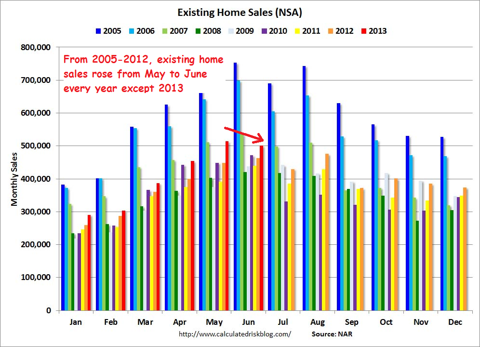 The thing to keep in mind here is that June's existing sales resulted from contracts signed in April and May, before mortgage rates spiked higher from their historic lows. Given that mortgage rates have increased significantly from early May, it means that we will start to see existing home sales drop off a lot more than is expected by the market, both on an actual month-to-month basis and on a seasonally-adjusted annualized basis. Also keep in mind that, with mortgage rates up on average 30% from the May lows, there will be a large number of contracts signed in June and July that will be cancelled, especially those that were signed before rate-lock agreements were signed. The higher monthly payment from higher rates will also instantly remove a substantial number of buyers who will no longer pass credit hurdles required to obtain a mortgage.
Speaking of mortgage rates, let's look at what the interest rate spike has done to mortgage applications. Total mortgage applications (refi + purchase) have been down nine out of the last 10 weeks, with purchase applications down six of those 10 weeks. Given that June is the seasonal peak of the market, ordinarily we would expect to see mortgage purchase applications increase every week during May and June. In fact, since the May peak in the Mortgage Bankers Association mortgage applications index, mortgage applications have plunged 45%. Interestingly, JP Morgan said that it expects the higher rates to "slash" mortgage volume by up to 40% and it announced 13,000 - 15,000 job cuts in its mortgage unit.
This further confirms my thesis that we will see existing sales decline at a rate in excess of what the market is expecting on a "seasonally adjusted" basis. In fact, I suspect that a large component of the "organic" (traditional) home buyer is now effectively priced out of the ability to buy a home and that the sales we have seen to this buyer-segment of the market were largely "pulled forward" by the historically low rates, just like there was a surge in home buying in 2010 due to the $8,000 home buyer tax credit. Unless the Fed and the Government implement even more drastic policies to make housing more affordable for more people, I suspect that home sales are in for a steep decline going forward.
Finally, as many are aware, a significant portion of the housing market bounce has been fueled by large investment funds snapping up distressed, mostly lower-priced, properties with the intent to convert them into rentals. As I predicted in my "Housing Recovery Myth" article on February 1, this year, not only have the big investment buyers started to drop away from buying, but some are turning around and unloading what they've bought, either outright or via an IPO. As you can see from this table sourced from the Calculated Risk blog, which lists distressed home sales for several cities, there has been a considerable decline in the proportion of distressed/investor home sales from June 2012 to June 2013.
Part of the reason for this is that these big investment funds are having trouble fully renting out their portfolios. In fact, Colony Capital - one of the more aggressive funds acquiring distressed homes - discloses in its the IPO filing of its single-family home portfolio that it has only rented out 55% of the homes it owns nationwide: Colony American Home files IPO. Several other private equity firms that have amassed large rental portfolios are also looking to cash out of their investment by selling shares to the public: Private Equity Landlords Rushing To Cash Out.
Based on various reports about the rental markets I've read from around the country, which discuss declining rental rates and growing rental inventories, I strongly suspect that the big private equity firms will never achieve the rental cash flow yields they anticipated and will find it increasingly difficult to rent out a high percentage of their portfolio. In fact, when Ziff-Ochs announced late last year that it was looking to exit the landlord business by unloading a large portion of its rental portfolio in northern California, it cited the fact that the returns on its investment were a lot lower than it was expecting.
My point here is that existing home sales over the past 18-24 months have been heavily driven by the private equity funds and hedge funds buying up huge blocks of foreclosed and distressed homes. At their peak, they were accounting for close to 40% of all monthly existing homes and an even higher percentage in several "hot" markets. This rather temporary source of demand also played a big role in driving prices higher. But the two warning signs here are that 1) this buying cohort is fading fast and 2) many of these funds are looking to sell their housing portfolios to the public via IPOs. It's always a big red flag for me when the "smart money" private equity funds decide that it's time to sell.
There are other signs that the housing market has topped out - like the reappearance and preponderance of home "flipping" and the expanded use of subprime mortgages and ARMs. But, as discussed above, the primary drivers of the market for existing home sales are rapidly deteriorating. As these factors become more apparent to a wider audience, potential home buyers will postpone purchase plans, banks will pullback on mortgage funding and those looking to take advantage of the price run-up will try to sell their home before the bottom drops out of the market again. In other words, the "negative feedback cycle" that drove the popping of the original housing bubble will exert itself, taking the market ultimately to new lows.
If you agree with my analysis and want to take advantage of what I believe is an over-valued equity market with regard to the housing sector, you can short ITB (iShares Dow Jones US Home Construction Index), which closed Tuesday at $23.22, 11.5% below its 52-week high. It bottomed out in 2009 at $6.48 and I suspect it will see that price again before this bear market is over. Same for XHB (SPDR S&P Homebuilders), which closed Tuesday at $30.83, but could fall back to its 2009 low of $8.25. I also like shorting individual homebuilder stocks, which is what I believe is the best way to short the housing market. My favorite short is DR Horton (NYSE:DHI), which has increased its inventory of land and finished homes using debt to fund this expansion. I also, like Lennar (NYSE:LEN), Toll Brothers (NYSE:TOL) and KB Homes (NYSE:KBH) as short-sale plays. Keep in mind that this sector is volatile and requires patience in order to make money shorting the stocks. When I first recommended shorting DHI at the end of January at $23.82, it dropped at first but then ran up to $27.60. I shorted more in the high $26s and am now and in the money on the entire position, as it closed Tuesday at $21.80. I plan on publishing an updated research piece on DHI and possibly on some of the other names I mentioned above.
Disclosure: I am short DHI. I wrote this article myself, and it expresses my own opinions. I am not receiving compensation for it (other than from Seeking Alpha). I have no business relationship with any company whose stock is mentioned in this article.