Agilent Technologies' ([[A]] - Snapshot Report) third quarter earnings beat the consensus by 9 cents. Revenue of $1.06 billion also beat by 3.9%.

Revenue declined 3.1% sequentially and 26.8% year over year. Electronic Measurement (EM) generated $524 million, down 6.1% sequentially and 35.6% year over year. The weakness in this market was driven by communications test, which declined 10.8% sequentially and 34.1% year over year. The general purpose test business fared slightly better, declining 3.0% sequentially and 8.1% year over year.

The Bio-Analytical Measurement (BAM) segment generated $496 million, down 0.4% sequentially and 8.1% year-over-year. The year-over-year decline was principally on account of weakness in the chemical analysis business, which declined 17.9% and further worsened by the life sciences business (down 5.3%).

Food Safety continued to outperform, growing 14% from the year ago quarter. However, other parts of the chemical analysis business, such as petrochemicals, forensics and environment declined sharply driven by various factors in the respective markets. The weakness in the life sciences business was partially recession-driven and partially due to consolidation in the large pharma market.

Semiconductor & Board Test (SBT) generated around $37 million, up 5.7% sequentially and down 58.9% from the year-ago quarter. The three segments generated 47%, 50% and 3% of third quarter revenue, respectively.

Although the sequential increase seems to indicate a bottom in this market, the significant year-over-year decline is the result of recession-driven weakness in the electronics manufacturing space.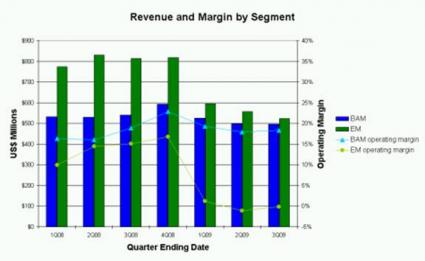 Although top line results remain unexciting, we are encouraged by the strengthening order patterns. BAM segment orders increased 2.5% sequentially, following two quarters of decline, EM segment orders increased 3.6% sequentially also following two quarters of decline, while SBT orders increased 63.6%, following declines in the preceding five quarters.

Agilent continued to see very strong order growth in the BAM segment, although the EM segment lagged expectations. The EM book-to-bill was the highest at 1.03, followed by BAM at 0.99 and SBT at 0.97. The overall book-to-bill was 1.01, reflecting the 4.4% sequential increase in orders. Higher backlog in the EM segment more than offset small declines in BAM and SBT.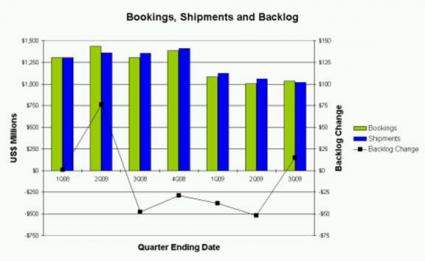 The proforma gross margin for the quarter was 53.5%, up 121 basis points (bps) from the previous quarter's 52.3%. The operating expenses of $468 million were lower than the previous quarter's $486 million.

The operating margin was 9.3%, up 148 bps from 7.8% in the second quarter. The increase was primarily on account of lower COGS and helped by flattish R&D and SG&A expenses (as a percentage of sales). The BAM segment generated an operating margin of 2.2% (up 48 bps), the EM segment generated -0.2% (up 88 bps), while SBT generated -27.0%, up 1,869 bps).

On a pro forma basis, Agilent had a net income of $70 million, or a 6.6% net income margin compared to $62 million or 5.7% in the previous quarter and $216 million, or 15.0% in the third quarter of last year. Fully diluted pro forma earnings per share (EPS) were 20 cents in the third quarter compared to 18 cents in the second and 58 cents in the year-ago quarter.

The pro forma estimate in the last quarter excluded deferred stock compensation, restructuring charges, amortization of intangibles, impairment of long-lived assets and other one-time items. On a fully diluted GAAP basis, the company recorded a net loss of $19 million (6 cents per share) compared to $101 million (29 cents per share) in the previous quarter and a net profit of $169 million (45 cents per share) in the year-ago quarter.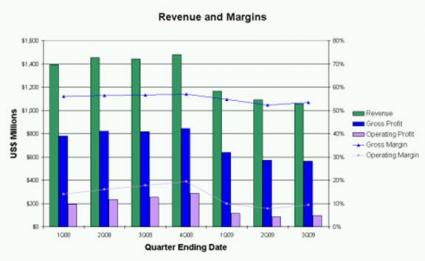 The balance sheet shows limited liquidity, with a net debt position of $654 million. The net debt total capitalization ratio was 20.8%, which is not that bad. Inventories at quarter-end were $571 million, yielding annualized inventory turns of 3.4x. Days sales outstanding (DSOs) were 47 days.

Management did not provide detailed guidance for the fourth quarter or the year. Revenue is expected to grow in-line with or slightly less than seasonal patterns indicate.

However, the effects of restructuring are expected to become increasingly apparent. Accordingly, the non-GAAP EPS is expected to come in at around 20-25 cents.