Healthcare reform has been a hot topic of discussion in the news and on blogsites all over the country as the Obama administration mulls over whether or not a public option for healthcare makes sense and what a plan like that would entail. Any new reform to the current healthcare plan would have a great effect on stocks within the Healthcare sector.
Below is a list of stocks we find attractive and a few that we find unattractive within the S&P 500 Health sector. The chart consists of each company's attractiveness as an investment opportunity using The Applied Finance Group's (AFG's) buy/sell criteria (explained below), and also grades each company based on expected Economic Margin (EM) change and valuation ranks within the sector. Companies expected to improve EMs and that have a more attractive valuation than their sector peers have proven through backtests to be more likely to outperform than stocks AFG views as overvalued and that have an expected decline in EMs.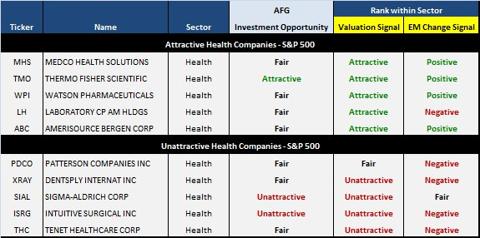 Source (The Applied Finance Group)
*Valuation & EM Change are Ranks within their sector
AFG's Buy/Sell Criteria - factors in Economic Margin, Management Quality, and AFG's Valuation Metric. In order to determine Management Quality, AFG scores management on their growth decisions in accordance with the company's ability to either create or destroy wealth. AFG's Valuation Metric measures a company's Percent to Target (the deviation between a stock's current trading price and its AFG current default target price). To derive the intrinsic value of a firm, AFG uses its proprietary Valuation Model.